Postmark'd Studio Review May 2021
Postmark'd Studio is a premium stationery subscription box for the snail mail enthusiast delivered to your door every month! Each PostBox subscription comes with a monthly, limited-edition selection of beautiful handcrafted artisanal greeting cards and postcards crafted by artists around the globe.
*They kindly sent us this box for review*
I absolutely love to review Postmark'd Studio as it is one of the best stationery subscriptions on the market! I rediscovered my love of sending snail mail, getting crafty and giving thoughtful cards since the pandemic started.
My Postmark'd Studio PostBox arrived in a white mailer envelope with everything bound and packaged beautifully inside.
Anne (the owner) always includes a handmade, personal note – I feel so special every time I receive one. I love this quote from Winnie the Pooh, 'Sometimes the smallest things take up the most room in your heart."
Subscription Details
Here's How It Works
Subscribe to a PostBox for 1, 3, 6, or 12 months.
Postmark'd Studio will turn every stone and pick the best of the best handcrafted artisanal paper and gift products to include in your monthly delivery.
Postmark'd Studio packs and ships a surprise-themed box to your door every month.
Here's a closer look at the May 2021 Postmark'd Studio PostBox…
Postmark'd Studio May "Blossoms & Bees" PostBox Edition 4.12
"Happy Spring! This collection grew out of my love of spring blossoms and the magical work of bees; you cannot have one without the other! I do hope you enjoy the selections as much as I do and that you will be inspired to send a bouquet of snail mail this month!"
Each Postmark'd Studio PostBox is incredibly well-curated so I cannot wait to see what sort of Spring themed magic Anne has included for this month's PostBox.
"The May Blossom & Bees PostBox would not be complete without a wax seal. This BEE seal with a honeycomb background will BEE-come your go-to seal this spring season! The use of a wax seal is not just for the envelope; add a wax seal to your journal, postcards, a gift tag, the letter inside the envelope, a wrapped gift, or even a wine bottle you are taking as a hostess gift! If you do add a wax seal to an envelope or a postcard, I recommend sending your note as non-machinable. It costs an extra 20c to preserve your art!"
This Bee Wax Seal is very cool! Anne always adds neat, unique items to jazz up your snail mail! She also included instructions on how to make your own coloured wax!
Oh Hi Card
"Seedlings, located in Clinton, MA, like to refer to themselves as the new sprouts on the block. Established in 2018, these 20-somethings strongly believe that you should be able to have your paper and plant it too. They have incorporated seed paper into their packaging envelopes whenever possible. The seed paper is made up of 10% non-invasive wildflower seeds and can be easily planted with just a few quick steps."
I seriously love this card as it is beautiful and the envelope is plantable! I definitely have to gift this to my aunt as she would be thrilled to receive a beautiful note from me and will definitely plant the envelope! Stay tuned for results.
BEE yond Grateful Card
"Red Cap Cards is a celebration of art and correspondence. Based in Los Angeles California, husband-and-wife team Hal Mertz and Carrie Gifford have collaborated with some of the world's greatest artists and illustrators creating one of today's most well-respected, carefully curated art and design stationery brands."
This card is beautiful. The art is well done and the bees amongst the flowers make me happy as they remind me of Spring!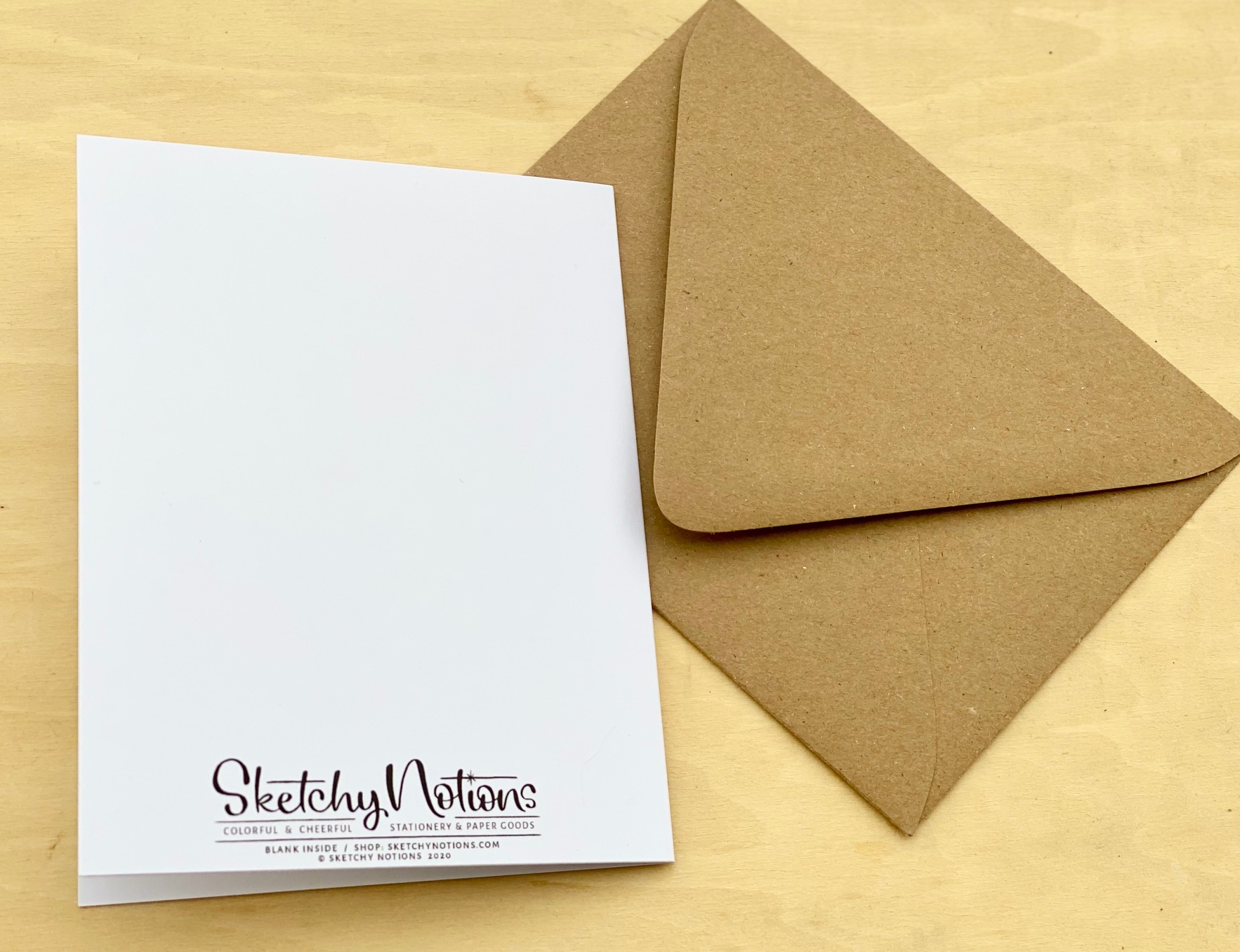 Hey, BEE-utiful Card
"The wit and humour of Chelsea Ward of Sketchy Notions, located in Southern CA, is infused into every piece she creates. I had the pleasure of meeting Chelsea several years ago at the National Stationery Show. She is as beautiful as her designs and I have been dreaming of attending one of the art retreats that Chelsea leads in Tuscany through Wanderful Retreats."
This card is so sweet! I adore the sweet little bees and the message. This card would be sure to put a smile on its recipient's face!
Meant to BEE Card
"It all started in 2012 when Valerie McKeehan drew a chalkboard sign to make her kitchen feel cozier. It was then she discovered a love for lettering and illustration. Inspired by nostalgia, the beauty of ordinary life and nature, she draws every Lily and Val card by hand out of her home studio in Pittsburgh, PA. She is passionate about creating unique and meaningful art that resonates with you!"
This is such a sweet, possibly romantic, card. I love the chalkboard sign aesthetic to it.
You are the BEES knees Card
"ANCORA Letterpress is a small boutique shop, located in Woodinville, WA. Debra Barclay has an incredible passion for paper, ink, and the process of putting those two together. She and I have worked together (it is all Debra; I am just the idea person) to create 10 outstanding postcards for Postmark'd Studio's PostBoxes to date."
I am loving this collaboration postcard that was created by Anne from Postmark'd in collaboration with ANCORA Letterpress. The image, colours and message work so incredibly well together. I would almost frame this postcard and gift it to someone special.
Artsy Doodad
"Created by our own brand ambassador Geetika Nayak Geet's work can be found in her Etsy shop, Artful Geet Creations. Geet is an engineer by trade but has definitely found her passion in designing and creating all things snail mail."
I loveee stickers and these make me smile. Decorate your cards, wall calendar or planner like I did!
Postage
"2018 issue of State and County Fair stamps to mail (4) US letters. The four colorful stamps were designed to work together as a panorama of familiar, traditional fair activities while each stamp also works as an individual picture."
Subscribers always receive enough postage to mail the cards in their monthly postbox. What a convenient feature!
BONUS item – Dahlia & BEE Card
"Noteworthy perfection! Matthew Kelsey of MK Printing, located in Saratoga, CA, combines traditional letterpress craftsmanship with contemporary design to create memorable printed pieces. Matt has been printing by letterpress for over 30 years, using a century-old Challenge-Gordon press!"
Postmark'd Studio Review May 2021 – Final Thoughts
The May Postmark'd Studio PostBox is so well-curated and it fits the "Blossoms & Bees" theme perfectly! All of the items are unique and would be so fun to send or receive in the mail. I think my favourite items are the Oh Hi Card as you can plant the envelope and the Bees Knees Postcard, but all of the items are wonderful! This Month Anne gave us a bonus card and artsy doodad! Postmark'd Studio is a subscription that will keep you supplied with amazing and original greeting cards for every occasion. It's the perfect box for stationery lovers and snail mail enthusiasts.
Hayley Savanna – https://www.instagram.com/hayleysavanna/