Postmark'd Studio Review November 2021
Postmark'd Studio is a premium stationery subscription box for the snail mail enthusiast delivered to your door every month! Each PostBox subscription comes with a monthly, limited-edition selection of beautiful handcrafted artisanal greeting cards and postcards crafted by artists around the globe.
*They kindly sent us this box for review*
I absolutely love to review Postmark'd Studio as it is one of the best stationery subscriptions on the market! I love sending snail mail, getting crafty and giving thoughtful cards.
My Postmark'd Studio PostBox arrived in a white mailer envelope with everything bound and packaged beautifully inside.
Anne (the owner) always includes a handmade card with a personal note – I feel so special every time I receive it. I love this month's quote, "The secret ingredient is always love."
Subscription Details
Here's How It Works…..
Subscribe to a PostBox for 1, 3, 6, or 12 months.
Postmark'd Studio will turn every stone and pick the best of the best handcrafted artisanal paper and gift products to include in your monthly delivery.
Postmark'd Studio packs and ships a surprise-themed box to your door every month.
Here's a closer look at the November 2021 Postmark'd Studio PostBox…
Postmark'd Studio November "Cooking With Love" PostBox Edition 5.6
"As we embark on a season filled with memories of special dishes created with love, sometimes only created during the holidays, it seems perfect to have a PostBox that celebrates a season of cooking. There is something very dear in pulling out a treasured recipe written in the hand of a loved one. It's as though they're in the kitchen with you! Take a moment this season and share a recipe or just reach out and say hello. Happy mailing. -Anne"
Each Postmark'd Studio PostBox is so well-curated and I love this unique "Cooking With Love" theme this month. I cannot wait to see what cooking-inspired items Anne has included for this month's PostBox. My grandma has long passed, but I still have her recipe boxes in my kitchen full of recipes in her gorgeous writing.
Whisk You Were Here Card
"At the impressionable age of 19, Emily Wismer walked into a dusty barn where an old crone sold her what turned out to be the magical objects that would determine her fate. Unbeknownst to her, she had found her first letterpress type. Years later, following a winding path and adventures natural to an epic tale, Lady Pilot Letterpress was born. Lady Pilot Letterpress, located in Durham, NC, is home to snarky wit, deep feelings, and old-school printing. They love having inky fingers and being part of a vibrant community of driven makers, spunky retailers, and snail-mail communicators."
This card is so sweet! I love the play on words and will definitely be mailing this to a friend who I miss dearly this month. I also enjoy the silver ink on the black card.
Age Well Birthday Card
"Wild Ink Press, located in Chico, CA, was born to create beautiful paper goods that others would value and enjoy. Owner and designer Rebekah Tennis started Wild Ink Press in 2009, after a successful (and somewhat frustrating) career as a graphic designer. From her frustration with the over tweaking of websites and the never-ending finish of a logo design sprang her desire to create art that was both finished (forever) and cherished. Her husband Matt listened to her wild-haired ideas and they both took a series of letterpress classes at the San Francisco Center for the Book and then made the plunge and purchased a 1908 Chandler and Price Platen Press on eBay. Over 10 years later, she is still producing amazing paper goods to enjoy and value!"
I love the cute pun on this birthday card. My dad has a big birthday coming up so this will be a perfect card to gift him!
'Tis The Seasonings Card
"Nourishing Notes is a celebration of food, started by husband-and-wife team Andy Schwegler and Julie Morelli in 2007. Together they design, write, illustrate, and produce printed goods for the food-obsessed. From stationery to home goods, all the products are designed in Chicago, IL. They love food and laughter and sharing their goods with you!"
How fun is this holiday card?! Haha, I laughed out loud when I opened it and know the exact person that I plan to send it to this holiday season.
'Cozy Wishes Card
"Lettered West is a boutique letterpress and design studio located in Denver, CO, specializing in handmade greeting cards and printed paper goods. Founded by self-taught graphic designer and letterpress enthusiast Whitner Carlin, Lettered West prides itself on touching each part of the design and print process by hand. Their products are inspired by their belief in slowing down and maintaining a human connection in this new era of instant gratification and constant digital stimulation."
This is a beautiful card with a sweet message. I know just the person I will gift it to as she is an avid baker and such a comfort to my hectic life.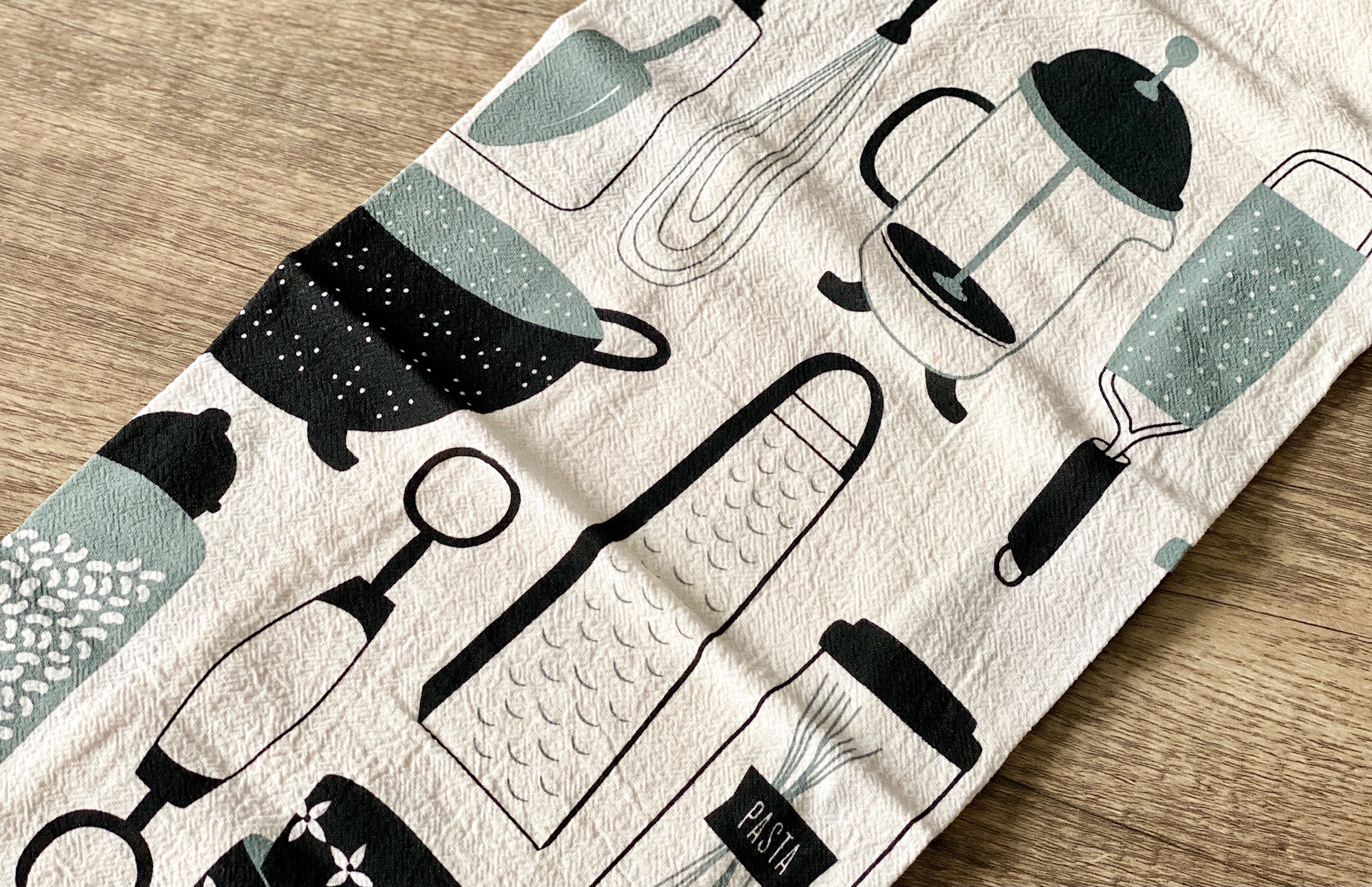 Kitchen Utensils Tea Towel
"Hazelmade is a collection of illustrated paper and home goods designed by Susan Hazel Rich. As a former logo and brand designer, she has over 15 years of experience in marketing and design. In 2014, she turned these skills toward creating Hazelmade. Her motivation for starting this company was simple: to find a place to grow creatively while crafting products that connect us to the ones we love. Each design in her collection is thoughtfully hand-drawn and carefully paired with the highest quality environmentally friendly papers, durable cotton fabrics and minimal earth-friendly packaging. She is very proud to say her entire line is Midwest / USA Made."
This kitchen tea towel is stunning! I am obsessed with hand-drawn designs and my best friend will absolutely love this tea towel. It will match her black and white kitchen perfectly.
Postage
"Vintage US postage to mail (4) letters."
The postage this month is vintage and awesome. Subscribers always receive enough postage to mail the cards in their monthly postbox.
Postmark'd Studio Review November 2021 – Final Thoughts
The November Postmark'd Studio PostBox is so well-curated and it fits the "Cooking With Love" theme perfectly! All of the items are beautiful, high-quality and unique, and would be so fun to send or receive in the mail. I think my favourite item is the kitchen utensils tea towel and the 'tis the seasonings card. As always, all of the items are awesome! Postmark'd Studio is a subscription that will keep you supplied with amazing and original greeting cards for every occasion. It's the perfect box for stationery lovers and snail mail enthusiasts. Signed sealed delivered…
Hayley Savanna – https://www.instagram.com/hayleysavanna/