Postmark'd Studio Review October 2017
PostBox is a card box from Postmark'd Studio. Each PostBox subscription comes with a monthly, limited-edition selection of beautiful handcrafted artisanal greeting cards and postcards crafted by artists around the globe. They kindly sent us this box for review.
The PostBox by Postmark'd Studio is at the top of my list when it comes to stationery subscription boxes. I have fallen in love with this box, really I have. I love everything about it. The curation is absolutely beautiful, every single month. I love their themes, I love the mixture of items, and I LOVE that it isn't just greeting cards. They include other stationery items as well, which makes for a well-rounded box. I am in love!
Subscription Details
Here's How It Works
Subscribe to a PostBox for 1, 3, 6, or 12 months.
Postmark'd Studio will turn every stone and pick the best of the best handcrafted artisanal paper and gift products to include in your monthly delivery.
Postmark'd Studio packs and ships a surprise themed box to your door every month.
Here's a closer look at the October box…..
October Theme – Pink "Special Delivery" Box
October has meant Breast Cancer Awareness Month around the world since 1985. Its mission is to increase attention and support for the awareness, early detection, and treatment as well as palliative care of this disease. At Postmark'd Studio, we thought why not show our support and curate a box of pink stationery that is beautiful, meaningful, and a nod to fun?
Wow…..what a great theme for the month of October. As much as I love Halloween themed boxes I also really love to see a box support/focus on such a great cause. I can't say this enough – Postmark'd Studio really does come up with the best themes.
It's Your Big Day
This 2017 Louie Award Winner is a favorite of mine! The pink bubblegum–blowing beauty will "pop" a smile on anyone's face.
Located in Canton, MI, Inklings Paperie was founded by Lindsey Henry, whose commitment to creating products that inspire kindness and bring joy to life's many little celebrations can be seen in all of her work.
Cutest card ever!! I love that the bubblegum opens up and creates a 3-D effect. Pop-up cards really are the best. Who doesn't love a pop-up card?!
I'm Possible
This Audrey Hepburn quote is a classic, just like the lady who said it.
Skel Design, located in Hermosa Beach, CA, started with a wink, a smile, and inspiration from Skel's wonderful and lucky life. She hopes her designs will "inspire a little smile" in you!
How have I never seen/heard of this quote before!? I absolutely love it! And, I also happen to be a huge fan of Audrey Hepburn – #winwin.
Mima's Card
The story behind the design of this card brings out the true beauty of the illustrated heart.
Melissa Constandse of Open Sea Design, located in Brooklyn, NY, created this card dedicated to the spirit and memory of her beloved grandmother, who was affectionately called Mima by her family. Mima passed away well into her nineties earlier this year.
This is gorgeous! There's beauty in simplicity.
You Go Girl
Which girlfriend will get this simple yet powerful message?
Spread a little love with this Bred & Butter Paper Co. card designed by Jenna Bredehoeft, located in Dallas, TX.
A "pink" inspired box wouldn't be complete without a "you go girl" quote. It really does sum it up nicely.
BOoOobs
It would not be October with out including at least one Halloween card!
This little ghost from TayHam, located in Wilmington, NC, is designed by artist and owner Taylor Hamilton.
I thought I liked all the other cards in the box……until I saw this one. As much as I love the "Pink" theme I was also kind of missing the Halloween theme. This card provided the right amount of Halloween while still sticking with the actual theme of the box. This is the cutest little ghost I have ever seen. I can't stop looking at this card. I love it that much!! There's no way I will be able to part with this one.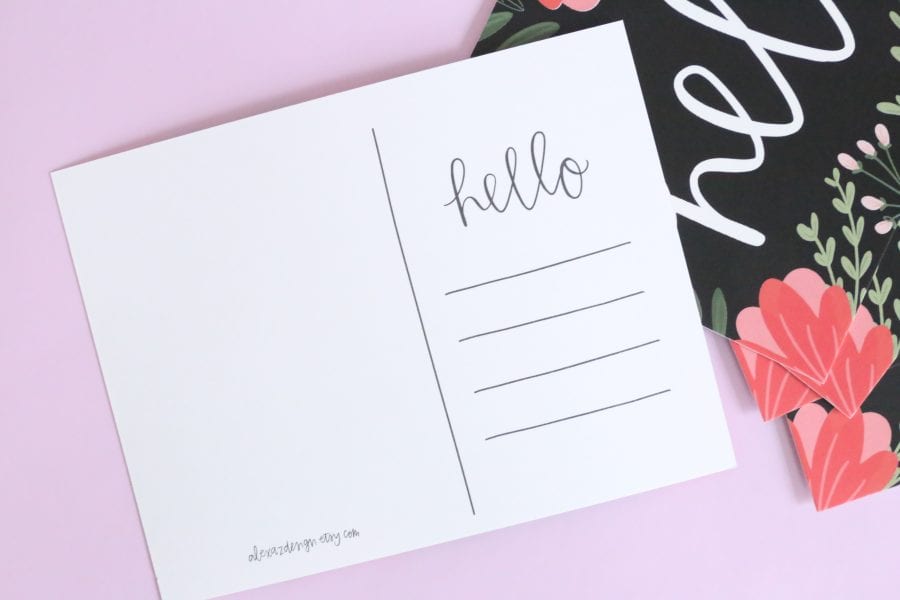 Hello
This set of 5 hello postcards is perfect for dropping a quick note or sketch to a friend! These are printed from an original hand-drawn illustration and lettering.
Alexa Zucher, the creator of Alexazdesigns from St. George, UT, delivers happy paper goods and hand-lettering products that will make you want to send snail mail vs. email!
I love this style of card – the floral design, the script, the simplicity……basically everything about it. This is the style/design I gravitate towards.
Artsy Doodad
This Staedtler triplus fineliner marker in magenta will continue to write even if the cap is left off for 14 days, thanks to the specially formulated ink!
So far we have received a pen or pencil in every box and that is a feature I appreciate.
Postage
Forever stamps for 5 greeting cards and 5 postcards.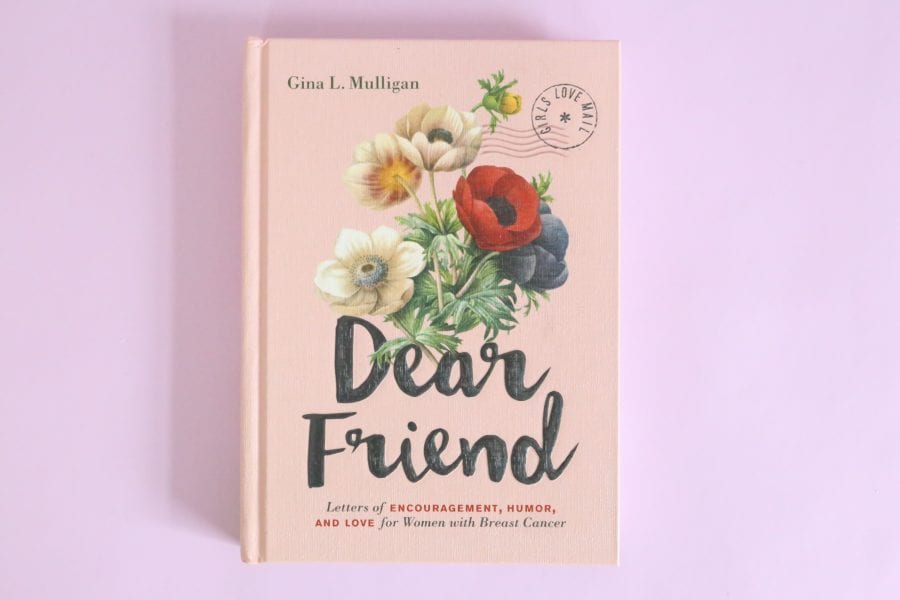 BONUS Book
We have included a very special gift, the book Dear Friend by Gina Mulligan, the founder of Girls Love Mail. It is a collection of letters of encouragement, humor, and love for women with breast cancer.
Girls Love Mail has been collecting and sending letters to women who have recently been diagnosed with breast cancer since 2011. In that time, 110,000 women have received the gift of a handwritten note of encouragement. Ten percent of the sale from this box will be donated to Girls Love Mail.
I wish you all could see this book in person. The photos just don't do it justice. It's absolutely beautiful. The letters are personal, handwritten and inspirational.
Postmark'd Studio Review October 2017 – Final Thoughts
Now do you see why I love this subscription so much!! Postmark'd Studio really puts together a great subscription. After seeing this month's box I'm tempted to say I am their biggest fan. They covered all their bases. They went with a "Pink" theme to show their support but also threw in a little Halloween flavour. They provided an amazing bonus item, stamps, a fun pink marker and a pencil. PostBox is gorgeous and fun from beginning to end. I honestly can't express in words how much I love and appreciate this subscription. You just need to experience it for yourself…….period.
XOXO