Postmark'd Studio Review October 2022
Postmark'd Studio is a premium stationery subscription box for the snail-mail enthusiast delivered to your door monthly. Every month you will receive a Postmark'd card, pencil, USPS stamps, artsy doodads, 4 additional cards, and an informative card. They kindly sent us this box for review.
Postmark'd Studio is the cutest little subscription for greeting cards. If you are a snail mail enthusiast, this is the box you need.
Subscription Details
Here's how Postmark'd Studio works:
Subscribe to receive a monthly PostBox
Take 5 minutes to craft a message
Pop your note in the mail
Change the world
Repeat
Here's a closer look at the October Postmark'd Studio….
October Theme: Bats & Cats
I was hoping for a Halloween theme and that is exactly what we got. The card says….
"Boo! this October PostBox is filled with a fun assortment of Halloween treasures that are sure to bring a smile to every mailbox. I wish you a spooktacular month of mailing!"
Black Cat Mask: Black cats are a perennial part of Halloween and this vintage mask is a good example of one.
Happy Halloween: Here we have an iconic Halloween greeting with all the usual suspects.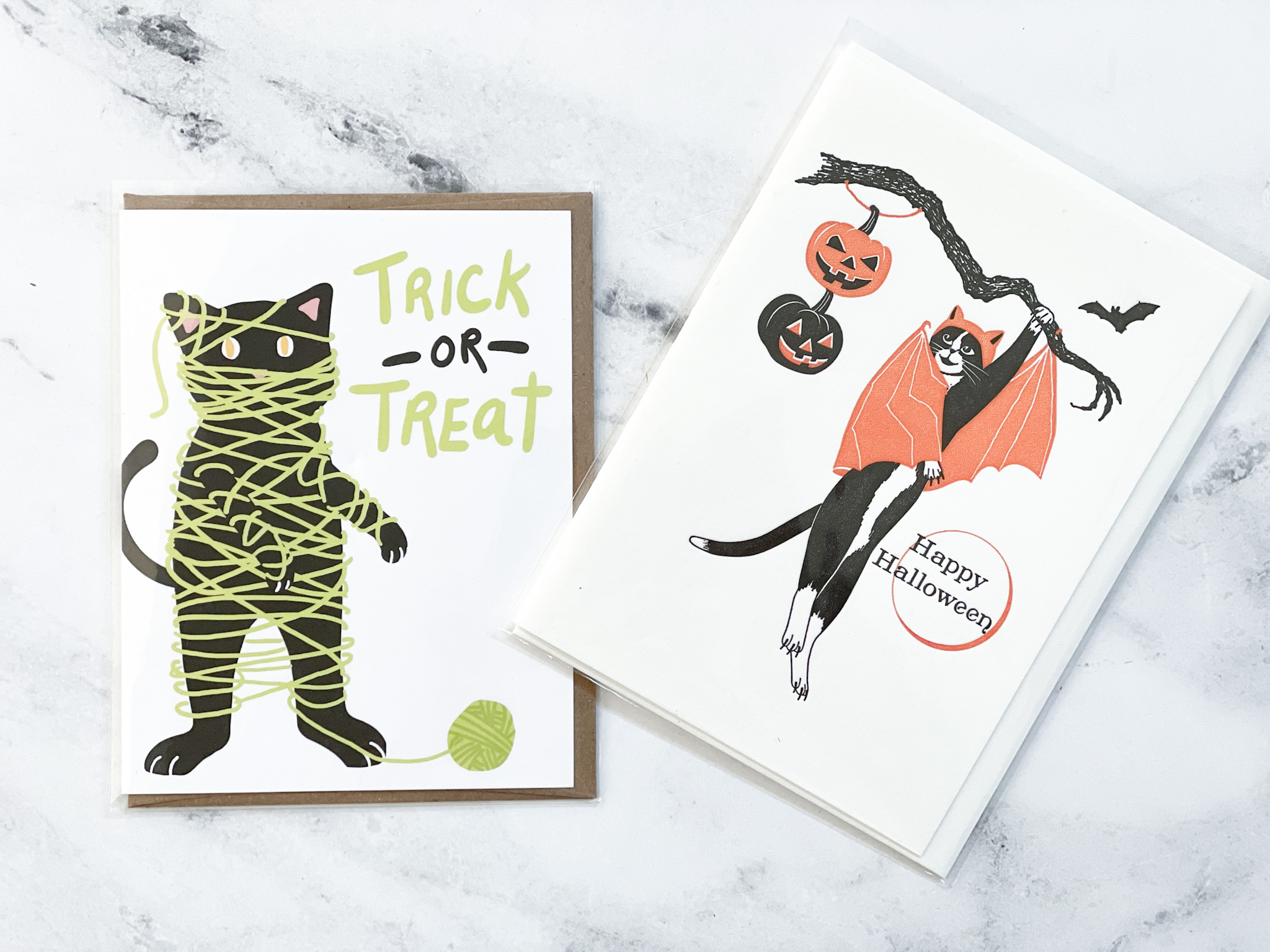 Mummy Cat: Probably my favourite card of the bunch. I love the mummy costume made from a ball of yarn – too cute!
Cats & Bats: This one is giving me retro vibes and it has all the Halloween things – costume, cat, creepy tree and pumpkins!
Magic Bat: This Magic Bat is TOO fun! You wind it up, tuck it in a card and when the recipient opens the card the bat will fly out.
Halloween Postcard: I am also LOVING this Cat-Bat Postcard, when you open it up it says BOO inside.
Artsy Doodad: A set of 3 Stablio Point 88 fine liner pens in 3 different colors.
Postmark'd Studio Review October 2022 – Final Thoughts
The October Postmark'd Studio is absolutely perfect and exactly what I was hoping for. I love the Bats & Cats theme and I love the unique cards we received. The Magic Bat specifically is pretty great, as are the Halloween coloured pens. I always look forward to my Postmark'd Studio deliveries but this is probably my favourite to date.
-AYOB Sarah