Postmark'd Studio Review September 2017
PostBox is a card box from Postmark'd Studio. Each PostBox subscription comes with a monthly, limited-edition selection of beautiful handcrafted artisanal greeting cards and postcards crafted by artists around the globe. They kindly sent us this box for review.
I am absolutely, 100%, in love with this subscription box! PostBox from Postmark'd Studio is the perfect stationery subscription box. They have the best themes, cutest cards, and they include extra stationery items which makes for a well-rounded box. If you didn't see the August review make sure you check it out HERE. The theme couldn't have been more perfect, and it looks like the same applies to this month's box. The September theme is absolutely perfect for this time of year.
Subscription Details
Here's How It Works
Subscribe to a PostBox for 1, 3, 6, or 12 months.
Postmark'd Studio will turn every stone and pick the best of the best handcrafted artisanal paper and gift products to include in your monthly delivery.
Postmark'd Studio packs and ships a surprise themed box to your door every month.
Here's a closer look at the September box…….LOVE the theme!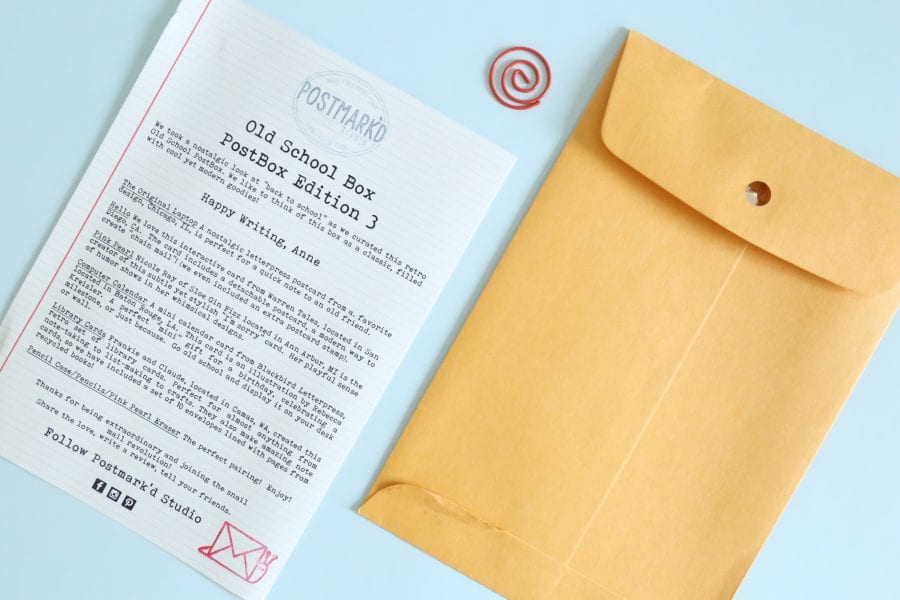 September Theme – Old School
We took a nostalgic look at "back to school" as we curated this retro Old School PostBox. We like to think of this box as a classic, filled with cool and modern goodies!
3 Greeting Cards, 1 Set of Notecards, 1 Postcard, Postage, and a Pencil Case Filled with 12 Pencils & 1 Pearl Pink Eraser
Hello: We love this interactive card from Warren Tales, located in San Diego, CA. The card includes a detachable postcard, a modern way to create "chain mail"! (We even included an extra postcard stamp.)
Pink Pearl: Nicole Ray of Sloe Gin Fizz located in Ann Arbor, MI, is the creator of this subtle yet stylish "I'm sorry" card. Her playful sense of humor shows in her whimsical designs.
Computer Calendar: This mini calendar card is from Blackbird Letterpress in Baton Rouge, LA. The computer illustration is by Rebecca Kreisler. This "mini" gift is perfect for celebrating a birthday, recognizing a milestone, or just because. Go old school and display it on your desk or wall.
Library Cards: Located in Camas, WA, Frankie and Claude created this retro set of library cards. Perfect for almost anything—from notetaking to listmaking to crafts. We thought they make amazing notecards, so we have included a set of 10 envelopes lined with pages from recycled cast-off books!
These little cards are perfect for list making! The column down the side is a great place to check off your completed items. And the fact that they included matching envelopes means you could also use these cards to write little notes, greetings, a thank you, and so much more!
The Original Laptop: A nostalgic letterpress postcard from a. favorite design, Chicago, IL, is perfect for a quick note to an old friend.
I absolutely love the look of this postcard. The old school vibe is so much fun and fits the theme perfectly.
Artsy Doodad: A pencil case filled with 12 pencils and 1 pearl pink eraser.

Every month they include a set of stamps. Just another reason why I love this box so much.


Postmark'd Studio Review September 2017 – Final Thoughts
Postmark'd Studio did it again. They put together an amazing box. I really can't get over how wonderful PostBox is. It's the perfect subscription box for any stationery lover. The fact that they are more than just a greeting card box makes me so happy. I LOVE my greeting cards, but it's so much more fun when they are accompanied by postcards, postage, and a fun artsy doodads……would you not agree?! I am in love with the pencil case they included this month. It takes me back to my elementary school days and was the perfect way to kick off September. My stationery drawer is so much more fun thanks to the September PostBox. All I need is a new notebook and I am good to go. I can't wait to see what themes they come up with for November & December…….fingers crossed we see some festive cards and stationery goodies…….
XOXO