Practical Magic Box Review February 2022
Practical Magic Box aims to help you explore different areas of magic, meditation, and holistic health. Our daily lifestyles can be enhanced with practical spells using natural elements. They kindly sent me this box for review.
The box I am sharing with you today is one that I am so unbelievably excited about. I have such a good feeling about Practical Magic Box and at first glance I already love it.
This is box that will fit into my lifestyle perfectly.
Subscription Details
The Practical Magic Box will focus on strengthening your own magic. New topic each month. The Practical Magic Box comes with instructions on how to practice your magic.
Examples of what MIGHT be in the box: Sage Bundle, herbal remedies, crystals, tea, ceramics, journal/notebook, candles, jewelry, tinctures, natural beauty products, spoken magic, incense, essential oils, oracle cards.
Here's a closer look at the February 2022 Practical Magic Box….
February Theme: Choose Love Box
"Practice choosing to love, for your mind, body, and spirit with this box. Strengthen your love awareness in areas of self-love, romantic love, friends and family love, and love for humanity."
Loofah Soap
The way you respect and love yourself impacts your personal energy and self-esteem. Be authentic to yourself as you practice this spell. Self-love is the key to your mental, spiritual, and emotional health.
Wash with the Loofah Soap. Repeat this self-love mantra as you wash. Let its message radiate inside your body throughout the day.
Heart of my Soul
I recognize you.
Today I choose to be the most beautiful version of myself,
Inside and out.
With this soap,
I wash myself with new energy
Infused with encouragement and love.
I give myself the freedom to be exactly who I want to be.
This loofah from Modern Skin Alchemy has notes of patchouli & rose. It is said to create a calming, relaxing atmosphere and a stress-relieving experience. I have tried loofah soaps in the past and absolutely loved them.
Love Bath Bomb
It's time to get romantic. Prepare your bath with warm water. Dim the lights. Light the candle stick. When you are in the bath, either alone or with your partner, submerge the Love Bath Bomb. The aromas of this aphrodisiac essential oil blend will get you feeling warm and sensual. Enjoy this blend of Ylang Ylang, Sandalwood, Ho-wood and Bergamot. Add fresh rose petals and enjoy.
The perfect addition to your bath ritual and SO pretty to look at. This bath bomb smells lovely and will make my bath experience feel extra special.
Love Candlestick
I recently purchased a bamboo bath caddy and this candle stick & candle will look so pretty sitting on it. I love the simplicity of the holder and the floral detail on the candle.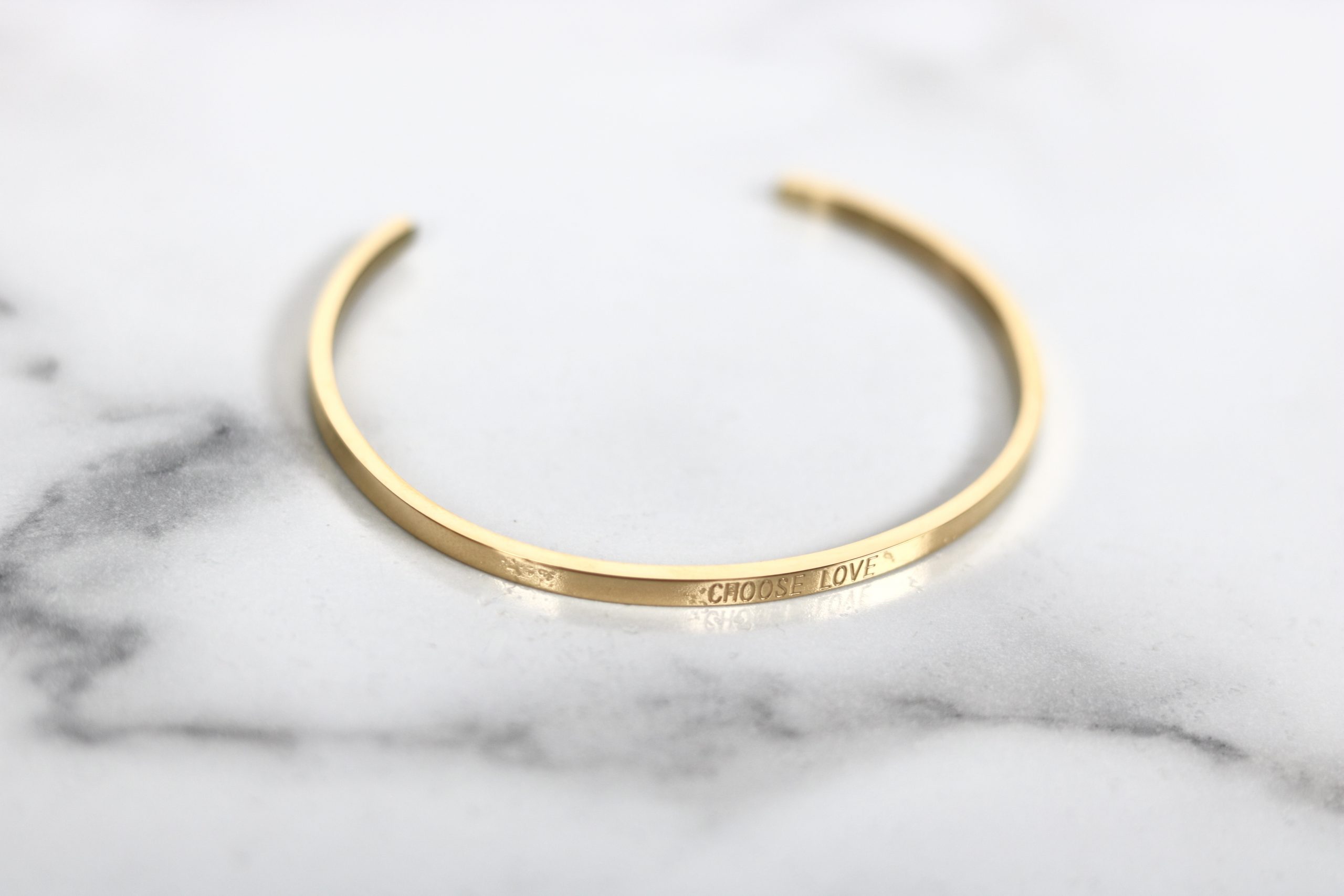 Choose Love Mantra Cuff
This Mantra Cuff was designed both as a reminder and a tool for anchoring you back into the high vibration of love whenever you find yourself caught in fear or lower vibration patterns. Let it be a reminder to choose love as you walk about humanity and while visiting friends and family. Create a habit of mindfully choosing from a place of love while wearing this bracelet.
I love this bracelet and I love this mantra. I can so easily get caught up in negativity and bitterness, especially the last couple of years, so this will be a great reminder to take a step back, breathe deep and always come from a place of love.
Floral Sage Bundle
Burn sage throughout this month to maintain your LOVE energy. If you start to feel off balance, take a moment to mediate and allow the sage smoke to realign your auric field. Notice a shift toward a more positive lifestyle using this magic.
Practical Magic Box is a subscription from Elements of Sage. They are best known for their beautiful sage bundles and I was SO excited to see one in the box. I just can't stop looking at it, and as much as I don't want to burn it, I also can't wait to use it for my bath ritual.
Just incase you aren't familiar with sage burning, here's a little more info…..
Hold the sage at a 45-degree angle, light the sage, let it burn for about 20 seconds and then gently blow out the flame so that you see orange embers on one end. Then you can start the process of clearing your space.
Practical Magic Box Review February 2022 – Final Thoughts
The February Practical Magic Box from Elements of Sage is absolutely perfect. I am extremely happy with everything we receive and I love this month's theme – Choose Love. I can't wait to use all of the love-themed goodies. My next bath night is going to feel extra special and so beautiful. I also appreciate the wonderful information included on the product card. The entire unboxing experience was lovely. It brought with it a sense of calm and happiness. I can't wait to see what they have in store for the March Practical Magic Box.
-AYOB Sarah