Primal Outpost Review March 2017
Primal Outpost is a monthly subscription box designed for explorers and outdoor enthusiasts. Each month, their members receive five products such as rock climbing gear, knives, survival tools, camping equipment, healthy snacks and more! They kindly sent us this box for review.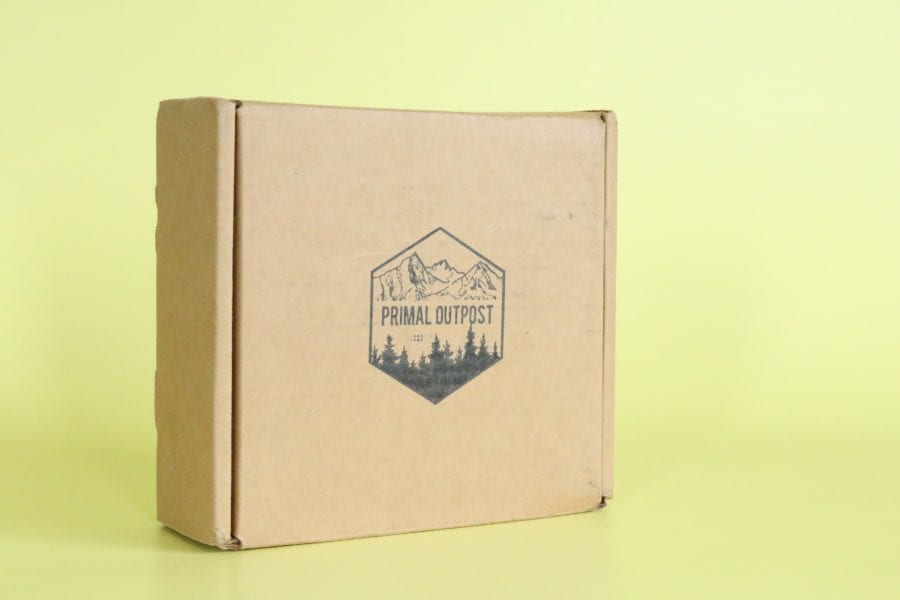 Yes!!! This is what I have been waiting for!! A good ol' outdoors box, full of knives and tools and outdoorsy things. This might not be suited to my lifestyle specifically, but all the men in my life (BF, Brother & Dad) and going to go crazy for this!! There's really only one or two other boxes I receive that "the men" like. I have been waiting to find another one and here it is!! This box is filling a subscription box category that is currently lacking.
I did a little research prior to the review and found out that Primal Outpost offers more than just a kick a** subscription box, they also have a shop and offer courses. Here's what the website had to say:
We are a team of rock climbers, skydivers, scuba divers, hunters, fisherman, athletes, and military operators, but above all else… we are EXPLORERS.
   Our mission is to encourage exploration.
   Our goal is to introduce you to incredible products
   Our vision is to create a community of like-minded pioneers.
Here's a look at the items I received in my very first Primal Outpost Box:
Epic Wild Boar Bar
Our feral boar is as wild as the great state of Texas. As an invasive species, wild pigs are notorious for destroying agriculture and killing native species throughout the state. In some counties, local governments pay hunters to bring in wild boar carcasses in attempt to control the rapidly growing population. These nourishing animals are frequently disposed of and their delicious meat never utilized by humans.
It's only the first item and I already know my Brother and Dad are going to be HUGE fans of this box. Here we have some sort of wild boar jerky type bar…..are you kidding me! This has my Dad's name written all over it. Even though I'm vegan, I still think this is a really great item for this kind of box.
Injinji Performance Socks
Maximize your comfort by minimizing bulk, moisture build up and friction with the RUN Lightweight socks. This ultra-thin, minimalist style performance toesock allows your toes to align and splay naturally resulting in a more comfortable fit. The foot will remain cool with the light and breathable mesh top that maximizes ventilation.
Not only does my Dad spend most of his time outdoors, he also happens to be extremely active. We are talking running, swimming, biking, skiing…..you name it. He will get a lot of use out of these.
Swiss Tech Micro-Tech 9-in-1 Sport
The Swiss+Tech Multitool features nine useful functions including pliers, wire cutter, wire stripper, 1/8-inch screwdriver, 1/16-inch screwdriver, Phillips screwdriver, bottle opener, file and knife. With its quick-release and self-locking mechanisms this tool is easy to use. It can be clipped to a keychain, tool box or bag for handy everyday use. Perfect for auto, hunting and more. 
This is why I love boxes like these and wish I received them more often. Multi-use tools are a must-have for anyone who works outside, hikes, hunts, bikes…..etc.
Colt Knife
Seeing as I know absolutely NOTHING about knives, they actually kind of freak me out, here is what I found online:
Closed Length 4 1/2"
Blade Length 3 1/2"
Overall Length 8" (20cm)
Blade with black stonewash finish and dual thumb studs.
Tan textured G-10 onlay front handle.
Polished stainless back handle/frame.
Lanyard hole. Stainless pocket clip.
Commando Wire Saw
The Strongest (over 100 lbs breaking strain) and most effective wire saw available. Cuts through wood plastic bone and even soft metals. Constructed using 8 strands of interwoven stainless steel wire will easily reach inaccessible places. Attach rope to split ring on each end to cut higher branches 24″ sawing edge. Many uses for the outdoor and home.
Umm…..this is freakin' cool! I can see my brother using this when he goes hunting, or my Dad using it in on the farm. I'm not sure who will get this item……it's probably going to cause a fight.
Foster & Rye Wall Mounted Bottle Opener
Watch out – our wall-mounted grizzly bear bottle opener is awake from hibernation and hungry for beer. Keep this cast iron trophy attached to a wall nearby with jaws bared and ready for bottle caps.
What man-cave would be complete without a wall mounted bottle opener! This rounds out the box nicely…..a fun little home decor item to balance out all the outdoor gadgets.
Primal Outpost Review March 2017
Primal Outpost…..where have you been all my life. I've been looking for a box like this for at least a year now. Like I mentioned above, the subscription box market is lacking in the outdoor subscription box category. The men have a lot of choice when it comes to fashion and accessories, but not a lot of choices when it comes to the fun stuff. Not to say that the women won't also love this box, I just don't want to take away from the fact that I can finally add an outdoor themed box to the men's category. This is going to go over VERY well with my Brother, my Dad and the BF. Now for the dilemma…….who to give it to?
XOXO
Explore.
Save.
Enjoy!
Sign up for a free account on A Year of Boxes to receive exclusive offers, be added to our monthly mailing list, and much more! We are always adding features to improve the experience for our users, from their valuable feedback!
Join Today!