Put A Bow On It Review March 2017
Put A Bow On It is a Canadian Subscription Box full of fabulous lifestyle products curated around a fun and exciting theme. They kindly sent us this box for review. 
Did you see last month's Put A Bow On It review? I absolutely loved the February Box, but some of my YouTube viewers didn't agree. They felt the value wasn't there and that it was maybe even lower than the cost of the box itself. I don't usually spend too much time on value. If the product card specifies value I will make a note of it, but I don't spend time searching the internet for prices because you will almost always find a sale, or a deal of the moment causing the item to be cheaper than it would be normally. Anyways, I personally felt that the February box had reasonable value because I loved the items so much. The mittens were amazing!!!
This month I am reviewing the Premium box again. The theme is Spring Fresh and here is what the product card had to say:
March Premium Box is all about Spring Fresh. Spring is the perfect time to give your home a thorough clean and start changing some of your winter decor. That is why this month we have included helpful cleaning tips, all natural multipurpose cleaner, linen sprays and chic multipurpose decor items. Your home will not only look fresh but it will smell fresh too.
Here's a look at the items we received in the March box:
Kate Spade Kitchen Towel
Who better to bring a dash of whimsy into the kitchen, but Kate Spade. Whether you find food preparation or the clean-up to be a pleasure or a pain, we're sure that at least one of these cleverly-designed hand towels from Kate Spade will do the trick.
This is super cute, fits the theme perfectly, and makes me think of Spring. I absolutely love the design. It's making me want to get my house Spring ready ASAP.
Laundry Hints & Tips by Cindy Harris
Let the hints and tips of laundry inspire you to fill your home with beautifully scented and sparkling clean clothes and linens. These are the easy-to-acheive results that will transform your laundry routine from a chore into a pleasure.
If I would have received this a couple years ago I probably wouldn't have been excited. But fast forward two years, I'm now in a new house, and my domestic side is taking over. I get very excited about anything to do with cooking, cleaning, organizing, etc. I can see myself reading this book, glass of wine in hand.
Room & Linen Spray
You can use the Air & Linen spray on your bedding, your couch, curtains, car seats, dog bed and just into the air to help remove any odours. It's a blend of essential oils designed to help you find a happy place free from odours. Do not spray directly on fabric at close range.
This room spray is right up my alley. It is all-natural and only contains 4 ingredients. I stopped using regular sprays and air fresheners a couple of years ago.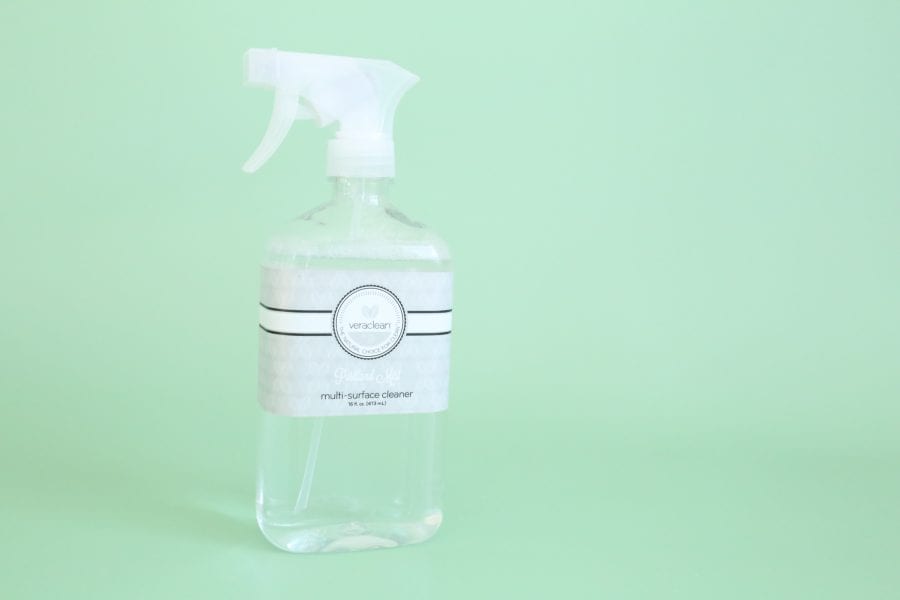 VeraClean Natural Cleaner
This multi-surface cleaner is suitable for cleaning countertops, tables, appliances, highchairs and more. You can safely use it on children's toys too! Because VeraClean uses only natural active cleaning agents, you can be assured that all the areas of your home are being cleaned without damaging your home or your health.
I love cleaning items like this! I will get a lot of use out of this spray. I like to keep a bottle in all the bathrooms, as well as the kitchen. Convenience is key when it comes to cleaning.

Mini Concrete Diamonds – Marble Set from Mind the Minimal
Each box comes with five beautiful handcrafted concrete diamonds. It's simple, minimal and chic. Perfect decor for your numerous rooms in your home. They also make great ring holders.
These are really cute, and perfect for my jewelry tray. I'm not sure I will use them other than that, but I'll definitely use them to keep my rings organized.
Put a Bow On It Review March 2017 – Final Thoughts
This months box has a suggest retail value of $85. After the different opinions on last month's value, I decided to do a little research on each item in this month's box and found the following:
Mini Concrete Diamonds = $20, VeraClean Natural Cleaner = $6.75, Room & Linen Spray = $13, Laundry Hints & Tips by Cindy Harris = $14.95, Kate Spade Kitchen Towel = $13.99
These are the costs I found when doing a simple Google search for each item. After totalling these up the value of the box is slightly lower than the suggested retail value, and it's also lower than the cost of the box itself. Like I mentioned above, I try not to get too wrapped up in the value of my subscription boxes, but I do like to see them equal the cost of the box, at least. I really do love the theme of this month's box as well as the items we received, but I will be keeping a closer eye on the value going forward.
XOXO
Explore.
Save.
Enjoy!
Sign up for a free account on A Year of Boxes to receive exclusive offers, be added to our monthly mailing list, and much more! We are always adding features to improve the experience for our users, from their valuable feedback!
Join Today!