Quirky Crate Review October 2017
Quirky Crate delivers a box of awesome to your door step each month. With a Quirky Crate monthly membership, every month you'll get a box full of radical, quirky, hard-to-find items for only $34.99 a month. Spoil yourself with fun accessories, bad-ass flair, cute stationery and desk accessories, and pretty much a box jam packed with cute, cool, and totally far-out stuff. They kindly sent us this box for review.
Eeekk!! I have been waiting for the October Quirky Crate to arrive. I saw the spoiler they posted this month and almost peed my pants. Wait until you see what they included for us this month. Halloween lovers…….this one is for you!
Subscription Details
Quirky Crate is a monthly subscription for only $34.99. They ship worldwide and shipping costs vary depending on location.
At least 6-9 quirky items, including an enamel pin from a featured pin artist, and a fun pair of socks each box.
You can expect eccentric hand bags and accessories, cute stationery and stickers, fun household items and pretty much anything we can find that will bring a smile to your face
Retail value is always $60+
You will be auto-billed every month on the 23rd until you choose to cancel your subscription. (Canceling is easy and hassle-free)! Email info@quirkycrate.com to cancel or log into your account.
Some Quirky Crate items tailor to adults. If you are 18 or under please make note in comments section.
Here's a look at the items we received in the October box….
Money Bag Cross-Body ($21)
How freakin' awesome is this! Sorry for the vocabulary but it's the only way I can get across how excited I am about this purse. In fact, I opened the box at the post office yesterday just so I could show Kathy (the post office lady) what was tucked inside. Thanks to this awesome cross-body, my Halloween costume is complete. I already have a striped top, black leather jacket, black skinny jeans and black lace-up boots. Oh…..and a black beanie. All I need to do is carry this little purse around and voilà!
Vampire Teeth Ice Cube Tray ($6)
Next up we have the perfect accessory for any Halloween party. I mean, let's be honest, what party would be complete without vampire teeth ice cubes?!
Monster Patch ($5)
Thanks to Quirky Crate I am now obsessed with patches. This one is no exception. It fits the overall Halloween vibe of the box perfectly. Now I just need to figure out where/how to use all my new patches.
Ouija Mystifying Mints ($5)
I am dying over this mint tin. How appropriate is this!? And where on earth did the find a tin of mints that look like a Ouija board?!
Saturn Socks ($7)
I've come to realize that Quirky Crate finds the best socks! This month again we have received classic white socks with just a hint of quirkiness. I am loving these!
Spooky Cat Pen ($2)
Oh my goodness……it just keeps getting better and better. I have a pen in my hand all day, every day. And now I get to be festive by using this black cat pen. Talk about getting into the Halloween spirit. I can't wait to use this.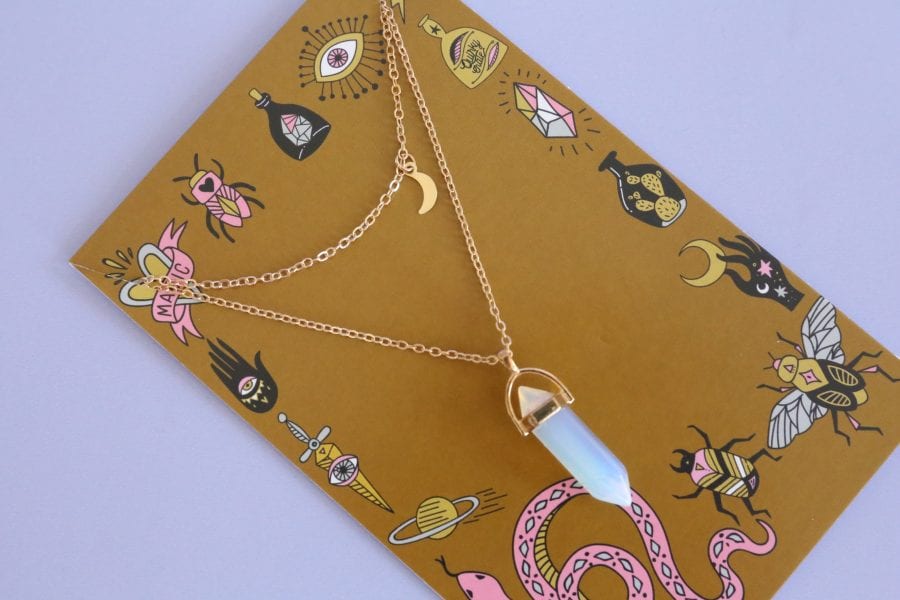 Moon Child Necklace ($12)
This necklace is not only pretty, but it fits the theme of the box as well. I love this necklace. I am going to wear it with my Halloween costume……just because.
I.Heart.Avocado Pumpkin Pin ($10)
Lastly we have our feature item……the enamel pin. Quirky Crate includes a pin every month and they feature a new artist in each box. This month the feature artist is Abby Broussard and she has created this adorable pumpkin pin for us. I don't even wear enamel pins but I am going to find an excuse to wear this one because it is THAT cute.
Quirky Crate Review October 2017 – Final Thoughts
Oh my goodness! Best Halloween themed box ever!!! I am absolutely thrilled with the October Quirky Crate. I mostly love it because they provided me with a Halloween costume and some really fun accessories to go with it. I honestly can't wait to use the money purse and dress up as a burglar. How cute!! And I love every other item in the box as well because they all have a Halloween vibe to them. The pin this month is adorable, as is the patch, pen, and socks. Oh, and the Ouija mints are pretty darn awesome. Basically I just LOVE everything about the October Quirky Crate. If you didn't receive the October box you are missing out…….big time!
XOXO