RawSpiceBar Review February 2016
I must admit, I hate how long it takes to get my RawSpiceBar packages every month. I was a little confused with this one because I felt like it should have been the March box, but it is actually the february box. I mean come on…..I LOVE getting my spice fix in the mail, but HATE waiting so long to get it. I'm actually kind of joking, it doesn't bother me that much, I just love my RawSpiceBar packages so much that I want them yesterday, not tomorrow.
If you aren't familiar with RawSpiceBar it is a subscription box that sends you global, authentic spice blends created by top chefs to your door every month. This box was provided complimentary for review and may include affiliate links.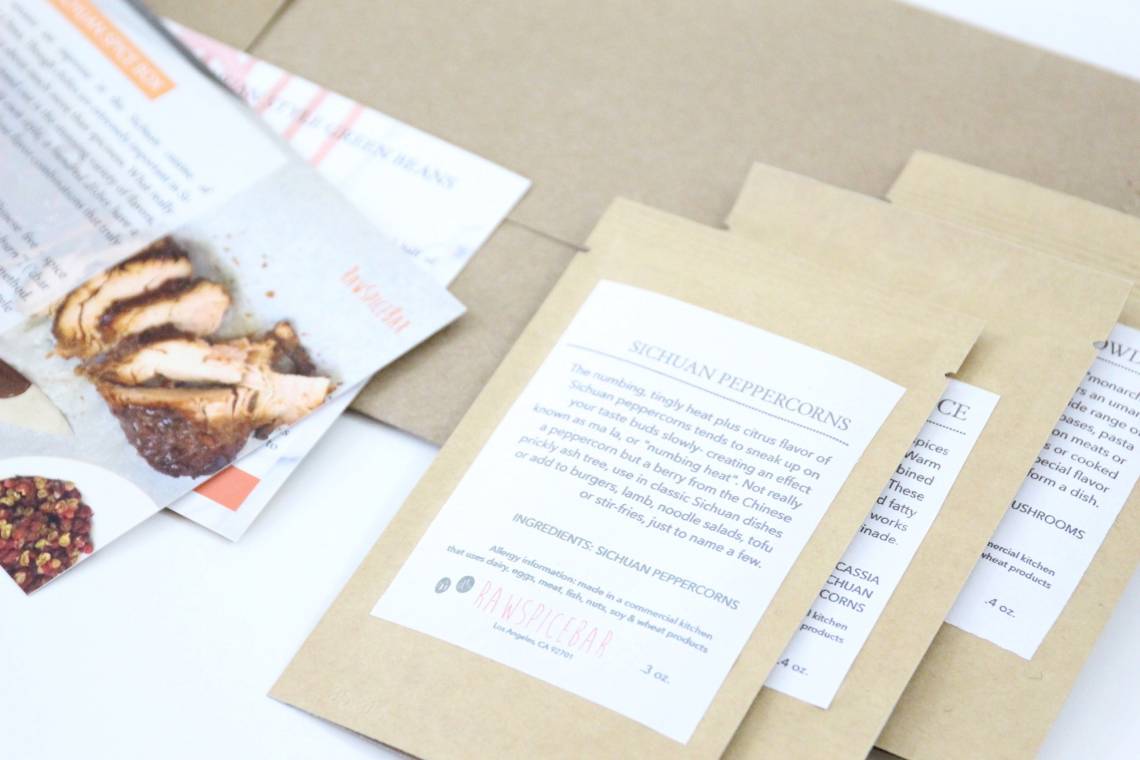 The Box: RawSpiceBar
Cost: $6 per month
What You get: A spice subscription that delivers 3-4 premium spice blends from around the world direct to your door. Each spice box averages 2 oz of spice blends and yields a complete 3 dish meal for 8-12 people.
Ships to: US & Canada
Shipping Cost: FREE to US & $4 to Canada
February's RawSpiceBar features spices from China. I feel like this is the first set of spices that I am actually kind of familiar with. I use to use a Chinese Stir fry spice all the time, until I ran out, and really loved the way it flavoured my vegetables.  I MUST find time to try a few recipes this month…..I must!
Shitake Powder – I'm a huge mushroom fan, I actually just made an awesome mushroom sage sauce last night, and let me tell you, it was good. Anyways, mushrooms are a Vegan's best friend. We use Portobellos as burger replacements (among other things) so this spice definitely piques my interest. The recipe to go with this one is Garlic Shitake & Broccoli Noodles, which is vegan friendly and sounds amazing. I also found a recipe for vegan carbonara with mushroom bacon.
Chinese Five Spice – I've used this spice many times, and love it. The recipe to go along with this one is Barbecued Pork, which I'm obviously not going to try. Instead I found recipes for roasted butternut squash, 5-spice popcorn, and spiced apple muffins…..they all sound amazing. You can find them on my RawSpiceBar Pinterest Board – CLICK HERE
Sichuan Peppercorns – This spice is described as having a tingly heat and citrus flavour – both characteristics sound perfect for my taste buds. The recipe to go along with this one is Sichuan Style Green Beans, which are definitely vegan appropriate. I also found recipes for spicy eggplant, and glass noodle stir-fry.
Thoughts: Well………I'm happy and overwhelmed at the same time. I love the spices we received this month, they are all very "usable" for the vegan. But, I have been so swamped with box reviews as of late that I don't know when I am going to find the time to get my butt in the kitchen. I want to so badly that I will definitely make it happen, but it will require some late night blogging and early morning cooking. I kind of wish we had received some sort of sweet spice this month so I would have an excuse to bake (baking is much more acceptable at 5am in the morning than cooking is) but I did end up finding a pretty amazing muffin recipe for the five-spice powder…..that will probably be the first recipe I try.
XOXO
Explore.
Save.
Enjoy!
Sign up for a free account on A Year of Boxes to receive exclusive offers, be added to our monthly mailing list, and much more! We are always adding features to improve the experience for our users, from their valuable feedback!
Join Today!