Saltwater & Sand Review Winter 2019
Saltwater & Sand is a coastal subscription box bringing you luxury beach boutique items to your doorstep each quarter. Each box comes with 5 or more full-size items including a mixture of home decor, jewelry and accessories, food items, and bath and beauty products. They kindly sent us the Winter box to review!
Box Details: If you're an ocean or beach enthusiast, then this box is for you! Receive at least 5 full size beach boutique products each quarter. Items range from home decor, fine jewelry and accessories, gourmet food and drink, or beauty products. Boxes are also available as one-time shipments or gifts.
Subscription Box Plans:
One-time box (no subscription): $149
Seasonal Plan: $129
Annual Plan: $515 ($128.75/box)
Shipping (USA only, excluding Hawaii and Alaska): $5
One of my favorite things about Saltwater & Sand is that each item comes individually gift wrapped in tissue paper and placed neatly in the monthly basket! This makes each box ready to be gifted whether it be a housewarming gift, birthday, or really any event.
Welcome Beads
"Jewelry for your home." Designed and handmade in the Low Country of South Carolina by Shannon Levin. They are a welcoming tradition and symbol to your guests and look gorgeous hung in entry ways, on tables and fit perfectly on wine bottles and door knobs. This custom design includes sea glass beads and hand painted oyster shells in our favorite colors."
I've never heard of Welcome Beads before, but I'm loving the idea of them! These are handmade in South Carolina and represent a welcoming symbol to your house guests. The beads are made of wood and gorgeous sea glass. At the end is a painted oyster shell in a beautiful white and gold design.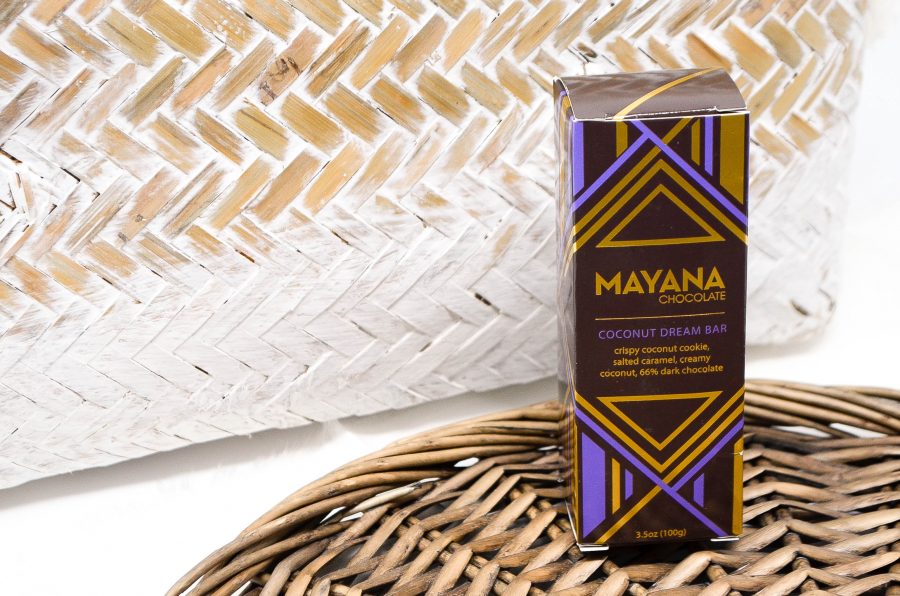 Coconut Dream Bar
"Mayana Chocolate's award-winning chef Daniel Herskovic has created this uncommonly luxurious bar featuring a crispy coconut cookie, salted caramel, and creamy coconut. The beautiful packaging pays homage to the lush chocolate growing region and supports Mayana's craftsman approach to contemporary chocolate artistry."
YUM! The Coconut Dream Bar is full of decadent and luscious layers of dark chocolate, a crispy coconut cookie base, salted caramel, and creamy coconut! This chocolate bar is also pretty big, so there's plenty to go around if you're willing to share.
Sea Garden Candle
"Natural sea shells fill the bottom of this gel candle for a true coastal experience. Infused with pure botanicals in a lotus flower and water lily fragrance that is paraben free, this candle will leave your home scented with flowers from the beach."
The Sea Garden Candle is hands-down the most gorgeous candle I've ever seen. It's made of a clear wax which brings the attention to the sea shells laying at the bottom of the candle. It's major beach vibes and transports me to the ocean whenever I see it! Besides the appearance, the candle has a fresh lotus flower and water lily fragrance that gently fills the room without being overpowering.
Golden Ocean Marine Eye Gel
"This collagen all-natural eye gel mask is infused with marine extracts and nano-gold to revive your eyes and leave you looking and feeling refreshed. Natural ingredients such as nourishing seaweed and age-defying gold work together to relax your skin and revitalize your complexion."
The Golden Ocean Marine Eye Gel is made of a cooling hydrogel material that instantly de-puffs the eye bags upon application. It felt soothing on the skin and left me looking and feeling refreshed. The essence helped minimize my eye bags and made them feel more hydrated and supple.
Facial Sea Sponge
"Silk sea sponges are responsibly harvested from the coast of the Philippines and are perfect for gentle exfoliation. The minerals contained in the natural sponges nourish and benefit the skin and include calcium, magnesium, sodium, iron and zinc. Simply rinse and hydrate this renewable resource."
I love how this natural facial sponge is responsibly harvested from the Philippines! It has a really soft texture that gently exfoliates the skin without stripping the skin barrier or being too harsh.
Pina Colada Loose Leaf Tea
"Add some tiki to your tea time with this flavorful and fruity tea. Naturally low in calories, it is a guilt free, tropical indulgence that will transport you to pineapple paradise."
The Pina Colada Loose Leaf Tea is a delicious fruity blend of dried green tea leaves, candied pineapple, black currant, stevia, and coconut. It's very aromatic and transports me to a tropical beach every time I make this tea. I'm not a huge fan of pina colada in general, but I enjoyed this tea!
Rose Gold Tea Infuser
"Tea tastes just a little sweeter when brewed inside a pineapple. This fresh rose gold infuser also doubles as a stir stick and is a perfect compliment to pina colada tea."
Wow – this pineapple-shaped tea infuser is the cutest thing, and it pairs perfectly with the loose leaf tea this month. I actually don't own a tea infuser yet and have been meaning to get one. This one is really cool because you have to squeeze the handle to open the infuser chamber… kinda like a pair of tongs!
Ombre Tassel Basket
"Eco friendly bamboo is handwoven and dip dyed to create this on trend, tasseled, ombre basket. Too beautiful to keep in a closet, it makes for stunning storage that can take center stage in any home."
I'm obsessed with this month's basket! I wouldn't exactly call it ombre, but it's made of sturdy handwoven bamboo that's been painted white along the bottom half of the basket as well as the inside. The handles are wrapped in a white yarn with tassels at the end. This is a gorgeous furniture piece that can be used to store anything from magazines to throws!
Saltwater & Sand Winter 2019 Review – Final Thoughts
This is only my second time reviewing Saltwater & Sand, but it has easily become one of my favorite lifestyle subscription boxes I find myself waiting for each quarter. The curation this month was well thought out and contained a nice mixture of items from chocolate goodies, beauty items, home decor, and more. Everything gave me major beach vibes and I felt transported to the ocean!
One thing I appreciate is that Saltwater & Sand includes items that are responsibly sourced/harvested, like this month's Facial Sea Sponge. I can feel good about using these items while still looking out for the environment.
I'm excited to see what's in store for this Spring's box!
Mary Vu – http://thepointofvu.blogspot.com