Scent From Review February 2017
Scent From is a premium, travel-inspired candle box that includes a range of carefully selected scented products for the home. Each month the box is inspired by a different destination. They kindly sent us this box for review.
This is my very first time reviewing Scent From. You all know how obsessed I am with candles, so it should come as no surprise that I was really looking forward to receiving this box. I think this is an amazing idea for a subscription box. I go through at least 1 candle a month, if not more, so it makes total sense to subscribe to a monthly shipment of candles……does it not?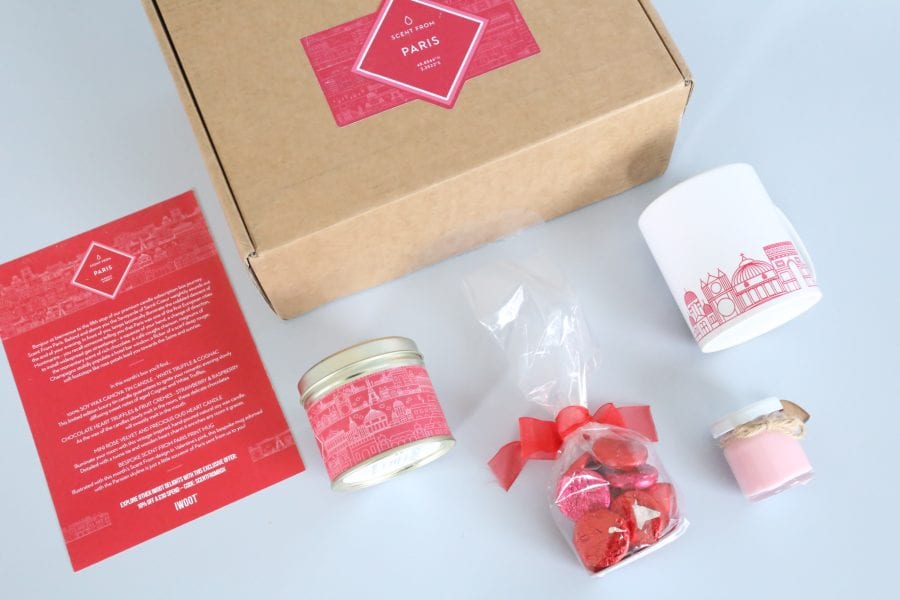 February Theme
This month's scent destination is Paris.
This special edition mystery box will transport you to Paris, the city of love. Behind and above you the Savoyarde of Sacré-Coeur weightily sounds out the end of your evening. In front of you, lamps laconically illuminate the cobbled descent of Montmartre – you recall someone telling you that Paris was one of the first European cities to install widespread gas streetlamps – a squeeze of your hand, a change of direction, the momentary scent of rich chocolate. A café coughs chanson, magnums of Champagne stolidly populate a hotel bar window, a flicker of a scarf deep rouge; soft footsteps like rose petals lead you towards the Seine and sunrise.
Seems like the perfect destination for a February box. We are off to a good start!
100% Soy Wax Canova Tin Candle – White Truffle Cognac
This limited edition luxury tin candle guarantees to ignite your romantic evening slowly diffusing sweet notes of aged Cognac and White Truffles.
This smells delightful! It's creamy and sweet at the same time.
Chocolate Heart Truffles & Fruit Cremes – Strawberry & Raspberry
As the wax of the candles slowly melt in the room, these delicate chocolates will sweetly melt in the mouth.
A bag of chocolates! This is awesome. I feel kind of ridiculous right now. I'm sitting here smelling the candle and staring at the chocolates. I'm almost in a mesmerized state. I kind of want to eat the chocolates right now……with my coffee…..it's 7am in the morning…….is that wrong?
Mini Rose Velvet & Precious Oud Heart Candle
Illuminate your room with this vintage-inspired, hand-poured natural soy wax candle. Detailed with a twine tie and wooden heart charm it enriches any room it graces.
I think this is possibly the cutest little candle I have ever received. The wooden heart is just too much! In a good way. The candle itself smells very pretty.
Bespoke Scent From Paris Print Mug
Illustrated with this month's Scent From design in Valentine's pink, this bespoke mug adorned with the Parisian skyline is just a little souvenir of Paris sent from us to you!
Ummm……how freakin' cool is this! A coffee mug to go with my candles and chocolates! Really, does it get any better? I think not. These are literally 3 of my favourite things in the whole wide world. Anytime I receive a coffee mug in a subscription box the value (to me personally) doubles. We don't receive cute mugs often enough.
Scent From Review February 2017 – Final Thoughts
I am 100% in love with this subscription box! It's absolute perfection. My February Scent From box couldn't have been any better. The theme is perfect and the items are amazing. If we received the same mixture of products every single month I would be a subscriber for life! Coffee mugs, candles and chocolate! Oh my goodness. I'm so in love with this product mixture that I'm almost speechless. Am I repeating myself? Am I overusing the words love, and perfect?
This box feels like a special gift, something I would purchase for myself or for a friend. I'm very curious to see what the next box is like. Is Scent From this awesome every month! I hope so!
Question: What do you think of Scent From? Are you as excited about it as I am?
XOXO
Explore.
Save.
Enjoy!
Sign up for a free account on A Year of Boxes to receive exclusive offers, be added to our monthly mailing list, and much more! We are always adding features to improve the experience for our users, from their valuable feedback!
Join Today!