Scent Trunk Review February 2016
Scent Trunk is one of the only fragrance subscription boxes I review. It's not the only one out there, but its the one I'm most familiar with. My last review was in November and I absolutely loved it. It's safe to say that the November box was my favourite box from Scent Trunk thus far, and I was really hoping that this month would be just as good, if not better.
If you aren't familiar with Scent Trunk it is a tailored fragrance subscription to help men and women find their perfect scents without spending hours in department stores. This box was provided complimentary for review and may include affiliate links.
The Box: Scent Trunk
Cost: $18 per month
What You Get: Scent Trunk sends three miniature fragrances monthly or 4 miniature fragrances each season
Ships to: US & Canada
Shipping Cost: FREE
Coupon: Use the coupon "YEAR40" to get 40% off – CLICK HERE
Scent Trunk changed things up a few months back and started offering women's fragrances. Until then they focused on unisex, or more masculine scents, that most people would say were more suited to men but the idea was that women could wear them too. I am really happy that they added fragrances specifically suited to women because I like my perfume to be as girly as possible.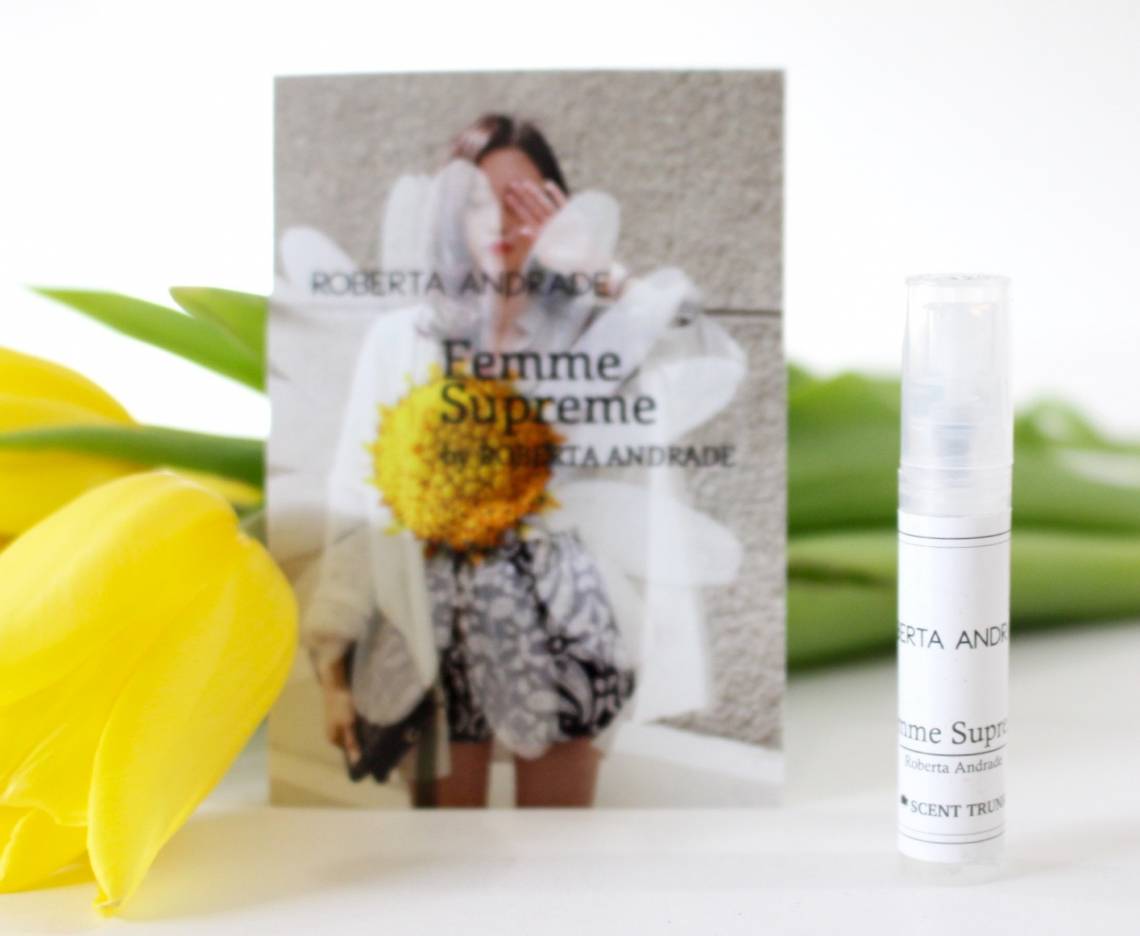 Roberta Andrade Femme Supreme – This fragrance has notes of magnolia, jasmine and musk. I'm not really a fan of any of those scents so this one isn't really for me. However, some women love perfume with notes of musk, it's actually quite popular.
April Aromatics Jasmina – This fragrance only has notes of jasmine, and once again it's not really for me. I prefer a fruit scent to a floral scent.
Ineke Perfumes Hothouse Flower – This last one has notes of cypress, gardenia, and musk. Unfortunately I'm not a fan of this one either.
Thoughts: I hate to say it but this month's Scent Trunk just isn't my style…. plain and simple. I definitely preferred my November box; that one was on point. I feel like all three scents I received this month were very similar and didn't really follow my scent profile. I prefer fruity scents as opposed to musky scents, but at the same time it's always good to test out perfumes that you wouldn't normally pick out for yourself. I love the idea of Scent Trunk, I honestly do, but I would really like to see them offer some sweeter scents with candy undertones……the sweeter the better!
XOXO
Explore.
Save.
Enjoy!
Sign up for a free account on A Year of Boxes to receive exclusive offers, be added to our monthly mailing list, and much more! We are always adding features to improve the experience for our users, from their valuable feedback!
Join Today!