ScentBox Review August 2019
ScentBox is an affordable and fun way for members to seek out and sample wonderful new designer fragrances each and every month….only $14.95/mo. They kindly sent us this box for review.
When it comes to fragrance subscription boxes, ScentBox is definitely a favourite. I have been reviewing it on and off for quite some time and am always happy with what I receive. I like the price point, the packaging, the option to choose your own fragrance, and my absolute favourite part…..we get a new travel case each month.
Subscription Details
Subscribe – Join today for as little as $14.95/mo (with free shipping). Go month to month & cancel anytime, they're not looking to tie you down, unless you're into that.
Choose Your Scents – Each month browse from over 850+ designer fragrances and choose one that you'd like to try, they'll send you a 30-day supply (0.27 oz / 8 ml) in an elegant refillable travel spray and keepsake box.
Monthly Deliveries – Sit back and revel as you go from extreme anticipation to utter ectasy as your monthly delivery arrives with your new fragrance.
Forget to Choose Your Scent? – Don't worry you won't end up empty handed. If by the cut-off date you forget to choose a designer fragrance one month, they will automatically send you the fragrance of the month. Each month they choose a different feminine and masculine fragrance that they showcase, you will be defaulted to this scent based off the scent preference you chose at signup.
This month I chose my own fragrance by adding it to my fragrance calendar, but if I wouldn't have done that I could have received the fragrance of the month. For August it is CK One Platinum Edition by Calvin Klein.
Here's a look at the fragrance I received in my August ScentBox: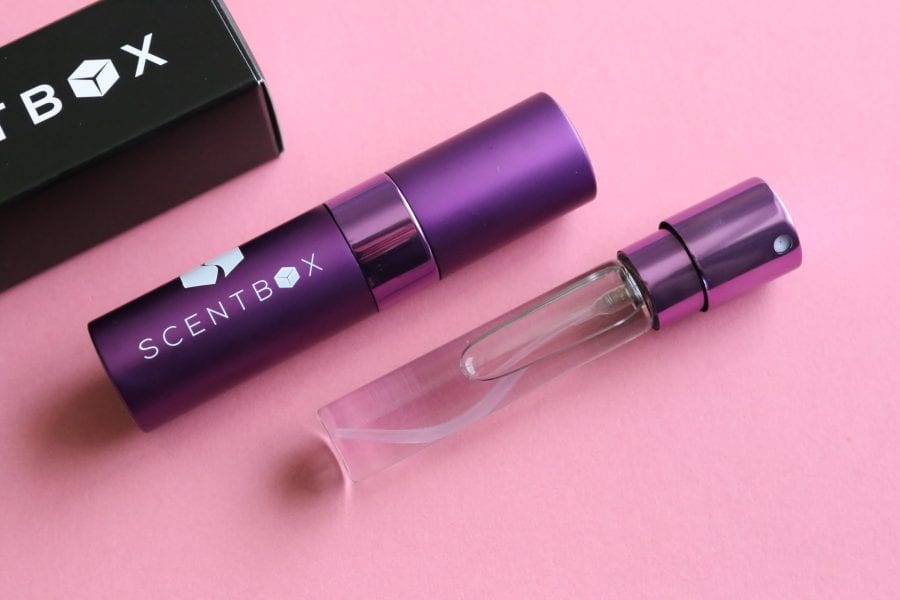 Hypnose by Lancome
Hypnose perfume by Lancome is a captivating fragrance for a charming woman with a surprising and intriguing attitude. Slip into this luminous oriental perfume that instantly captivates with Passion Flower, Vanilla and Vetiver notes. Let it empower you to be your most mesmerizing self.
ScentBox Review August 2019 – Final Thoughts
My August ScentBox is pretty darn awesome. The fragrance I chose this month is my favourite to date. I had heard great things about Hypnose but until now I had actually never experienced it. The smell is amazing. I mostly chose it because of the vanilla notes and also because of the great reviews it gets. some describe it as a warm sweet scent and others claim it is their signature scent. The moment I sprayed it on my wrist I knew it was a perfect match. I can see this becoming my signature scent as well.
-AYOB