ScentBox Review December 2018
ScentBox is an affordable and fun way for members to seek out and sample wonderful new designer fragrances each and every month….only $13.95/mo. They kindly sent us this box for review.
Coupon Code: Use our link to get your first month for 30% off! – CLICK HERE
Christmas is right around the corner and I'm sure most of you trying to get through your shopping list. Well……it's a given that perfume makes a really great Christmas gift so why not a perfume subscription? Fragrance makes a great present but it's really hard to pick out a scent for someone else. With ScentBox, you can gift your loved one with a subscription and they can either pick out their own scent each month or be surprised with the fragrance of the month. Either way it's a great idea.
Subscription Details
Subscribe – Join today for as little as $13.95/mo (with free shipping). Go month to month & cancel anytime, they're not looking to tie you down, unless you're into that.
Choose Your Scents – Each month browse from over 650+ designer fragrances and choose one that you'd like to try, they'll send you a 30-day supply (0.27 oz / 8 ml) in an elegant refillable travel spray and keepsake box.
Monthly Deliveries – Sit back and revel as you go from extreme anticipation to utter ectasy as your monthly delivery arrives with your new fragrance.
Forget to Choose Your Scent? – Don't worry you won't end up empty handed. If by the cut-off date you forget to choose a designer fragrance one month, they will automatically send you the fragrance of the month. Each month they choose a different feminine and masculine fragrance that they showcase, you will be defaulted to this scent based off the scent preference you chose at signup.
Here's a look at the fragrance I received in my December box: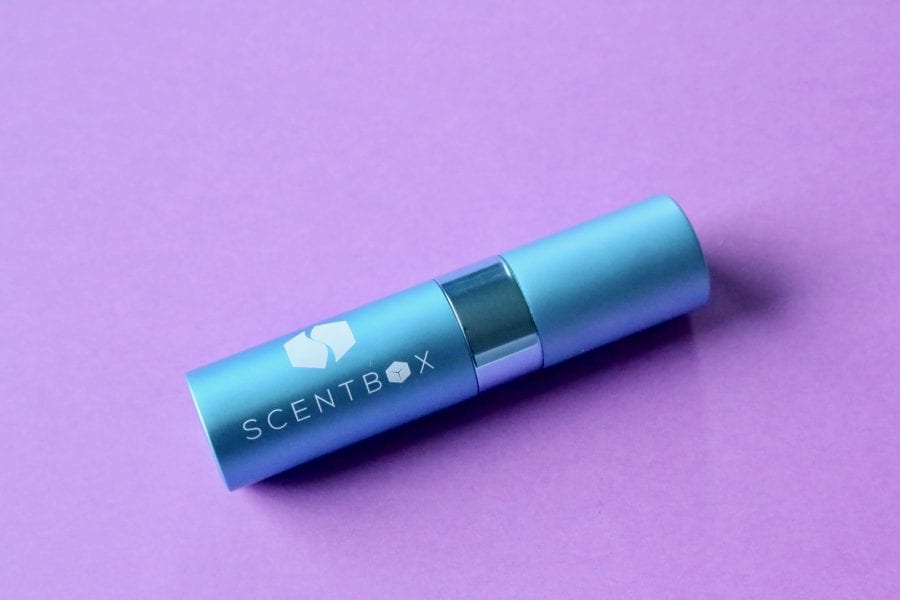 Vince Camuto Fiori
Fiori opens with bright pink grapefruit drops combined with irresistible white nectarine. The heart is enriched with elegant iris flowers and fresh freesia. Base notes compose of a blend of creamy sandalwood and blue cedar. 
Notes: nectarine, grapefruit, iris, sandalwood
ScentBox Review December 2018 – Final Thoughts
One thing is for sure, ScentBox really knows how to pick out a fragrance of the month that will appeal to a majority of subscribers. I'm extremely picky when it comes to perfume but I have been very happy with all of their monthly selections. The December scent is no exception. It's a really lovely scent, it's fresh but sexy at the same time. I can definitely pick up the nectarine and the grapefruit and when they say the base notes are creamy sandalwood and blue cedar, they are definitely right. I can definitely detect a creamy sandalwood finish. It's a lovely scent and ScentBox would make a lovely gift.
XOXO