ScentBox Review December 2019
ScentBox is an affordable and fun way for members to seek out and sample wonderful new designer fragrances each and every month….only $14.95/mo. They kindly sent us this box for review.
ScentBox is an all-time fave when it comes to beauty subscription boxes. I rave about it every month and have been reviewing it for quite some time. If you are in the market for a fragrance subscription…..this is one I highly recommend. I think it is reasonably priced, I get to pick out my own fragrances every month, and every box includes a new travel case. It's simple, convenient, and it saves me a trip to the perfume counter.
Subscription Details
Subscribe – Join today for as little as $14.95/mo (with free shipping). Go month to month & cancel anytime, they're not looking to tie you down, unless you're into that.
Choose Your Scents – Each month browse from over 850+ designer fragrances and choose one that you'd like to try, they'll send you a 30-day supply (0.27 oz / 8 ml) in an elegant refillable travel spray and keepsake box.
Monthly Deliveries – Sit back and revel as you go from extreme anticipation to utter ectasy as your monthly delivery arrives with your new fragrance.
Forget to Choose Your Scent? – Don't worry you won't end up empty handed. If by the cut-off date you forget to choose a designer fragrance one month, they will automatically send you the fragrance of the month. Each month they choose a different feminine and masculine fragrance that they showcase, you will be defaulted to this scent based off the scent preference you chose at signup.
This month I chose my own fragrance by adding it to my fragrance calendar, but if I wouldn't have done that I could have received the fragrance of the month. For December it is DKNY Nectar Love by Donna Karan.
Here's a look at the fragrance I received in my December ScentBox:
Vanille Abricot Comptoir Sud Pacifique
Introduced in 1992 in response to the overwhelming success of Vanille and Fruits Sauvages, Vanille Abricot offers the perfect balance between fruit and spice. Imagine deep Tahitian vanilla spice enhanced by soft and sensual apricot. Notes include Apricot, Jackfruit, Papaya, Tahitian Vanilla, and Sugar Candy.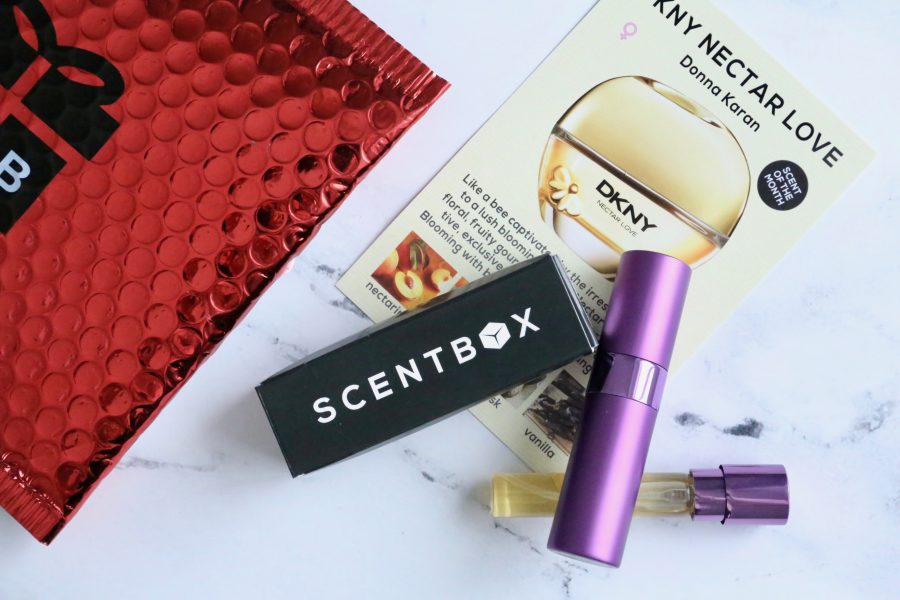 ScentBox Review December 2019 – Final Thoughts
Oh my goodness….where has this fragrance been all my life?! This is 100% my new favorite perfume. If it weren't for ScentBox, I never would have discovered this yummy scent. I say yummy, because that's exactly what it is. I am always on the hunt for vanilla scents but it's hard to find a sweet vanilla fragrance as most are more of a floral vanilla scent. This one smells like a bakery, or a vanilla cupcake…..or candy. I sprayed a little in my office and every time I walk past my office door I am tempted to go inside because it smells THAT good. If you are a ScentBox subscriber you need to add this one to your fragrance calendar. And if you aren't a subscriber…..I strongly suggest you give ScentBox a try for a few months.
-AYOB Sarah