ScentBox Review September 2019
ScentBox is an affordable and fun way for members to seek out and sample wonderful new designer fragrances each and every month….only $14.95/mo. They kindly sent us this box for review.
Is it weird that I get excited for my ScentBox to arrive mostly because I want to see what color travel case I get? It's the little things right?!
ScentBox is one of my favourite fragrance subscription boxes for that reason – we get a new travel case every month. I rarely use up my fragrance by the time the next one arrives so this is a huge selling feature for me. I like to keep each fragrance in its own travel case rather than switching them out each month.
Subscription Details
Subscribe – Join today for as little as $14.95/mo (with free shipping). Go month to month & cancel anytime, they're not looking to tie you down, unless you're into that.
Choose Your Scents – Each month browse from over 850+ designer fragrances and choose one that you'd like to try, they'll send you a 30-day supply (0.27 oz / 8 ml) in an elegant refillable travel spray and keepsake box.
Monthly Deliveries – Sit back and revel as you go from extreme anticipation to utter ectasy as your monthly delivery arrives with your new fragrance.
Forget to Choose Your Scent? – Don't worry you won't end up empty handed. If by the cut-off date you forget to choose a designer fragrance one month, they will automatically send you the fragrance of the month. Each month they choose a different feminine and masculine fragrance that they showcase, you will be defaulted to this scent based off the scent preference you chose at signup.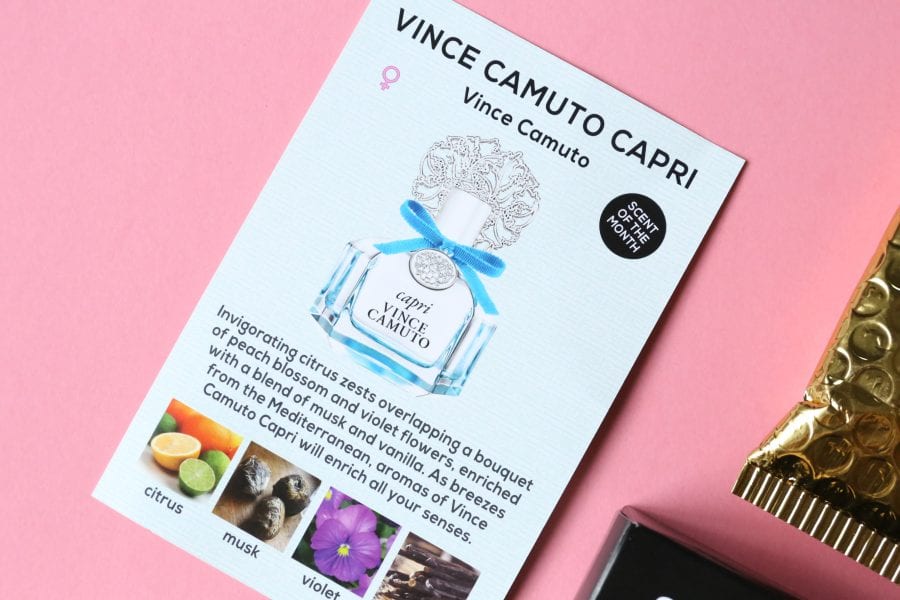 This month I chose my own fragrance by adding it to my fragrance calendar, but if I wouldn't have done that I could have received the fragrance of the month. For September it is Vince Camuto Capri.
Here's a look at the fragrance I received in my September ScentBox:
Bombshell Seduction Eau de Parfum by Victorias Secret
Bombshell Seduction Eau de Parfum by Victorias Secret is a Oriental Floral fragrance for women. Bombshell Seduction Eau de Parfum was launched in 2018. The fragrance features tuberose, sage and musk.
ScentBox Review September 2019 – Final Thoughts
For my September fragrance I chose Bombshell Seduction Eau de Parfum by Victorias Secret. I added Bombshell to my fragrance calendar for a reason but for the life of me I can't remember why. Anyways…..it gets amazing reviews so I am excited to give it a try. Quite a few reviewers say that they get compliments every time they wear it. Most give it 4 or 5 stars and say that it is one of their favourite perfumes.
I tested it out on the product card and let my husband smell it. He seems to like it and that says a lot because he dislikes most of my fragrances. I would describe the scent as fresh, clean and pretty. I definitely pick up on the floral tones as well as the musk. It's a fragrance I am happy to add to my collection.
-AYOB