ScentBox Review September 2020
ScentBox is an affordable and fun way for members to seek out and sample wonderful new designer fragrances each and every month….only $14.95/mo. They kindly sent us this box for review.
If you follow my ScentBox reviews you will know that the last few months I took a break from fragrances and ordered essential oil roll-ons instead. The essential oil rolls-ons are a new addition to the ScentBox website and I was so darn excited about them that I added a few to my fragrance calendar….all in a row. I have a few more added in the following months but for September there was a fragrance that I just HAD to have……so here we are.
Subscription Details
Subscribe – Join today for as little as $14.95/mo (with free shipping). Go month to month & cancel anytime, they're not looking to tie you down, unless you're into that.
Choose Your Scents – Each month browse from over 850+ designer fragrances and choose one that you'd like to try, they'll send you a 30-day supply (0.27 oz / 8 ml) in an elegant refillable travel spray and keepsake box.
Monthly Deliveries – Sit back and revel as you go from extreme anticipation to utter ectasy as your monthly delivery arrives with your new fragrance.
Forget to Choose Your Scent? – Don't worry you won't end up empty handed. If by the cut-off date you forget to choose a designer fragrance one month, they will automatically send you the fragrance of the month. Each month they choose a different feminine and masculine fragrance that they showcase, you will be defaulted to this scent based off the scent preference you chose at signup.
This month I chose my own fragrance by adding it to my fragrance calendar, but if I wouldn't have done that I could have received the fragrance of the month. For September it is RIRI by Rihanna.
Here's a look at the fragrance we chose for our September ScentBox….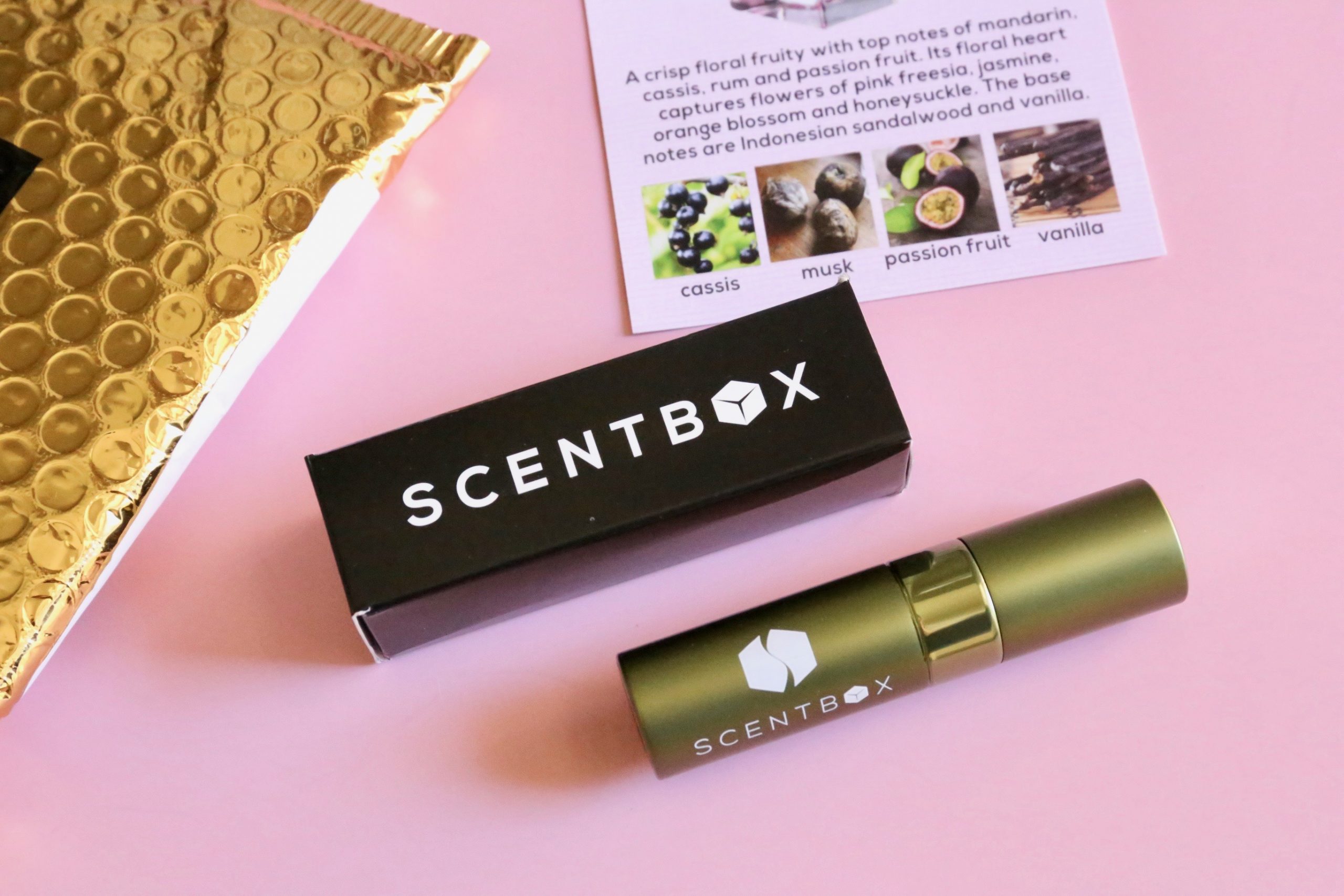 Vanille Coco
A gentle, warm, and sweet breeze delivers paradisiacal islands and offers dreamy scents. Vanilla from Tahiti, and coco milk and heliotrope for a beautiful and exotic escape. Notes include Heliotrope, Coco Milk, and Vanilla from Tahiti.
Travel Case
I don't often talk about the travel cases my ScentBox fragrances come in but they are such an important part of the subscription that I figured I should start talking about them more often. Each month we receive a new travel case which is something that sets ScentBox apart from other fragrance subscriptions. We always receive a different color and for September I received this dark olive green which is unlike any of the cases I have received in the past.
ScentBox Review September 2020 – Final Thoughts
Oh my goodness…..this is hands down, one of the best ScentBox fragrances I have received to date! If you love vanilla and you love sweet scents then this is a must-have. It has the most wonderful smell with notes of vanilla and coco milk. It is sweet, and sugary, and oh-so-good! I received a similar fragrance in my December 2019 box which led me to discover this one. It's by Comptoir Sud Pacifique and they actually have a couple other scents that I just might have to add to my fragrance calendar for the beginning of next year. I have a feeling this will be my go-to scent for the next few months.
-AYOB Sarah