See New Skincare Review March 2021
See New Skincare is a bimonthly skincare box. Experience four to six full-size luxury clean skincare products bi-monthly or quarterly. Every box holds an average value of $180! They kindly sent us this box for review.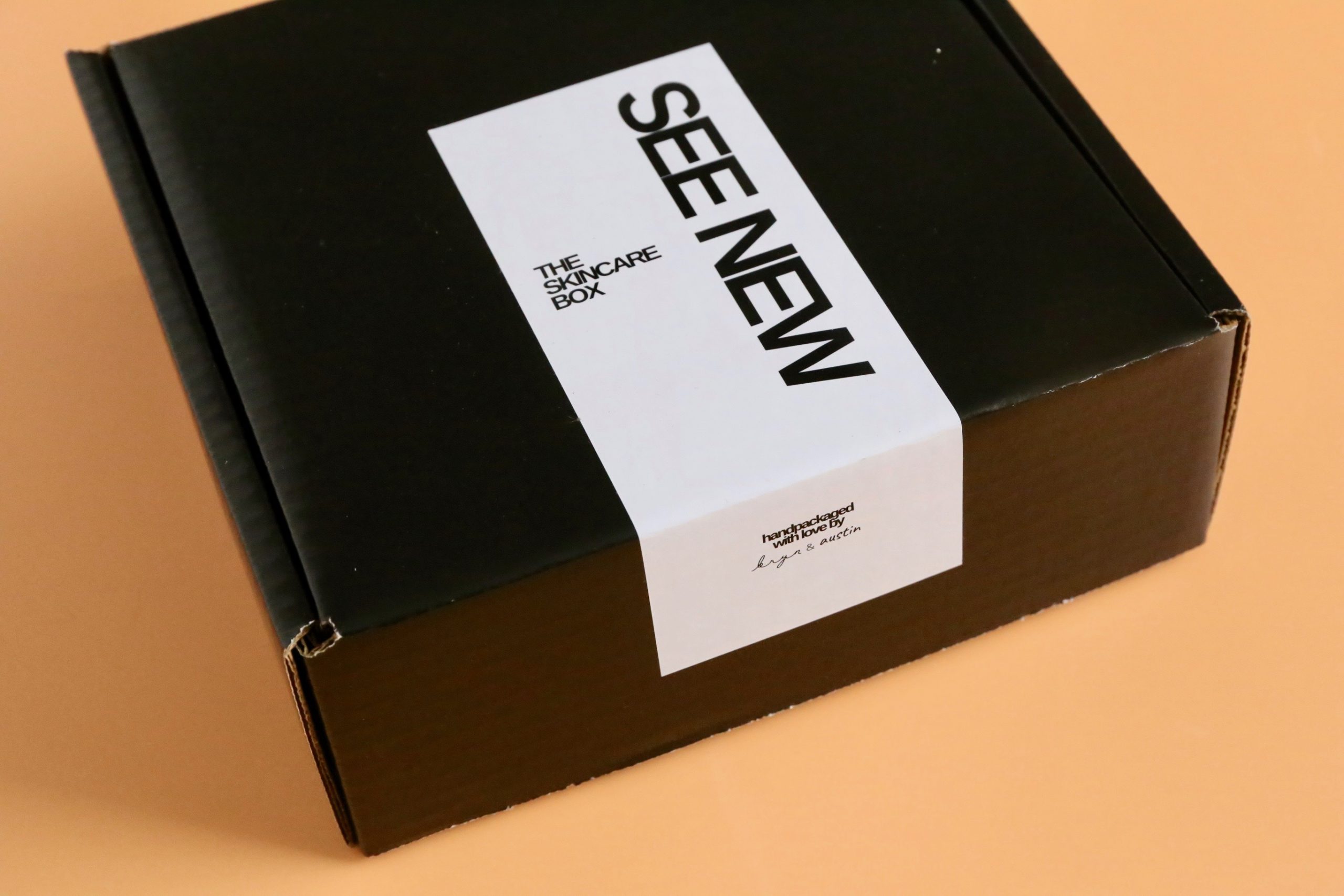 I got to review See New Skincare for the very first time last month and it was love at first sight. I've had my eye on this box for a little while as I just love the idea behind it. The fact that they only feature one brand per box is such a great idea, especially when it comes to skin care. It's definitely a new fave.
Subscription Details
See New Skincare subscribers can expect to receive four to six full-size luxury clean skincare products bi-monthly or quarterly. You will See New brands from around the world focused on cruelty-free, chemical-free, and sustainably sourced ingredients formulated to perfection. The products featured will change every other month and are all cruelty-free, chemical free, and sustainably sourced.
Here's a closer look at our March/April See New Skincare box….
Feature Brand – Rain Organica
Hi, I'm Brandy Searcy, founder and formulator of Rain Organica. I'm a chemical engineer hailing from Georgia Tech and have been in the world of formulation development for about 12 years… including 10 years as a pharmaceutical formulation scientist. I'm a bit of a science geek – at one point, I taught organic synthesis labs to college students (long story). I started making my own skincare back in 2008 for three reasons:
I know WAY too much for my own good about ingredients, how they work together, and how they behave in sunlight.
I was and still am prone to breakouts (and also now worried about wrinkles and age spots). Long skincare routines overwhelm me.
I am always looking for ways to simplify my day and streamline my life, so if I can have just one product that does everything and also contains clean, thoughtful ingredients suitable for my acne prone skin, then I would gladly choose that single all-in-one product over having to use eight different products to achieve the same goal. And, if that product can meet me where I am… whether at home, traveling, on the trail, or in the garden, well, that is the kind of product I seek… and the kind of product I struggled to find in the marketplace.
If you are interested in clean skincare that empowers you to simplify your life by streamlining your skincare routine, then you're in the right place.
Welcome to Rain Organica.
RINSE-FREE FACIAL CLEANSER (retail for $34)
My friend, Maria, was musing about a better way to wash her face at the end of a day of backpacking when she had no access to running water. She was tired of the face wipes she was using and really wanted a more sustainable/less waste option. That conversation sparked the idea for Leave No Trace Rinse Free Cleanser.
No water necessary combined with reusable facial rounds leave no waste to pack out. And, the ingredients? A combination of plant based ingredients & some mud.
A gentle no rinse cream cleanser that won't cause breakouts or irritate your skin. Since it's rinse free, you can use anywhere… at home or in the backcountry. Licorice root powder & cucumber water help soothe skin at the end of a long day on the trail. And, dead sea mud helps remove dirt, grit, and sweat.
A cleanser that requires no water? I am so intrigued. It's such a great idea and the perfect excuse to get rid of my face wipes and reduce waste. The two main ingredients are meadowfoam seed oil and dead sea mud. Something else I love is that it can be used 3 ways – regular cleanser, no rinse cleanser or a mask.
FIREFLY FACE MASK (retail for $42)
Firefly face mask is an invitation for you to linger in the moment and to be fully present as you care for your skin. You can expect a freshly ground natural blend of rice, adzuki beans, chia seeds, and adaptogenic herbs & mushrooms (astragalus and reishi) awaiting you. These powerhouse ingredients work to gently exfoliate the skin while still providing extreme nourishment.
I really need to start using a face mask on a regular basis so I hope this one will entice me. The key ingredients are rice, adzuki beans and chia seeds. They say to mix it with your No Rinse Cleanser, apply to face and leave it on while you shower. The warmth from the shower will hydrate the mask. Rinse off before you get out of the shower.
"I AM ENOUGH" FACIAL OIL (retail for $34)
This serum is PACKED with skin happy foods that work together to restore + soothe + protect your skin. Knowing that argan and tamanu oils are widely used for their skin rejuvenating properties, Brandy started experimenting with these two oils blending in more fragile botanical oils like pumpkin seed and evening primrose, both rich in essential fatty acids to create a blend that would help restore skin's natural moisture barrier.
You all know I love face oil so this is my favorite item in the box. They say to mix it with your facial lotion and use both morning and night.
LIGHT MIST FACIAL TONER (retail for $30)
A protective facial toner to use day or night and anytime you need a refreshing spritz.
Organic cucumber and rosewater soothe irritated skin while helping reduce the appearance of pores. Vitamin C is just incredible all around – whether that's providing you with antioxidant protection during the day time or helping repair your skin overnight.
Offered in a 2-ounce recyclable LDPE bottle for rugged portability and a 4-ounce frosted glass bottle for your home base.
I am so happy to see this toner in the box because it can be used with the no rinse cleanser. They say to spritz this on before and after using the cleanser but I will also use it on it's own. You can also mist your face before applying your lotion and anytime throughout the day.
LIGHTWEIGHT FACIAL LOTION (retail for $38)
First Light is a lightweight lotion you can use year round regardless of whether you spend your day at work, lost in the forest, or walking along sandy beaches.
This lotion has everything – anti-oxidants (Vitamin C & Resveratrol), humectants (think hyaluronic acid and panthenol), a redness relieving peptide & a UV shielding peptide, and just a touch of highly absorbent non-comedogenic oils.
First Light won't leave you greasy, and it's the perfect base if you like to mix fragile facial oils into your face lotion.
I've been meaning to start using face lotions again, until now I have only been using oils, but I feel like my skin would really benefit from a mixture of the two. They say you can mix the "I Am Enough" Facial Oil with this lotion or you can of course use it on its own.
See New Review March 2021 – Final Thoughts
I am beyond happy with the March/April See New Skincare box. It features a really great brand and I love that we received 5 full-size products that can be used together to create a daily skincare routine. I like that we received a cleanser, toner, mask, oil and lotion. I also like that the individual products can be used together. For example, you can use the toner with the cleanser, you can mix the cleanser with the mask, and you can mix the oil wth the lotion.
Such a great selection of products to use together and they make for a complete routine. If you are looking for a Skincare Subscription Box you must check this one out!
-AYOB Sarah