Simple Loose Leaf Review December 2021
Simple Loose Leaf is a monthly tea adventure that takes you on a journey to explore four loose leaf teas. Discover an amazing experience each month. You decide how many teas you want to explore each month. You can choose to receive 2, 3, or 4. They kindly sent us this box for review.
Subscription Details
Each month Simple Loose Leaf subscribers will be sent an experience filled with teas ranging from classically savory to enjoyably trendy. It's simple! You buy, and they ship.
Up to four hand packaged loose leaf teas with 14g samples of each tea in resealable pouches
Pick Variety Sampler (Most Popular), Herbal Tea Sampler, Black Tea Sampler, or Green Tea Sampler
Reusable cotton tea filters with the 1st month
Black Teas: Assam, Yunnan, Keemun, Lapsang Souchong, Earl Grey etc.
Green Teas: Gunpowder, Genmacha, Sencha, & Naturally Scented Greens
Herbal Teas: Rooibos Blends, Lemongrass, Chamomile,Chai Blends and More
Other Teas: Tisane Blends, Decaf. Teas, Oolong Teas, Pu'erh Teas
Subscriptions start at $14.90 per month for two teas. Today we are reviewing the four tea box which cost $24.90 per month.
Here's a closer look at the December Simple Loose Leaf tea box….
Prickly Pear Black
"On opening this tea, you'll experience the Prickly Pear first and foremost. But on second smell, look past the first sweet notes and look for the dry scent of a blooming desert. A slightly sweet and dry herb smell that captures the heart of the desert just after a spring rain."
"Try this tea served neat the first time to experience the full range of flavors. Then go wild and spice it up how you see fit. Explore with this tea in tow."
Ingredients: South Indian Black Tea, All Natural Flavor, Dried Wildcrafted Prickly Pear Fruit Pieces (Prickly Pear, Fruit, Rice), Safflower Petals.
I cannot express how wonderful this tea tastes! I'm a lover of black tea and usually drink my tea without cream or sugar – so it was nice to see that drinking it "neat" is recommended, and allowed me to get the full flavour of the tea. It's very rich and unique and would probably pair well with a fruity tea if you wanted to "go wild".
Blue Lady Grey
"A lighter take on the classic Earl Grey style of teas, Blue Lady Grey will be a new favorite if you enjoy Earl Grey teas. Look for the smooth lavender and the bergamot citrus notes when brewing your first cup of Blue Lady Grey."
"We are featuring Blue Lady Grey in your first box because it shows a softer side of Earl Grey teas that many tea drinkers have not had a chance to experience."
Ingredients: Black Tea, All Natural Flavors, Lavender Flowers
I received this tea flavour in my November Simple Loose Leaf box and am thrilled to receive it again. It's just my kind of tea: A gorgeous black tea full of caffeine. Perfect for slow chilly, December mornings. Gentle, light and smooth with hints of vanilla and a touch of lavender blend beautifully together with an accent of bergamot to create the perfect way to start my day.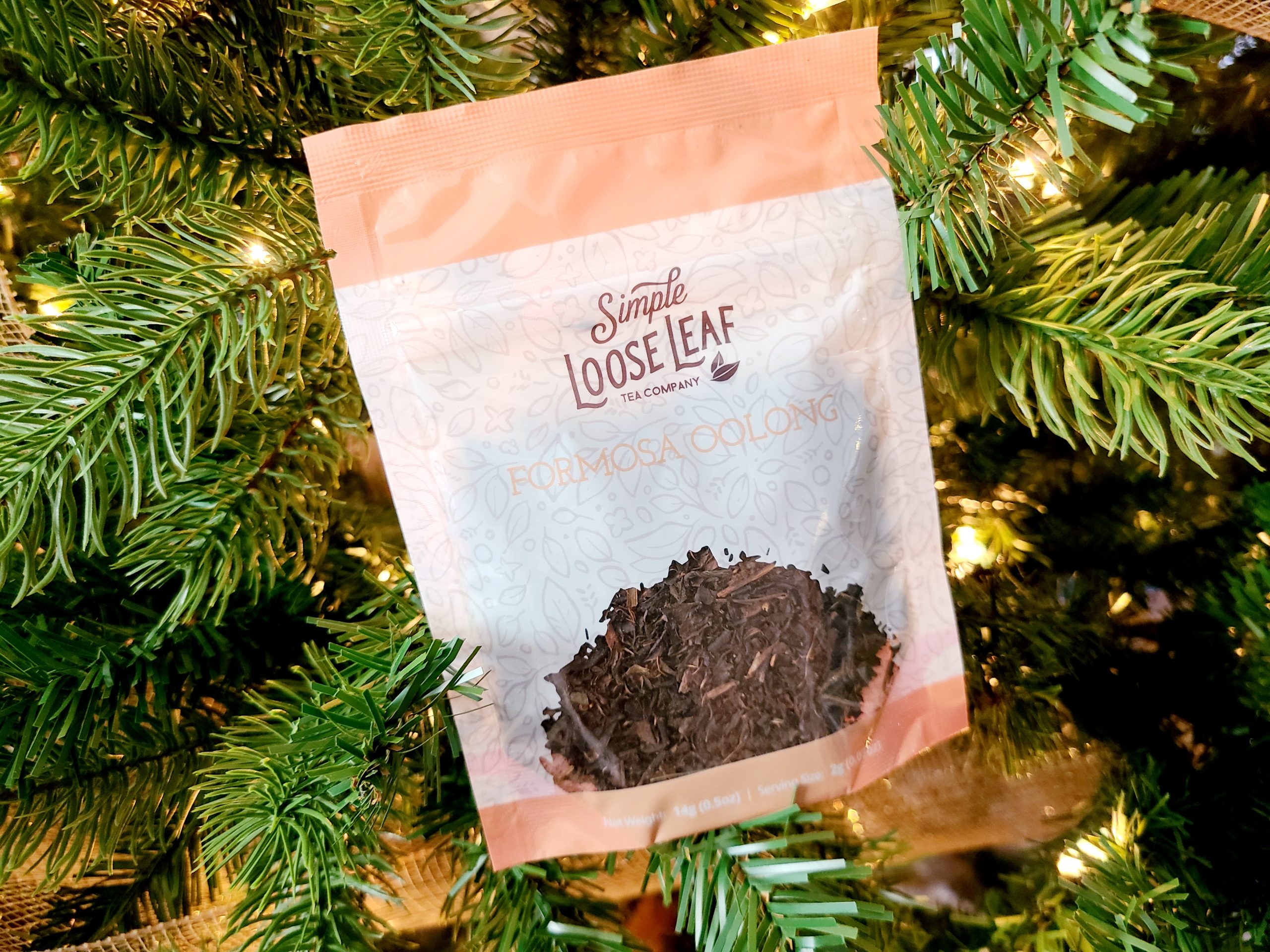 Formosa Oolong
"This semi-fermented tea from Taiwan gets its name from the Portuguese explorers who called the island Formosa, meaning 'beautiful'. The copper-red leaves with tips of silver brew into a bright golden and beautifully brisk cup with peach undertones."
"This tea is in your first Simple Loose Leaf box as it is something that many tea drinkers have not had a chance to experience. Oolong tea is outside the normal Green, Black, White triangle that most tea drinkers have experienced. This oolong is a relatively low caffeine tea and makes a great afternoon or evening brew."
Ingredients: Taiwanese Oolong Tea
The Formosa Oolong tea was also in November's Simple Loose Leaf box and I was again not mad to receive this tea for a second month. The peach notes are subtle and delicious. This month I added a spoonful of sugar and drank it iced on a balmy -20°C day. It was refreshing and bright. This tea would be an excellent introduction for someone who may have never tried Oolong teas before.
English Black
"A strong fresh citrus scent is the first thing that greets you when opening this tea. The scent is the same when you cut into a perfectly ripe orange on a perfect Spring day. As the tea brews, the orange calms down and settles into a soft aroma that fills the space around you."
"From the South Indian Black tea, you'll get just a hint of nuts and caramel on the nose. And the rich and smooth notes all black teas should have. You can serve this tea any way you like, it will be a joy to experience regardless of how you prepare it. It offers a true look into what a simple tea can offer."
Ingredients: Blend of Black Tea
This is truly what black tea should taste like. Going forward I think I will be comparing all black teas to Simple Loose Leaf English Black tea. It has a beautiful scent of orange citrus, tastes like rich caramel and is so smooth going down. This is the ultimate warm pick-me-up tea to have in the mid-afternoon on a cold day – but would also be wonderful iced and enjoyed in the summer. If you had to select one tea to drink for the rest of your life – this would be it.
Simple Loose Leaf Review December 2021 – Final Thoughts
What an all around great best tea experience! I love having the opportunity to try teas that I may not normally select for myself in store. Simple Loose Leaf tea offered an excellent sampling of black teas and the one Oolong tea. I look forward to future tea drinking experiences.
Kylie Smith – https://www.kyliesmithable.com