Simple Loose Leaf Review July 2018
I was graciously sent this TEA-licious box of Classic Tea by Simple Loose Leaf. Ya get it?! Ya get it?! Oh, my goodness! This tea is absolutely mouthwatering. They have something for everyone! From white tea, green tea, and black tea.
From Simple Loose Leaf Company:
"Each month you'll get a box filled with teas ranging from classically savory to enjoyably trendy, you'll get terrific, members' only discounts for our tea shop, and you'll get everything you need to make that perfect cup of tea."
What You'll Get:
Four hand packaged loose leaf teas
40g of tea in resealable pouches
A black tea, a green tea, an herbal tea and more
Reusable organic linen tea filters
In this month's box I received :
White Tipped Oolong
Lily Yin Hao
Tropical Black
Green Berry Delight
One of the many things that I love about this company is the fact that they also send you organic linen tea bags! It makes steeping your tea easy, quick, and safe for the environment.
They have two different types of plans they are both $9.00 a month! How cost friendly is that?! There is something for everyone!
The Classic Tea Box is what I was sent: "By joining the Classic Tea Box you're joining a tea club that explores 4 unique teas a month. You'll find a perfect mix of "wake me up" teas and teas that help "slow the day down" – Black tea, Green tea, Oolong, Pu'erh, Herbal, and so much more."
The second box is the Decaf Tea Box: "When you join the Decaf Tea Box you're joining a tea club that explores 4 amazing tea options that won't keep you up at night. You'll be brewing herbal blends, wellness blends, tisane teas – All chosen to highlight the season you're in right now."
White Tipped Oolong
The White Tipped Oolong Tea was the first of the four teas that I had in the box. I let it steep while I toasted an English Muffin with Organic Peanut Butter.
It was the perfect pair together. I am a huge fan of Oolong tea. It was an incredibly smooth drink with a little bit of Organic honey to sweeten it a bit.
Something that is unique with Oolong tea is the fact that the longer that you steep it the more the taste evolves.
Another aspect of this box that I love is that they always send you a small pamphlet that tells you everything that you need to know about the different teas that they have sent you. How to brew it, what temperature to brew it at, and more tidbits that make it a more unique box subscription that sets it out from the rest of the tea companies.
Green Berry Delight
The Green Berry Delight is exactly as its name states, an utter delight! I don't know what it was about this tea, but it reminds me of my childhood. It makes me smile. It was a perfect cuppa for right before bed due to the fact that it doesn't have caffeine!
If you love fruity teas, candy, or anything berry like, this is the tea for you! It's smell is intoxicating and utterly satisfying.
It has so many different wholesome ingredients I can't even identify them. I love that it has elements of some of my favorite things! Raspberries are my favorite fruits and it has hints of them, acai berries, and even rhubarb pieces.
I love the hints of blue flowers, red/black currants as well. It give the most amazing pop in the tea. That's why I paired it with the blue flowers in the pictures.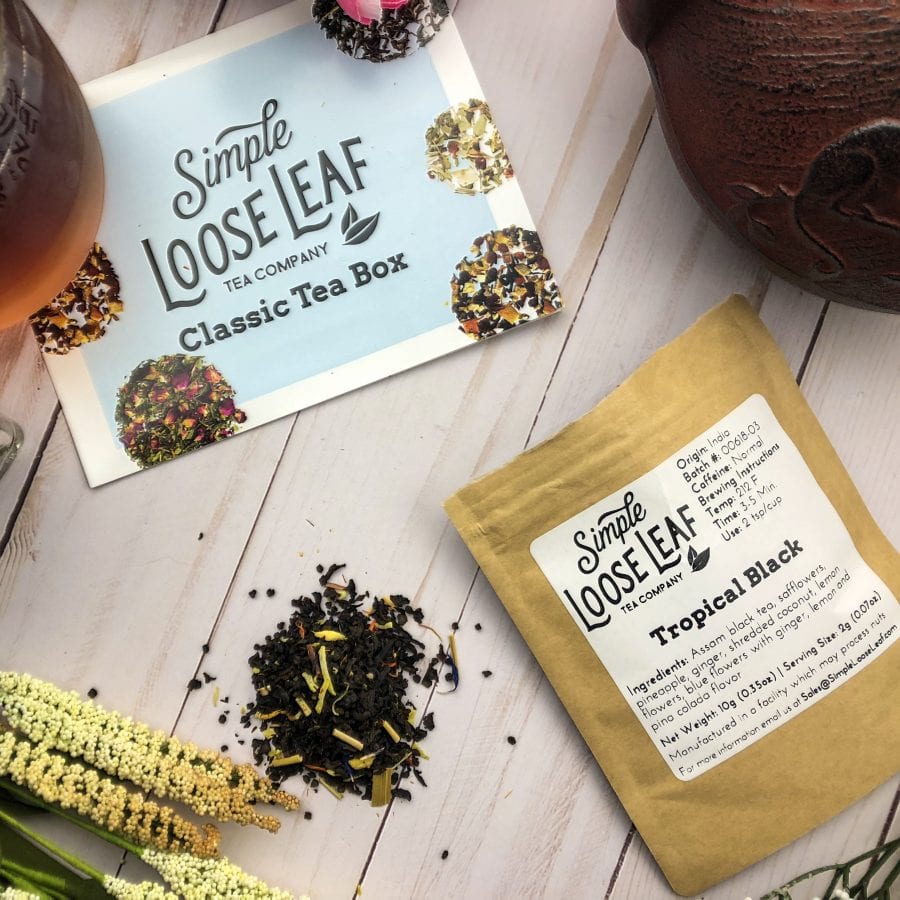 Tropical Black
If you love tropical drinks or pina coladas you will love this tea. It has a very strong aroma that reminded me of going on a cruise and spending time on the beach.
There are so many ingredients in this tea starting from Assam black tea, safflowers, pineapple, coconut, lemon, and ginger. This is a cocktail of different flavors.
It has a normal caffeine level and was made in India!
Lily Yin Hao
Lily Yin Hao was such a beautiful tea! I brewed it in the morning right before leaving for a weekend trip and it had the perfect amount of caffeine to jump start my day.
Of course it paired nicely with my English Muffin and peanut butter, as well as a little honey to help sweeten it.
I also loved taking pictures of this stunning tea with the orange lily blossoms in it! I had to use my own orange flowers to make it pop!
Courtny – https://courtagonist.wordpress.com