Simple Loose Leaf Review June 2018
Simple Loose Leaf is a monthly tea adventure that takes you on a journey to explore four loose leaf teas.  Plus each box comes with some fun extras to help get you started brewing your new favorite teas from the first moment you open the box. They kindly sent us this box for review.
Tea is one of those simple pleasures. There's something really nice about sitting down with a warm cup of tea and a book or some good company. It's something I always have on hand and it's something I offer to anyone who comes for a visit. Long story short, tea is a must in our house. So it should come as no surprise that I aways look forward to my monthly Simple Loose Leaf delivery.
Subscription Details
Amazing Teas Delivered Every Month: Get 4 amazing loose leaf teas monthly or quarterly plus special membership only discounts! All tea boxes ship on the 1st of the month so order before the end of this month to get the next tea box.
Cost: $9 per month
Shipping: Shipping for all US based members is $2.99/month. For Canadian members, shipping is $9.49/month.
Here's a closer look at the tea we received in the June box….
Empress Rajini
First up we have a black tea with lavender, rose petals, mango and peach flavour. I feel like this will be a mellow tea with soft flavours. The mango and peach flavour will make it a great option for iced tea.
Moroccan Mint
Here we have a simple mint tea. It's a green tea which means it has a normal level of caffeine. Typically I like to enjoy mint tea in the evening but this one will probably be best in the morning.
Summer's Chai
Next up we have a rooibos tea with ginger root, cinnamon, shredded coconut, ginger, coconut and vanilla flavour. This will definitely be my favourite out of the June selection. Rooibos is my go-to tea, and I happen to love cinnamon, ginger and coconut.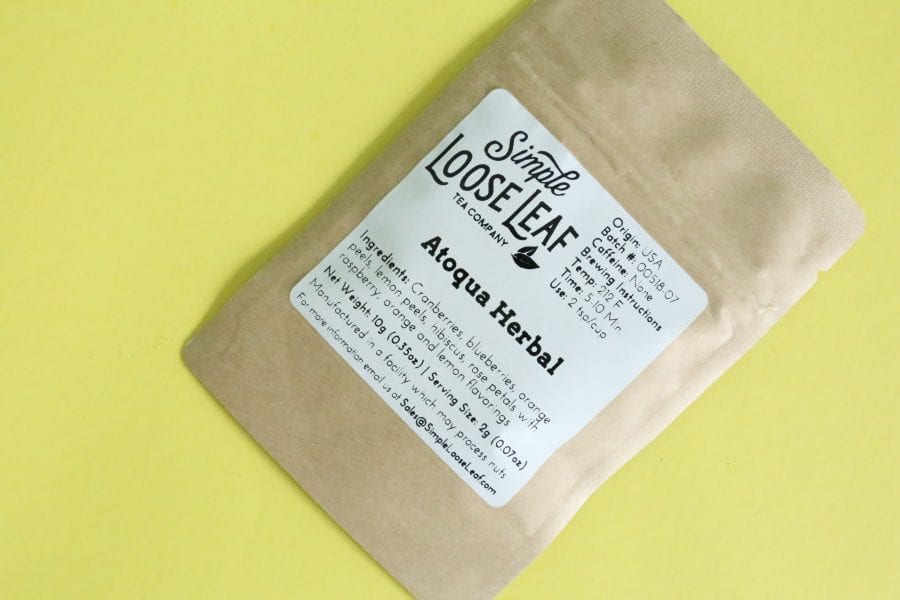 Atoqua Herbal
Lastly we have an herbal tea with cranberries, blueberries, orange peels, lemon peels, hibiscus, rose petals, raspberry, orange and lemon flavourings. This will be a nice blend for my evening cup.
Simple Loose Leaf Review June 2018 – Final Thoughts
I like the different tea blends we received in this month's Simple Loose Leaf. We have a black tea, a green tea, a rooibos tea and a wonderful herbal blend. I feel like I have something to enjoy at all times of the day. A green or black tea for the morning, a chai for the afternoon and an herbal tea to enjoy after dinner. Oh, and the fact that they include re-usable tea bags in each box means I can take my tea with me on the go. What's not to love?!
XOXO