Simple Loose Leaf Review March 2022
Simple Loose Leaf is a monthly tea adventure that takes you on a journey to explore four loose leaf teas. Discover an amazing experience each month. You decide how many teas you want to explore each month. You can choose to receive 2, 3, or 4. They kindly sent us this box for review.
Subscription Details
Each month Simple Loose Leaf subscribers will be sent an experience filled with teas ranging from classically savory to enjoyably trendy. It's simple! You buy, and they ship.
Up to four hand packaged loose leaf teas with 14g samples of each tea in resealable pouches
Pick Variety Sampler (Most Popular), Herbal Tea Sampler, Black Tea Sampler, or Green Tea Sampler
Reusable cotton tea filters with the 1st month
Black Teas: Assam, Yunnan, Keemun, Lapsang Souchong, Earl Grey etc.
Green Teas: Gunpowder, Genmacha, Sencha, & Naturally Scented Greens
Herbal Teas: Rooibos Blends, Lemongrass, Chamomile,Chai Blends and More
Other Teas: Tisane Blends, Decaf. Teas, Oolong Teas, Pu'erh Teas
Subscriptions start at $14.90 per month for 2 teas. Today we are reviewing the four tea box which cost $24.90 per month.
Here's a closer look at the March Simple Loose Leaf tea box….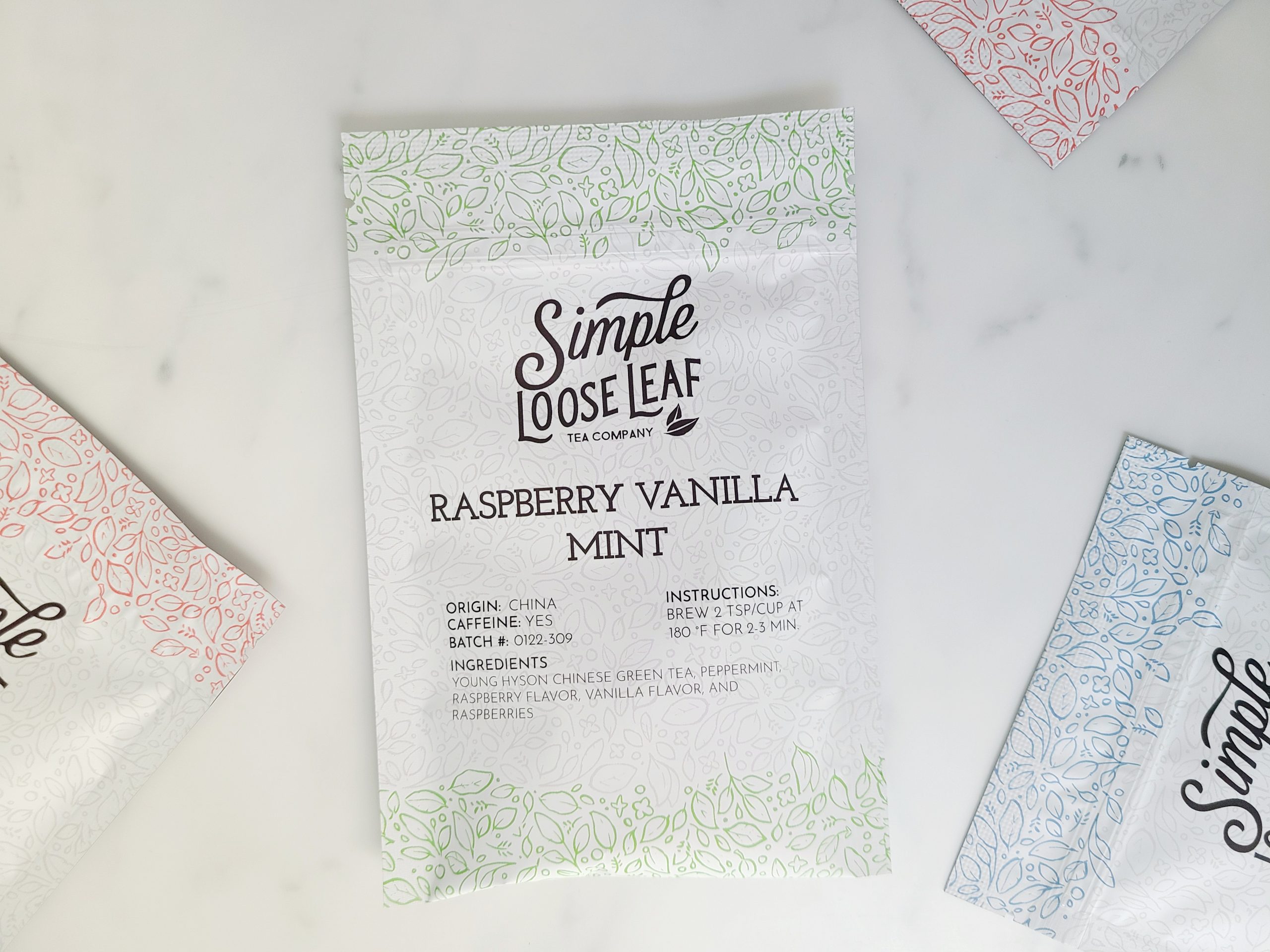 Raspberry Vanilla Mint
"The raspberry in our Raspberry Vanilla Mint Green tea is the first thing you are going to notice when you open the tea. At the end of your first breath you'll notice a hint of peppermint we use in this tea. When you brew this tea, you'll experience a lightly colored young hyson green tea that lends a smooth and subtle green tea flavor to this tea. The raspberry stays more in the nose while the green tea is more pronounced during the sipping of this tea. The peppermint closes the sip with a slight cooling at the back of your throat. All in all this is a combination of flavors that are more than the sum of their parts. They all play well together and lift each other up."
Ingredients: Young Hyson Chinese Green Tea, Peppermint, Raspberry flavor, Vanilla Flavor, and Raspberries
I thought that this tea might be a bit too fruity and sweet, but it is perfectly balanced and smooth. Just the perfect combination of fruit and mint. This will be an excellent tea to enjoy in the summer!
Organic Assam
"India is known for producing some of the richest and darkest black teas on the market. Teas from the Assam region are the crown jewel of rich and malty black teas. This organic Assam is going to be bold and brisk with strong notes of earth and malt. Serve this tea neat or with milk but serve hot for the best experience"
Ingredients: Organic Assam.
I usually drink my tea neat but I found this tea way too strong for my taste. I soon realized that I am still getting used to Simple Loose Leaf's high quality tea. A little warm milk and some foam made this an absolutely delicious afternoon drink.
Vanilla Spice
"Warming cinnamon, ginger, and fennel blended with a touch of vanilla make this a wonderful evening tea. It's not only a delicious and relaxing tea but is an aid to digestion and an ideal after dinner drink. This versatile tea demonstrates enriched notes of spicy ginger when brewed hot and sweet vanilla when iced."
Ingredients: Cinnamon Chips, Ginger Root, Fennel Seed, Vanilla Flavor.
I found this tea very light and enjoyable, plus it smells absolutely incredible. The cinnamon was warm and cozy – a perfect evening tea. It reminded me of cinnamon candy hearts and tasted delicious with a little milk added.
Honey Ginger Chamomile
"Another tea that can help with the season or just make your life better, one cup at a time. Our Honey Ginger Chamomile is a three ingredient tea with chamomile, ginger root and a touch of honey. Chamomile tea is loaded with antioxidants that can help to improve overall health and wellbeing. And the ginger root has a great calming effect on the stomach, it can help reduce nausea and aid in digestion. And then there is the honey. And if we are being honest, there is honey because honey is awesome and why would you not have a spoon full of honey to make this tea just that much more lovely."
Ingredients: Chamomile, Ginger Roots and Honey Flavor
I absolutely am going to save this tea for cold & flu season or an evening where I may find myself with an upset tummy. It smells absolutely wonderful and the ginger aroma is not too overpowering. I think blending this tea with a nice rooibos that has lemongrass notes would make a great cup too!
Simple Loose Leaf Review March 2022 – Final Thoughts
This month's sampling of teas was a real treat! Also, I love their new white packaging, it's so clean and modern looking. Simple Loose Leaf approach to teas makes trying different types so easy and enjoyable. I can't wait to find out what i'll be sippin' next month!
Kylie Smith – https://www.kyliesmithable.com