Simple Loose Leaf Review November 2021
Simple Loose Leaf is a monthly tea adventure that takes you on a journey to explore four loose leaf teas. Discover an amazing experience with each month. You decide how many teas you want to explore each month. You can choose to receive 2, 3, or 4. They kindly sent us this box for review.
Subscription Details
Each month Simple Loose Leaf subscribers will be sent an experience filled with teas ranging from classically savory to enjoyably trendy. It's simple! You buy, and they ship.
Up to four hand packaged loose leaf teas with 14g samples of each tea in resealable pouches
Pick Variety Sampler (Most Popular), Herbal Tea Sampler, Black Tea Sampler, or Green Tea Sampler
Reusable cotton tea filters with the 1st month
Black Teas: Assam, Yunnan, Keemun, Lapsang Souchong, Earl Grey etc.
Green Teas: Gunpowder, Genmacha, Sencha, & Naturally Scented Greens
Herbal Teas: Rooibos Blends, Lemongrass, Chamomile,Chai Blends and More
Other Teas: Tisane Blends, Decaf. Teas, Oolong Teas, Pu'erh Teas
Subscriptions start at $14.90 per month for 2 teas. Today we are reviewing the 4 tea box which is $24.90 per month.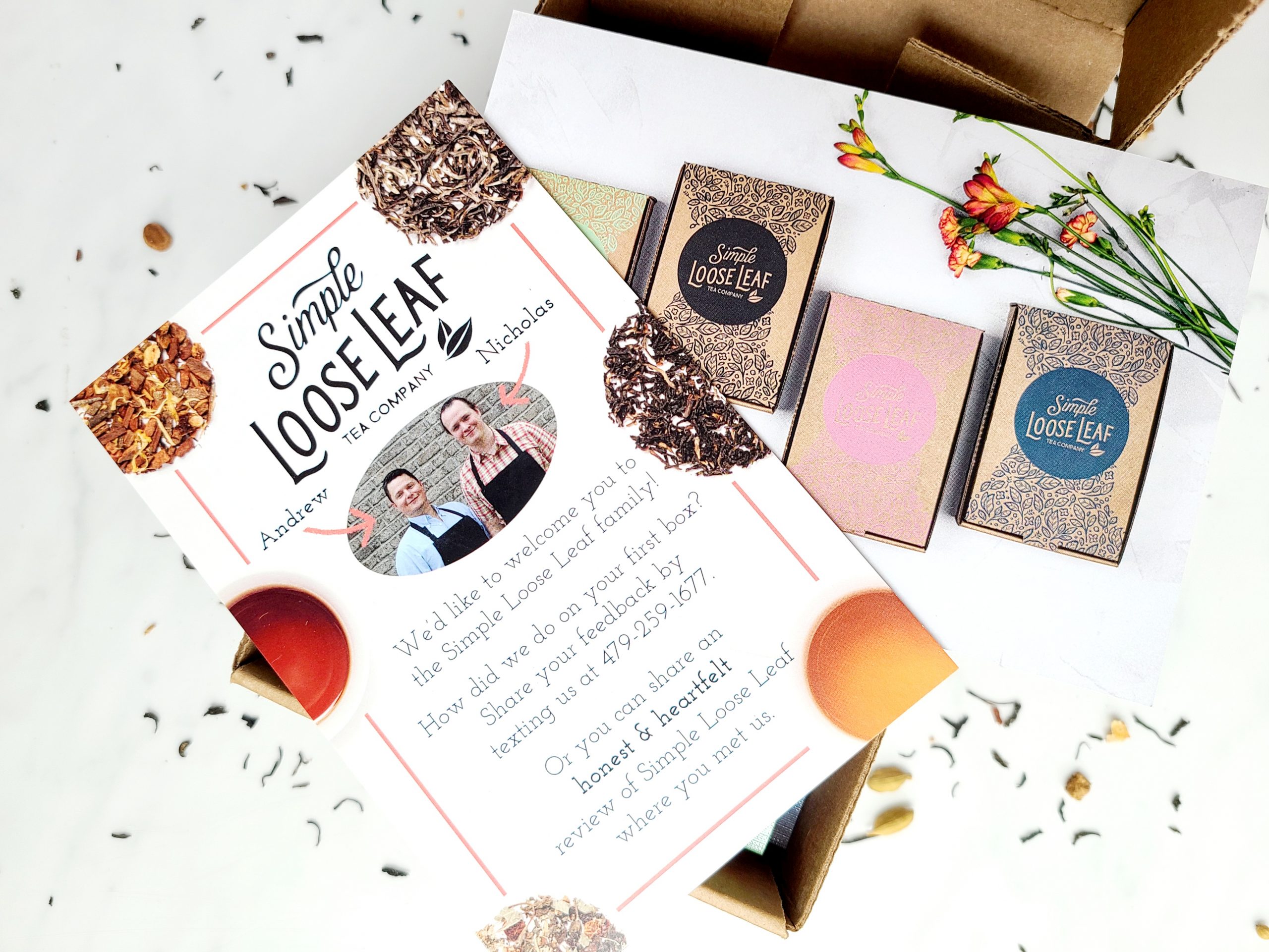 Here's a closer look at the November Simple Loose Leaf tea box….
Genmaicha Green Tea
"A classic and polarizing tea, Genmaicha uses a Sencha green tea with toasted rice kernels. The Japanese Sencha bring the rich and complex notes of a wonderful green tea, While the rice kernels bring a truly unique experience that can be best described as toasted grain."
"In the first brewing of this tea will feature the toasted rice as the leading experience. The second brewing and beyond, the toasted rice becomes a rich complementary note to the bold Sencha. If the first brew doesn't pique your interest, toss it and try the second. The experience of each brewing is vastly different."
"Our Genmaicha has been sent to you in the first box because we wanted to show you a well-rounded green tea that works well as a daily drinker while still having enough complexity to be a special occasion tea."
Ingredients: Japanese Sencha Green Tea, Toasted Rice
I am not much of a green tea drinker – I always think that green tea equals caffeine free and now I see that this definitely is not the case! I made myself a cup of Genmaicha in the morning and felt as energized as I do with two cups of coffee. This mama needs her caffeine! The taste was beautifully complex and I loved the warm toasted flavour. I can see it being a go-to morning comfort tea.
Formosa Oolong
"This semi-fermented tea from Taiwan gets its name from the Portuguese explorers who called the island Formosa, meaning 'beautiful'. The copper-red leaves with tips of silver brew into a bright golden and beautifully brisk cup with peach undertones."
"This tea is in your first Simple Loose Leaf box as it is something that many tea drinkers have not had a chance to experience. Oolong tea is outside the normal Green, Black, White triangle that most tea drinkers have experienced. This oolong is a relatively low caffeine tea and makes a great afternoon or evening brew."
Ingredients: Taiwanese Oolong Tea
I actually had never tried an oolong tea prior to receiving the Formosa Oolong in this months Simple Loose Leaf box – just give me a few months and I'll be an expert in no time! I took the boxes suggestion and brewed this tea in the afternoon for a mid-day pick me up and it was a delight. I absolutely loved the peach notes and it felt like I had truly treated myself.
Blood Orange Rooibos
"With rooibos, orange peel, hibiscus, rosehips, apple pieces, safflowers, and rose petals this Blood Orange is an alchemical amalgamation of an herbal tea. This tea will brew hot, cold, iced, and everything in between. We'd describe it more but it's a flavor explosion you will just have to experience to understand."
"We have included this tea as it is part of a family of teas that have proven to be one of the top selling tea lines we offer. This tea is also caffeine free and makes a great evening drink that won't keep you or the family up late."
Ingredients: Rooibos Herbal Tea, Hibiscus Flowers, Rose Hips, Safflower Petals, Orange Peel Pieces, Dried Apple Pieces, All Natural Flavors
I actually said out loud, "Oooooohhh!!" when I pulled out the Blood Orange Rooibos. I love anything orange (even if it's caffeine free). After quickly downing all of this tea, I can absolutely say that it's my favourite one of the lot. I ended up drinking this tea in the evening after dinner and it was if I was drinking dessert. It was fruity, light and sweet and perfect before bed. I truly hope to have another opportunity to try this one again!
Blue Lady Grey
"A lighter take on the classic Earl Grey style of teas, Blue Lady Grey will be a new favorite if you enjoy Earl Grey teas. Look for the smooth lavender and the bergamot citrus notes when brewing your first cup of Blue Lady Grey."
"We are featuring Blue Lady Grey in your first box because it shows a softer side of Earl Grey teas that many tea drinkers have not had a chance to experience."
Ingredients: Black Tea, All Natural Flavors, Lavender Flowers
Now this is my kind of tea: A gorgeous black tea full of caffeine. When I used to commute to the office, I often reached for an Earl Grey tea, but since the weather has gotten colder and mornings are slower while on maternity leave, this lovely Blue Lady Grey tea is exactly my "cup of tea". Gentle, light and smooth with hints of vanilla and a touch of lavender blend beautifully together with an accent of bergamot to create the perfect way to start my day.
Simple Loose Leaf Review November 2021 – Final Thoughts
This has been some of the best tea experiences I have ever had! Having an opportunity to try four very different teas has given me a chance to try flavours that I may have not normally reached for in store. I think they did a fantastic job curating a perfect sampling of teas and I look forward to future tea drinking experiences.
But more importantly, I appreciate what the Simple Loose Leaf company stands for. Not only do they support small businesses by including the linen tea filters from a small company in Kansas, in a box sourced from a small company in Arkansas USA, but they also support an incredible partnership: Simple Loose Leaf has partnered with Bost, which is a non-profit developmental workplace that provides employment and life skills training to people with developmental disabilities. Each subscription box is packaged by these individuals in a safe and understanding environment that provides them the support they need to flourish.
Kylie Smith – https://www.kyliesmithable.com