Simply Beautiful Box Review Fall 2019
From the editors of @BCLiving, Simply Beautiful Box is a seasonal subscription box filled with beauty products, fashion finds and decor treasures – plus more amazing products delivered to your door each season! They kindly sent us this box for review.
The Summer Simply Beautiful Box was exactly that – simply beautiful. I LOVED all the items we received. I have the blanket on my reading chair, the earrings are a timeless piece I will keep in my collection for years to come, the hand polish is absolutely heavenly (I use it often) and the rose gold tumbler has come in handy many a day. With that being said……I had high hopes for the Fall box. I can't wait to show you what we received…..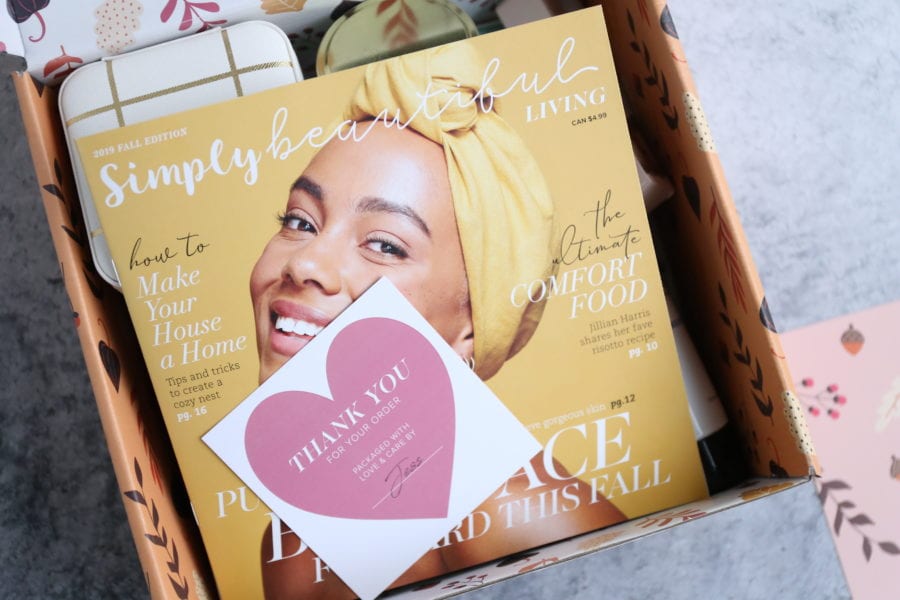 Subscription Details
When you sign up for a Simply Beautiful Box subscription you can choose to pay monthly or every 3 months and each season you will receive a new box.
Every 90 days, receive 6 to 8 curated products delivered to your door for the body, home and soul, including:
The best beauty finds
Must-have style pieces
The trendiest home decor treasures
Here's a closer look at the items we received in the Fall Simply Beautiful Box…..
Maylie Jewellery Travel Case ($59)
Fall is a great time to get organized and whether you're planning to travel this season or just sticking around home, this compact box is the ideal way to store your jewels. Designed with spots for your necklaces, earrings, rings and more, it features a handy zipper closure for keeping your precious gems safe and secure. Plus, the vegan leather makes for super easy care – just wipe clean and you're good to go.
We are starting things off with a bang because I am in LOVE with this adorable little jewellery case. As of yet I hadn't found a travel case for my jewelry that I was 100% happy with. Most are a pouch style, which is nice, but I am loving the fact that this one is a structured case. I also love that it has dedicated spots for my rings (something my jewelry pouches are lacking).
Blush Peony Cheese Knife Set ($40)
Serve up all your favorite fromages with the perfect utensils from Blush Peony. This collection includes: a chisel knife for cutting crumbly soft cheeses or chipping firm cheeses like Asiago; a flat cheese knife for cutting semi-firm cheese like cheddar as well as soft cheese like Brie; a heart knife for cutting classics like Parmesan into bite-sized pieces; and a serving knife to hold harder cheeses while you slice them.
First of all, can I just say how thankful I am for the in-depth product description for this knife set?! I love that they have listed each knife and what it is best used for. I had a general idea of what each knife would pair with, but this is beyond helpful. I also have to point out how pretty this set is with the rose gold and white color combo…..so pretty.
Scentuals Hand Repair Cream ($11.50)
You loved the Scentuals hand cream we included in last Fall's Simply Beautiful Box, so we know you are going to love this one too! Ideal for dry hands, this super-hydrating cream includes shea butter and cocoa butter and is enriched with organic argan oil, sweet almond oil and aloe. Rosemary and mint essential oils create a bright and refreshing scent, and the quick absorbing formula leaves no greasy residue.
Ok…..let's talk about this hand cream…..I am in LOVE with it. It is scened with rosemary and mint making it perfect for the season. It's from a brand I know and trust. It's 100% natural. It's a generous size (not too small) and it added a ton of moisture to my hands. It's a thick cream compared to some of my other hands creams, and it took a little longer to absorb, but it left my hands feeling SO soft. This is going in my purse ASAP.
MaskerAide Beauty Sheet Masks
This item wasn't on the product sheet, so I am thinking it is a replacement for the Nexus Treatment Mask. I received a set of three MaskerAide Masks – Beauty Rest'ore, Pre Party Prep, I Don't Wanna Grow Up. These will come in handy over the cold winter months when my skin tends to be dry and dull.
AG Hair Leave On Conditioner ($24)
Static, split ends and tangles from your hair rubbing against your scarf – Fall weather can be unkind to your mane. Give it some extra-special care with AG's Fast Food. This leave-on conditioner instantly feeds, smoothes and calms while adding shine to super dry hair (it also happens to smell ah-mazing). Simply add a quarter-sized amount on clean, damp hair focusing on the ends. Comb through, do not rinse.
Another product perfect for the season. Fall and Winter weather can be tough on hair. And…..I recently started styling my hair every couple days with a flat iron so I know it will be in need of some extra TLC. It has been a long time since I used a leave-in conditioner but I'm certainly looking forward to it. Mostly because it smells so good!
Canvas Candle Co. Soy Candle ($15.95)
Can you smell Fall in the air? Whether you received pumpkin cake or apple spice, your home will be filled with the scents of autumn with this clean-burning candle from Port Moody, BC's Canvas Candle Co. The best part is that all of Canvas's products are natural and handmade of 100 percent ecosoy wax. To make your candle last longer and to keep the flame controlled, burn evenly then remember to trim your wick after each use.
I am very familiar with Canvas Candle Co. and was very happy to see one of their candles in the Fall Simply Beautiful Box. I received Apple Spice and I could smell the wonderful scent as soon as I opened the box. It reminds me of Christmas.
Evalina Beauty Eyshadow Stick ($44)
WE love multipurpose products! These creamy eyeshadow sticks from Vancouver-based Evalina Beauty hydrate lids with long-lasting color and allow you to line, highlight and create smoky looks in an instant. This exclusive kit contains two stunning neutrals: Stardust, a lighter shade that can be used for highlighting, and Rose Gold, a richer tone that can be used to create definition. And, of course – like all Evalina's products they're cruelty-free and paraben-free.
This is a lovely little eyeshadow duo. The colors are versatile and oh so pretty. I'm not totally comfortable applying cream shadows but I feel the need to give it a whirl. I did notice that the colors are very similar with only a slight difference between the two shades. Regardless, they are very pretty.
Delia Organics Lip Nectar ($19.99)
Pamper your pout with this nourishing lip nectar from Vancouver's Delia Organics. Pumpkin seed oil, grapeseed oil, as well as lavender, lemon and orange essential oils help to heal dry, chapped lips and increase collagen production naturally – without leaving a waxy feeling. Simply apply to lips as needed using the roll-on applicator. Leave in the fridge for a cooling effect.
I don't think I have ever received a lip product such as this. I like that it is oil-based and that it is applied via the roller. I put a little on my lips right now….just a small amount. It smells nice but I think I need to use it a few more times before I can evaluate how well it will moisturize my lips.
Blush Peony Cutting Board ($20)
We couldn't give you cheese knives without an accompanying cutting board! Ideal for serving charcuterie or for smaller chopping jobs, this board is going to be a mainstay in your kitchen. Made from sustainable bamboo, it is both light and durable and features an elegant striped design. Treat with oil (we recommend coconut oil) to keep sanitary and to extend the life of your board. Hand wash only with warm water and mild soap.
Lastly we have a wonderful little cutting board to go with our new knife set. It's the perfect size for cutting and serving cheese. It could also be used to serve bread and oil, crackers and fruit or olives and nuts.
Simply Beautiful Box Review Fall 2019 – Final Thoughts
I am quite pleased with the Fall Simply Beautiful box. I am really starting to love this subscription. I appreciate the curation, quality brands and reasonable price point. The Fall box provided me with a number of items I will use on a regular basis – the jewelry case, hand cream, conditioner, candle and lip oil. The only item I may end up gifting is the cutting board and knife set, but that's mostly because it would make such a beautiful gift (Christmas or house-warming). I maybe would have liked to see a jewelry item or fashion accessory, but other than that the box is wonderful.
Simply Beautiful Box Subscriptions are $98 per season and the Fall box provided us with $240 worth of beautiful products.
-AYOB
Explore.
Save.
Enjoy!
Sign up for a free account on A Year of Boxes to receive exclusive offers, be added to our monthly mailing list, and much more! We are always adding features to improve the experience for our users, from their valuable feedback!
Join Today!