Simply Beautiful Box Review Spring 2019
From the editors of @BCLiving, Simply Beautiful Box is a seasonal subscription box filled with beauty products, fashion finds and decor treasures – plus more amazing products delivered to your door each season! They kindly sent us this box for review.
Simply Beautiful Box is a quarterly Canadian Lifestyle Box that I've had my eye on for quite some time. They started shipping Spring of 2017 and their first box was amazing. I still see photos of it on Instagram. The curation was on point and the items were timeless.
Subscription Details
When you sing up for a Simply Beautiful Box subscription you can choose to pay monthly or every 3 months and each season you will receive a new box.
Every 90 days, receive 6 to 8 curated products delivered to your door for the body, home and soul, including:
The best beauty finds
Must-have style pieces
The trendiest home decor treasures
Here's a closer look at the items we received in the Spring Simply Beautiful Box…..
Lark & Ives Luggage Tag ($24)
Say no to those airline-supplied paper tags and travel in style with this origami-inspired luggage tag in vegan leather from Vancouver's Lark & Ives. The light cloud shade is the perfect neutral to accessorize anything from your carry-on to your suitcase. And, most importantly, your contact information is stored safely within so if you get separated from your luggage, it can be easily (and discreetly) identified.
This arrived at the perfect time. The Husband and I have been traveling more often as of late and I now know the importance of a luggage tag. I love the neutral color. It will pair perfectly with most of my luggage.
Brockmann's Chocolate Crunchetti ($5)
Inspired by their European heritage and family recipes, the Brockmanns have been making chocolates in British Columbia for more than 40 years. We love their Crunchetti – irresistibly delicious chocolate, almond and rise-crisp clusters that will satisfy your afternoon sweets cravings. The bonus? They're certified kosher, gluten-free and made with no artificial colors or flavours.
I fell in love with this brand years ago. My friend got me a bag and I still remember trying these little clusters for the first time. If you like chocolatey snacks you NEED to try these.
Lovely Linens Tea Towel ($15)
What's more spring than flowers? Designed in Vancouver, this 100 percent cotton floral and citrus patterned tea towel will add a splash of color to your kitchen. Perfect for drying dishes, drying hands or just hanging on display, it can either be folded over handles or hooked on by its convenient corner loop. To maintain it's vibrancy, machine wash in warm water and dry on medium heat.
Eeek! This is so stinkin' cute! I love the bright colors and Spring vibes. I just redecorated my kitchen for the new season and this will pair perfectly with my other seasonal items.
Evalina Beauty Makeup Brush Set ($56)
Designed in Canada by the team at Evalina Beauty, this five-piece brush set is essential for updating and perfecting your look this season. It includes everything you need to apply your makeup like a pro: a foundation brush, a crease brush, an eyeshadow brush, a liner brush and a blush brush. Featuring gorgeous Merlot-coloured handles with gold accents packed into a stunning cosmetic case, this brush set is as pretty as it is practical.
I love to see makeup tools in my subscription boxes. They add value to the box as it's an item we don't receive often. This set is gorgeous and I love that the brushes come in such a beautiful travel bag.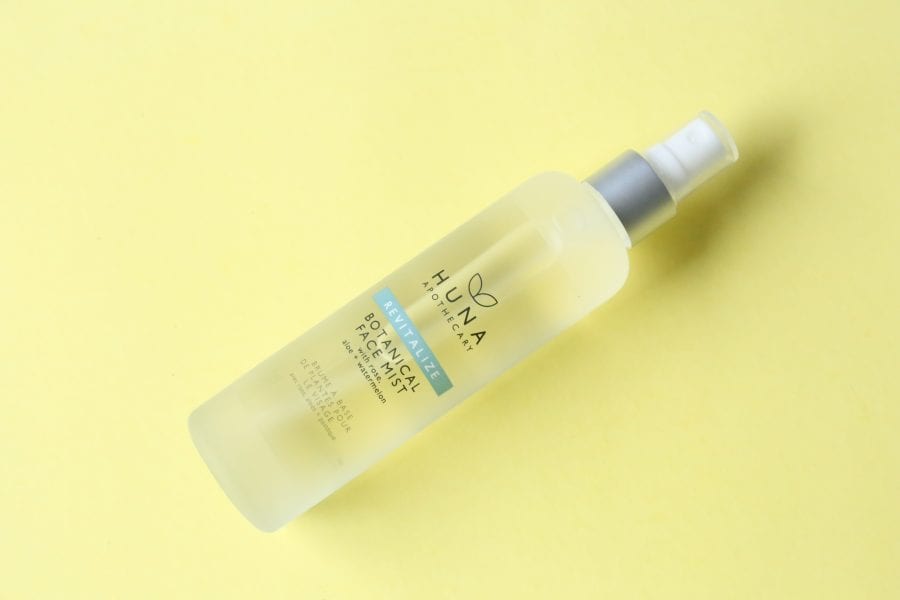 Huna Apothecary Revitalize Botanical Face Mist ($56)
We love that this formula from Winnepeg's Huna Apothecary does double duty as both a hydrating mist and a toner – plus it can even set mineral and natural cosmetics. Made with Canadian-Grown rose, aloe vera and watermelon, it will instantly hydrate and revive your skin while you breath in the gorgeous natural scent. Simply mist a few pumps onto your face whenever you need a refresh, or after cleansing in you're using it as a toner.
I recently started using face mists and I love the way they make my skin feel. It's a great way to freshen your face throughout the day and add a little extra moisture to your skin. And….this one smells amazing.
Scentuals Pure Organic Argan Oil ($29.50)
We love a multi-purpose product and this 100 percent pure argan oil from Canadian natural skin care company Scentuals will nourish your skin, hair and nails. Rich in antioxidants and omega 6 fatty acts, argan oil helps minimize wrinkles, prevent split ends, and keeps nails strong and healthy. This best part? Scentuals purchases their argan oil from fair trade cooperatives, which help provide women with fair salaries, safe working conditions and education.
I am a HUGE fan of oil when it comes to my skincare routine. I use face oil daily, I use an oil mask in my hair every couple of weeks, and I apply oil to my cuticles every chance I get. Needless to say I will get a lot of use out of this item.
Blush Peony Polka-Dotted Scrunchie ($15)
The scrunchie is back – big time! The ubiquitous '80s hair accessory has fallen back into favour and there's good reason why. Not only is it super-cute (especially in this grey polka-dotted pattern), but it's also soft and thick, making it gentle on your hair. It's a quick and easy way to tie up your hair in a messy bun or ponytail and head out the door for a spring stroll.
I don't know about you but I am loving the scrunchie trend. I have a fun little collection thanks to my subscription boxes, but this one just might be my favorite. I love the polka dots, and it has a ton of stretch!
TruEarth Eco-Strips Laundry Detergent ($10)
Ready to do some spring cleaning? Clean, green and simple, TruEarth laundry strips make washing clothes a cinch. Paraben-free, phosphate-free, hypoallergenic, vegan, readily biodegradable and free of added dyes and chlorine bleach, these strips take all the stress out of laundry so you can just enjoy the fresh results. Best of all, TruEarth offers a subscriptions service so you can have the detergent delivered to your door each month, saving you time and money.
I like to test out new home cleaning products, especially ones that are environmentally friendly. I'm also kind of interested in the fact that they have their own subscription service. It's something I will definitely be checking out.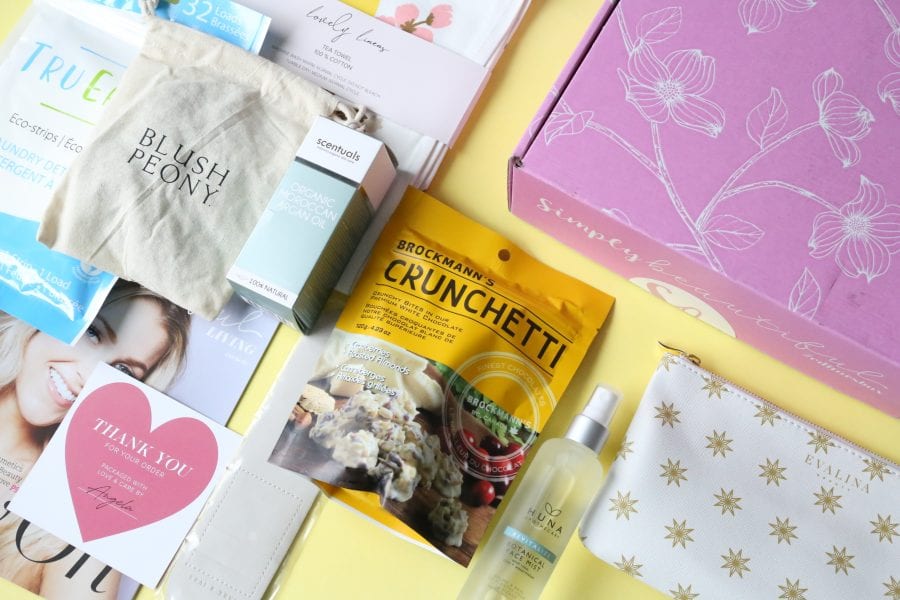 Simply Beautiful Box Review Spring 2019 – Final Thoughts
The Spring Simply Beautiful Box is everything I was hoping it would be. The total retail value for the box is $210.50 and we received an amazing mixture of products. I love the variety and the fact that we received a spring decor item, a home cleaning item, a yummy snack, skincare, makeup tools, and a travel accessory. We received a little bit of everything and I love every single item. Typically I have one or two favorite items in a box, but not this time……I really do love them all.
-AYOB
Explore.
Save.
Enjoy!
Sign up for a free account on A Year of Boxes to receive exclusive offers, be added to our monthly mailing list, and much more! We are always adding features to improve the experience for our users, from their valuable feedback!
Join Today!