Simply Beautiful Box Review Spring 2020
From the editors of @BCLiving, Simply Beautiful Box is a seasonal subscription box filled with beauty products, fashion finds and decor treasures – plus more amazing products delivered to your door each season! They kindly sent us this box for review.
Simply Beautiful Box is a really lovely Canadian Lifestyle Subscription Box. It's one of the better subscription boxes based in Canada and I've really come to love it over the last few seasons. It's a wonderful mixture of products and there are a few brands they feature on a regular basis. Three of the brands in particular are Scentuals, Blush Peony and Evalina Beauty – all of which I have also come to love.
Subscription Details
When you sign up for a Simply Beautiful Box subscription you can choose to pay monthly or every 3 months and each season you will receive a new box.
Every 90 days, receive 6 to 8 curated products delivered to your door for the body, home and soul, including:
The best beauty finds
Must-have style pieces
The trendiest home decor treasures
Here's a closer look at the items we received in the Spring Simply Beautiful Box…..
Blush Peony – Sweet Dreams Mulberry Silk Sleep Mask, $39
It's time to spring forward! And this gorgeous grey sleep mask from Vancouver's Blush Peony will have you sleeping tight even as the days get longer. Made of super-soft mulberry silk, it is breathable, gentle on skin, and will block out unwanted light to help you get a deeper, better quality sleep. The expandable elastic strap adjusts to fit your head for comfort, making it perfect for nightly wear and for catching a few zzzs while travelling.
This is so fitting! I had a silk sleep mask that I never used and was still in the original packaging so I gifted it to a friend a few weeks ago. Right after I gifted it I realized I actually had a need for it myself. I regretted giving it away and then this one showed up. I am very excited to see this in the box and won't make the same mistake again. This one is going in the drawer of my bedside table ASAP.
Opagee – Scent-free Repair Cream, $30
Vancouver's Opagee skin care's products are 100 percent natural, vegan, cruelty-free, toxin-free and made in small batches to maintain exceptional quality. Crafted with shea butter and organic aloe, this repair cream hydrates, moisturizes and nourishes from head to toe and is especially recommended for people with dry and sensitive skin, eczema or psoriasis. Use it all over your body; it works particularly well on dry-prone areas like hands, elbows, feet and knees.
I like to have a quality repair cream on hand for dry skin emergencies. This one will be perfect for those stubborn areas – heels, knees, elbows and hands. I kind of wish it had a scent, but it's also really nice to have a scent-free product for my hubby (he's not a scent lover like I am).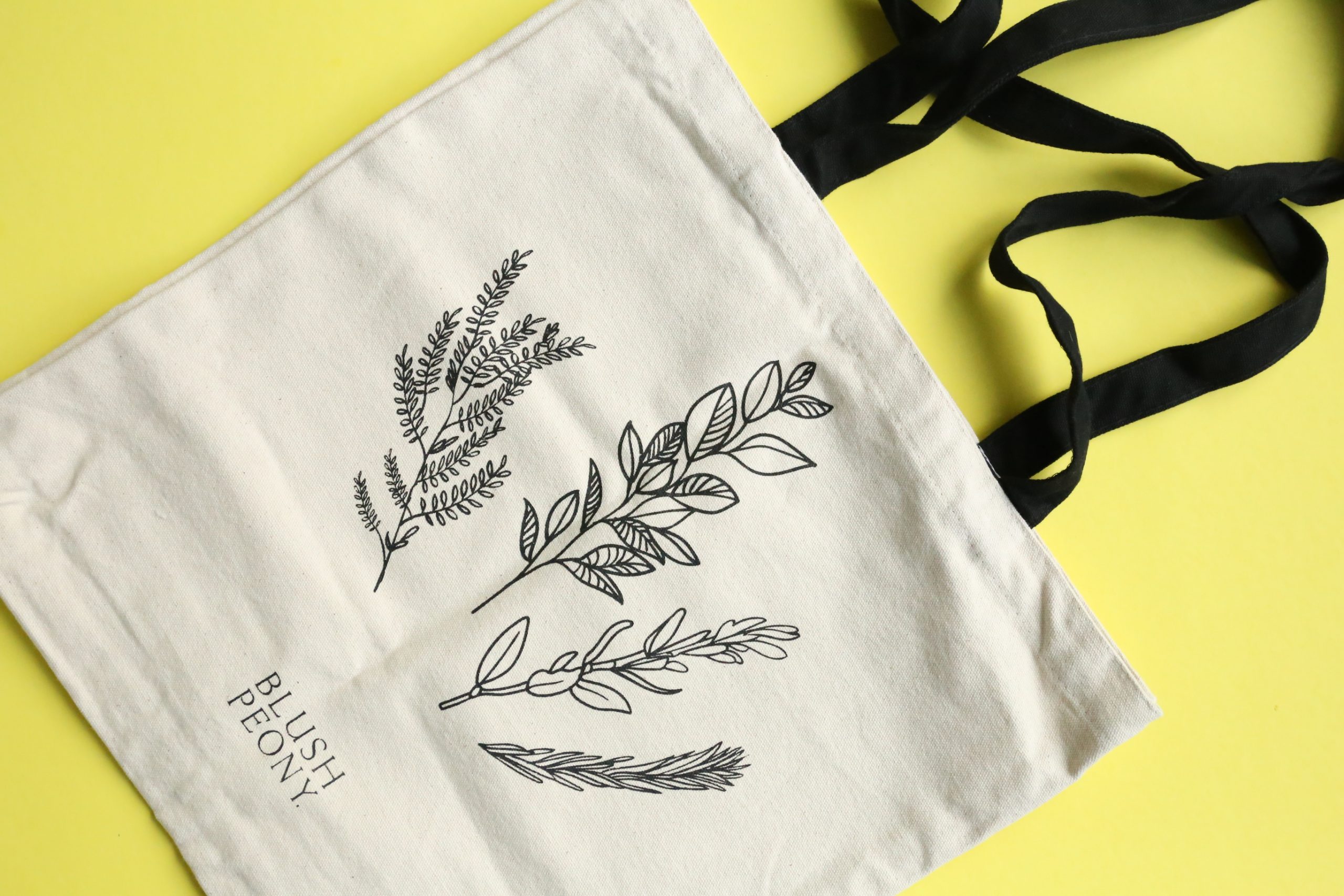 Blush Peony – Reusable Shopping Bag, $15
Be kind to the planet and reduce plastic waste with this reusable cotton canvas shopping bag from Vancouver's Blush Peony. This durable tote is ideal for browsing the fruit and veggie stalls at the farmers market, or for carrying groceries and any other household items. The strap is the perfect length to sling over your shoulder while still allowing space for protruding produce, and the minimalist herb design makes it super versatile.
How cute is this bag?! And so practical. I like to have a selection of reusable bags on hand at all times. I use them for a number of things – groceries, shopping, books, baby items, snacks, etc…. I also like to use them for gifting. Instead of using regular gifts bags I will fill one of these up with a selection of goodies and add a couple sheets of tissue paper.
Scentuals – Vitamin C Facial Serum, $45
It's time to brighten up that dull winter skin! Formulated with Vitamin C, E, hyaluronic acid and edelweiss plant stem cells, this lightweight serum from Vancouver's Scentuals helps reduce the appearance of wrinkles, prevents collagen loss and hydrates while protecting and nourishing the skin. Apply two to four drops in your hands, breathe in the fresh citrus scent, and gently massage into your face and neck morning and/or evening.
We received the most amazing hand repair cream from Scentuals in the Fall Simply Beautiful Box and ever since then I have anticipated receiving another product from the natural skin care company. I was very excited to see this serum in the box because I use serum on a daily basis. I also really love the way my skin reacts to Vitamin C. It's a great skincare ingredient for brightening and hydrating. I am really looking forward to testing this serum out.
Huna – Clarify Skin Nutrition Beauty Tea, $26
We know how well Huna's products work on our skin, but how about under our skin? The Winnipeg-based skin care line has just launched a collection of teas, formulated to care for our complexions from the inside out. The Clarify Skin Nutrition Beauty Tea is a delicious mint tea with blemish-clearing and skin-balancing botanicals, including nettle, burdock, dandelion and calendula. Brew a pot, then sip back and relax knowing that your skin is drinking in the detoxifying benefits.
I have received Huna products in the past but to be totally honest I haven't given them the attention they deserve. In addition to that I have never really tried beauty tea. I feel like I need to give this one a shot and I feel like I need to spend some time on the Huna website browsing through the rest of their product line.
Delia Organics – Eye Dare You Eye Serum, $26
Dry skin will thirst for Delia Organics' Eye Dare You, a super-moisturizing eye serum. It's loaded with cranberry seed oil, which has beneficial antioxidant properties to help soothe and even skin tone. With regular use, you will see an increase in hydration and even a brighter eye area. Simply use the rollerball to apply around your eyes and lightly massage into your skin with light dabbing movements. The bonus? This product is natural, vegan and cruelty-free.
I love testing out new eye products so I was happy to see this in the box. I like that this one is applied via the rollerball and I really like the ingredient list….
Cranberry Seed Oil, Sweet Almond Oil, Jojoba Oil, Avocado Oil
Evalina Beauty – Glow Cheek and Lip Stain, $35
Available in two perfectly spring-y colours (posy and coral), Vancouver's Evalina Beauty's Glow Cheek and Lip Stain is the ultimate two-in-one product. This weightless water-based gel-cream blush provides a natural flush to cheeks and a gorgeous pop of colour to lips. Glow melts seamlessly into the skin without any patchiness or streaking—just build and blend to your heart's content! Simply dab onto cheeks or lips, and tap into skin.
Evalina Beauty is another brand we see on a regular basis in Simply Beautiful Box. In the past we have received eyeshadow sticks, highlighter, lip gloss, and a brush set. This season we received cheek and lip stain which I will definitely be testing out. I like that it claims to give a natural flush to cheeks and a pop of color to lips.
Blush Peony – Eyeglasses Case, $15
Bright, floral and super functional, this glasses case from Vancouver's Blush Peony is a perfectly pretty way to protect all your eyewear. The neoprene fabric makes it flexible and compact enough to fit into any purse while the squeeze-top self-closure keeps sunglasses securely scratch-free inside. The case will fit most standard-sized glasses and sunglasses and can also be used as a phone, makeup or jewellery case.
Lastly we have this gorgeous little eyeglass case. I love the beautiful pattern and I was actually in need of a case for my computer glasses. Until now I've just kept them in my desk drawer. Going forward I will be able to bring them with me in my purse or computer bag. I may also use the case for my sunglasses.
Simply Beautiful Box Review Spring 2020 – Final Thoughts
The Spring Simply Beautiful Box is absolutely lovely. It really has become one of the boxes I look forward to most. The Spring Box has a total retail value of $265.95 and brought with it a wonderful selection of products. I love to see some of my favorite brands featured on a regular basis – Scentuals, Blush Peony and Evalina Beauty. I also appreciate the mixture of items we receive each season.
And as I look back at some of the previous boxes I have received I've realized that some of my favorite products have been discovered in my Simply Beautiful Boxes. 
-AYOB Sarah
Explore.
Save.
Enjoy!
Sign up for a free account on A Year of Boxes to receive exclusive offers, be added to our monthly mailing list, and much more! We are always adding features to improve the experience for our users, from their valuable feedback!
Join Today!