Simply Beautiful Box Review Summer 2019
From the editors of @BCLiving, Simply Beautiful Box is a seasonal subscription box filled with beauty products, fashion finds and decor treasures – plus more amazing products delivered to your door each season! They kindly sent us this box for review.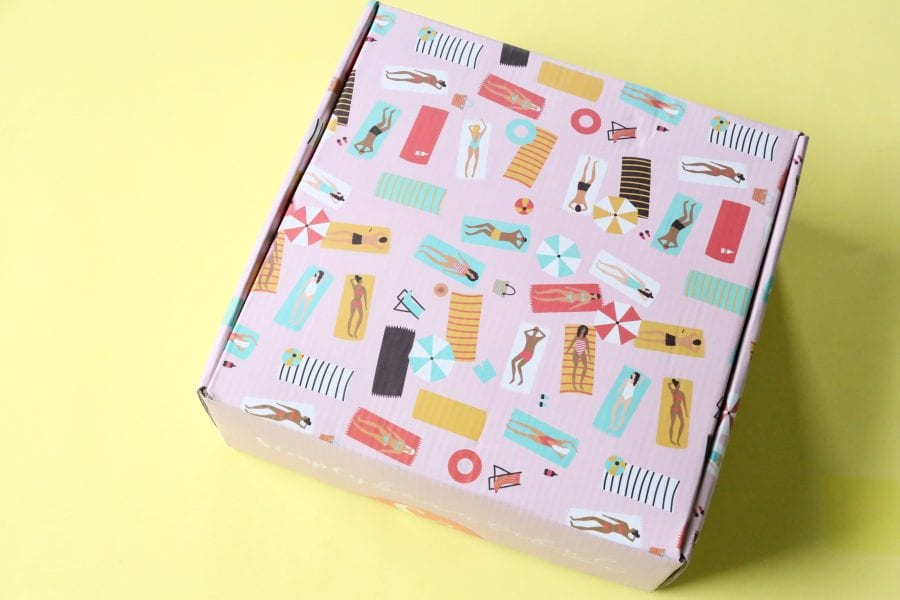 This will only be my second time reviewing Simply Beautiful Box but I really loved it the first time around and had high hopes for my second box. I really only saw one spoiler for the Summer box and wasn't too sure what to expect. But…..I am happy to report that it blew my expectations out of the water. The Summer Simply Beautiful Box is better than I could have imagined. Let's have a closer look…..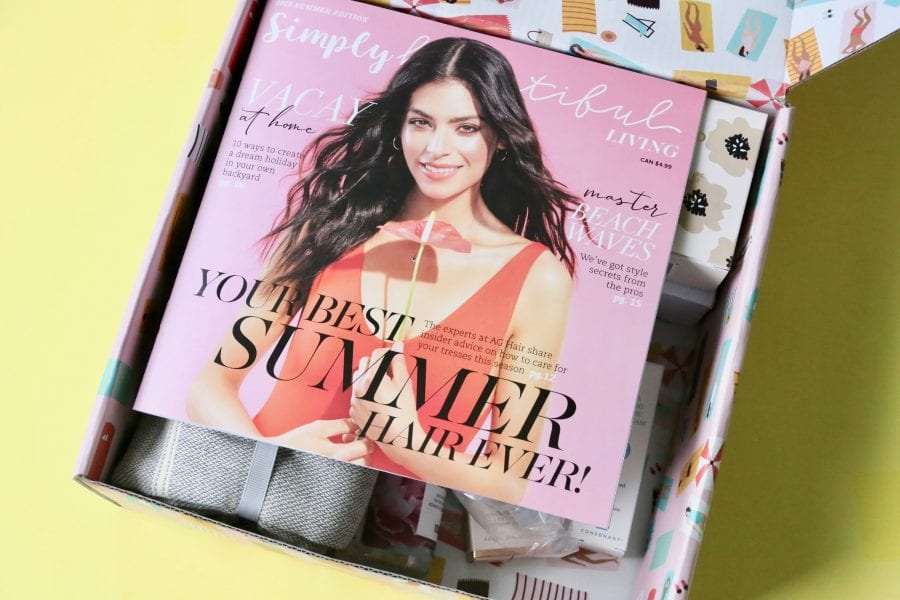 Subscription Details
When you sing up for a Simply Beautiful Box subscription you can choose to pay monthly or every 3 months and each season you will receive a new box.
Every 90 days, receive 6 to 8 curated products delivered to your door for the body, home and soul, including:
The best beauty finds
Must-have style pieces
The trendiest home decor treasures
Here's a closer look at the items we received in the Summer Simply Beautiful Box…..
Maylie Jewellery 14k Gold Vermeil Hoop Earrings ($60)
Designed in Vancouver, these gorgeous gold hoops from Maylie Jewellery will be your go-to summer earrings. Perfect for the beach or a special night out, they feature a beautiful migraine detail around the edges, and a unique oval shape. To keep earrings looking like new, store them separately in a cloth or sealed baggie. To clean, use a soft cloth to maintain shine and avoid anything abrasive.
I was definitely not expecting to see such a gorgeous pair of earrings in the box this season, and I am pretty darn excited about it. I wear the same pair of earrings every single day because I haven't taken the time to shop for a new pair. I have been wanting something just like this – gold, hoop style, not too big, not too small. These are gorgeous and I can see myself wearing them a lot.
BKIND Pink Clay Konjac Facial Sponge ($9.95)
Montreal natural skin care company BKIND wants you to keep your routine simply beautiful with this easy-to-use Konjac facial sponge. Infused with French pink clay – which helps soothe, purify, and brighten skin – this gentle exfoliator cleans your face in a single step, without the need for soap. Ideal for dry and sensitive skin, this sponge is also 100 percent natural and biodegradable.
It has been a little while since I received a Konjac Sponge in any of my subscription boxes and I am taking it as a sign. I keep meaning to add this step to my skincare routine as I have heard great things about cleansing with a Konjac Sponge. And….I happen to really love this brand. It's meant to be.
Haven Living Rosemary Mint + Vanilla Hand and Foot Polish ($18)
Its sandal season, which means your feet need some extra-special care. This deeply hydrating scrub from Vancouver Island's Haven Living will slough away dead skin cells on both the feet and hands, leaving them soft and renewed – and the addition of mint will leave skin tingling and feeling completely refreshed. Simply apply and exfoliate using small circular motions.
If you haven't used a scrub on your hands you are missing out. I started exfoliating my hands a year or 2 ago and I love the way it makes my hands feel. It leaves them super soft and it's a great addition to my pampering routine. I moisturize my cuticles, file my nails and exfoliate. And…..this polish smells AH-MAZING! Mint and vanilla happens to be a favorite combo.
Blush Peony Woven Beach Towel ($40)
This lovely woven towel from Blush Peony folds up compactly yet is thick enough to provide ample padding for your summer lounging needs. Its super absorbent, dries quickly and is large enough for laying out and catching some rays. With it's subtle grey color, classic striped pattern and tassel details, you can even wear it over your shoulders as a shawl or use it as a throw indoors.
I am so in love with this towel! it's absolutely gorgeous and it will fit in with my new office decor perfectly. I won't be using it as a beach towel, as it is just too pretty. I am going to use it as a throw in my office. Probably on my new chair, in my new reading corner.
AG Hair Care Sea Spray ($24)
Want beach waves this summer? AG Hair makes it easy. The Vancouver-based international success story has bottled up the beach to bring hair gritty, wavy texture with added volume. Sea Spray is enhanced with AG's Sea Complex, an infusion of three naturally texturizing seaweed extracts plus anti-aging teaberry oil to create a casual, effortless look. Spray on and head for the seashore.
I'm not really one for hair care products as my hair routine is beyond simple – wash, air dry, and maybe put in my hot rollers if I have time. I never use any sort of hair products but I've been wanting to change that. I feel the need to up my hair game and this is the kind of product I can see myself using. I like the look of natural beachy waves. Now I just have to teach myself the proper way to use it.
Blush Peony Patio Wine Tumbler ($15)
Soak in the warmth of the sun while keeping your drink cold with Blush Peony's rose gold wine tumbler. An essential for backyard and patio sipping, this insulated cup will keep up to 12 ounces of your favorite white or rosé cool no matter how hot it gets outside. The snap-top lid features a hole for easy sipping or even a straw (perhaps a rose gold one from Simply Beautiful's winter collection?).
I'm a sucker for rose gold…..anything rose gold….it doesn't matter what it is. So, it should come as no surprise that I was happy to see this in the box. I carry a cup with me everywhere. It's either filled with lemon water, tea or coffee. No rosé for this girl. But…..just because it is a wine tumbler doesn't mean that it shouldn't be used for other beverages.
Evalina Beauty Blossom & Berry Lip Kit ($40)
Vancouver-based Evalina Beauty's moisturizing lip gloss kit features two super-wearable shades that are perfect for summer. Blossom, a sheer, natural pink and Berry, a deeper plum shade. The lightweight, long-lasting and non-sticky formula nourishes and moisturizes, leaving lips feeling soft and conditioned thanks to antioxidants, including vitamin E. The bonus? This product is vegan, paraben-free and not tested on animals.
If you read my reviews on a regular basis you will know that I am always looking for a pretty lip color. I don't wear lip color often but I like to have a little something in my purse just in case. But, I am very picky when it comes to lip products. It needs to be a pretty shade, nothing too crazy, nothing too pigmented, and it needs to be easy to apply. I have a feeling that these colors just might do the trick. I love both of them and being a gloss I think they will have all the qualities I am looking for.
Consonant Skincare Ultra Firming Organic Eye Cream ($36)
This award-winning eye cream from Toronto's Consonant Skincare will keep your eyes as radiant as the sun thanks to a list of all-star ingredients, including zinc oxide, a potent natural anti-inflammatory that also helps to reduce the appearance of under eye circles; vitamin B3 and E, which help to protect and moisturize; and HydraExtreme to plump and hydrate. Hot tip: keep this eye cream in the fridge during the summer for an extra cooling effect.
Lastly we have an award-winning eye cream and it rounds out the box perfectly. I am always happy to test out a new eye cream as it just happens to be my problem area. I actually really love receiving eye products in subscription boxes as they can be quite expensive and there's no guarantee that you are going to love them. I'm very excited to test this one out.
Simply Beautiful Box Review Summer 2019 – Final Thoughts
Ummm…..can we just talk about how wonderful the Summer Simply Beautiful Box is?! As I mentioned above, it exceeded my expectations. It is better than I could have imagined and it makes me very excited to see what they have planned for Fall. I received a box full of products that I want and need. Every single item will be used – no gifting will be taking place with this box of goodies. The towel is perfect for my new office, the earrings are exactly what I have been looking for, the tumbler is stinkin' cute and very practical, the lip gloss duo is already in my purse and the sea spray will hopefully get me out of my hair rut. I am absolutely thrilled with the Sumer box, it has been added to my list of favourites…..that's for sure.
-AYOB
Explore.
Save.
Enjoy!
Sign up for a free account on A Year of Boxes to receive exclusive offers, be added to our monthly mailing list, and much more! We are always adding features to improve the experience for our users, from their valuable feedback!
Join Today!