Simply Beautiful Box Review Winter 2020
From the editors of @BCLiving, Simply Beautiful Box is a seasonal subscription box filled with beauty products, fashion finds and decor treasures – plus more amazing products delivered to your door each season! They kindly sent us this box for review.
I have really come to love Simply Beautiful Box and truly look forward to receiving it. Have I mentioned that before? There's just something about this box that grabs my attention. Maybe it's the beautiful design, the thoughtful curation, the brands they work with, or the fact that I always end up loving the items we receive. Whatever it may be, Simply Beautiful Box always puts a smile on my face.
Subscription Details
When you sign up for a Simply Beautiful Box subscription you can choose to pay monthly or every 3 months and each season you will receive a new box.
Every 90 days, receive 6 to 8 curated products delivered to your door for the body, home and soul, including:
The best beauty finds
Must-have style pieces
The trendiest home decor treasures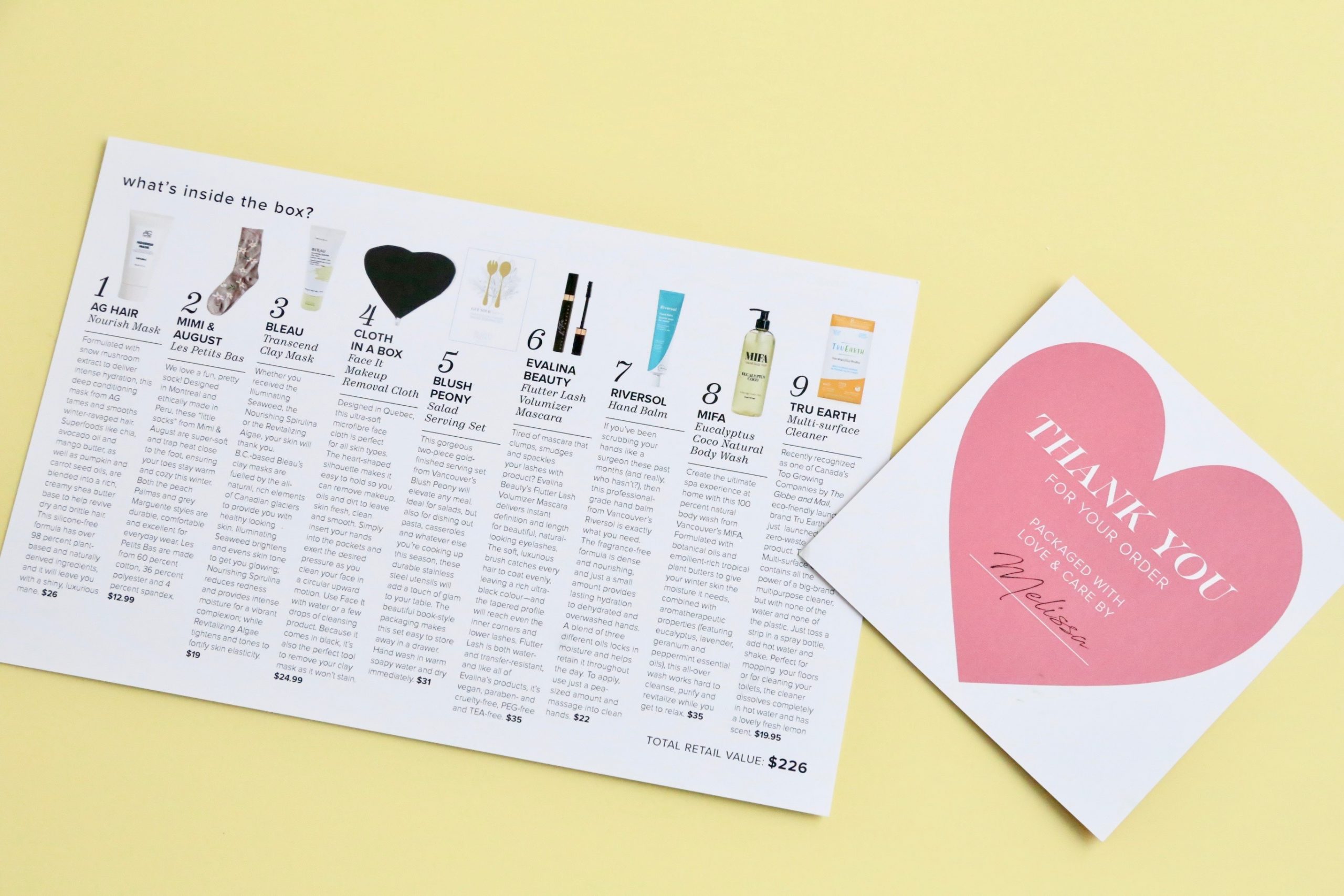 Here's a closer look at the items we received in the Winter Simply Beautiful Box…..
AG Hair Nourish Mask ($26)
Formulated with snow mushroom extract to deliver intense hydration, this deep conditioning mask from AG tames and smooths winter-ravaged hair. Superfoods like chia, avocado oil and mango butter, as well as pumpkin and carrot seed oils, are blended into a rich, creamy shea butter base to help revive dry and brittle hair. This silicone-free formula has over 98 percent plant-based and naturally derived ingredients, and it will leave you with a shiny, luxurious mane.
I'm pretty lucky when it comes to my hair and don't really find the need for masks that often, but I do like that they thought of the fact that winter can be hard on hair and provided us with a little something to pamper dry locks.
Mimi & August Les Petits Bas ($12.99)
We love a fun, pretty sock! Designed in Montreal and ethically made in Peru, these "little socks" from Mimi & August are super soft and trap heat close to the foot, ensuring your toes stay warm and cozy this winter. 
I am absolutely loving these socks! They are fun, pretty and feminine. They are the perfect addition to my sock drawer. I will wear these often. I'm also loving the spring vibes.
Bleau Transcend Clay Mask ($19)
Whether you received the Illumination Seaweed, the Nourishing Spirulina, or the Revitalizing Algae, your skin will thank you. BC-based Bleau's clay masks are fuelled by the all-natural, rich elements of Canadian glaciers to provide you with healthy looking skin. 
I've been experimenting with skincare products as of late and I have to say…..it's pretty darn fun. I'm even thinking about setting up a skincare display in my bathroom so I have all my faves on hand. This is a brand I am yet to try and I love that they introduced me to something new.
Cloth in a Box Makeup Removal Cloth ($24.99)
Designed in Quebec, this ultra-soft microfibre face cloth is perfect for all skin types. The heart-shaped silhouette makes it easy to hold so you can remove makeup, oils and dirt to leave skin fresh, clean and smooth. 
I just love these makeup removal cloths. I discovered them thanks to my subscription boxes and they are an environmentally friendly alternative to my face wipes. I like to have one (or two) in the drawer beside my bathroom sink at all times. It's nice to have a couple on hand just so you aren't washing them all the time.
Blush Peony Salad Serving Set ($31)
This gorgeous two-piece gold-finished serving set from Vancouver's Blush Peony will elevate any meal. Ideal for salads, but also for dishing out pasta, casseroles and whatever else you're cooking up.
Blush Peony is featured in every Simply Beautiful Box and I just LOVE their products. This salad serving set is absolutely beautiful and will come in handy when we start hosting holiday dinners again. I will tuck these away. 
Evalina Beauty Volumizer Mascara ($35)
Tired of mascara that clumps, smudges and spackles your lashes with product? Evalina Beauty's Flutter Lash Volumizer Mascara delivers instant definition and length for beautiful, natural-looking eyelashes. 
Evalina Beauty is another brand we receive in every box and I absolutely love it. I have a collection of their products and am so excited to add this mascara to the group because mascara is a makeup product I use on a regular basis.
Riversol Hand Balm ($22)
If you've been scrubbing your hands like a surgeon these past months (and really who hasn't?), then this professional-grade hand balm from Vancouver's Riversol is exactly what you need. The fragrance-free formula is dense and nourishing. 
We have received this brand in previous boxes, I think maybe once or twice, and am I yet to try it. I feel like I need to spend some time researching this brand because apparently it is VERY popular and people seem to love their face products.
Mifa Eucalyptus Coco Natural Body Wash ($35)
Create the ultimate spa experience at home with this 100 percent natural body wash from Vancouver's MIFA. Formulated with botanical oils and emollient-rich tropical plant butters to give your winter skin the moisture it needs.
Body wash is something I love receiving in my subscription boxes. I use it daily and funny enough, we don't receive it often. This one just happens to be a favorite scent – eucalyptus. I find it so energizing and uplifting.
Tru Earth Multi-Surface Cleaner ($19.95)
Recently recognized as one of Canada's Top Growing Companies by the Globe and Mail, eco-friendly laundry brand Tru Earth has just launched a zero-waste cleaning product. Tru Earth Multi-Surface Cleaner contains all the power of a big-brand multipurpose cleaner, but with none of the water and none of the plastic. 
Ok, this is pretty darn cool. We have received this brand before but are yet to receive this particular product. I think it is genius! Here's the deal….
Simply toss a strip in an old spray bottle, add hot water, and shake.
In roughly 30 seconds, you have extreme cleaning power, ready to provide your family the ultimate clean on any hard surface.
Each strip creates 250ml (8.5oz) of ultra concentrated cleaning solution.
Simply Beautiful Box Review Winter 2020 – Final Thoughts
Even though I was hoping for some Wintery vibes, the Winter 2020 Simply Beautiful Box did not disappoint. I mentioned above how much I love this subscription and I don't see that changing anytime soon. The Winter box has a total retail value of $226 making it one of the best Canadian subscription boxes in terms of value and curation. I love the brands they feature and the mixture of products. I'm really excited to see what they have in store for 2021. I expect great things from this box as we head in to the New Year.
-AYOB Sarah
Explore.
Save.
Enjoy!
Sign up for a free account on A Year of Boxes to receive exclusive offers, be added to our monthly mailing list, and much more! We are always adding features to improve the experience for our users, from their valuable feedback!
Join Today!