Simply Beautiful Box Review Winter 2021
From the editors of @BCLiving, Simply Beautiful Box is a seasonal subscription box filled with beauty products, fashion finds and decor treasures – plus more amazing products delivered to your door each season! They kindly sent us this box for review.
If you are looking for a beautiful box full of quality items, and want the focus to be on "pretty things" then this is the box for you. I LOVE receiving Simply Beautiful Box and always end up getting a ton of use out of the products tucked inside. The name couldn't be more fitting because it is "simply beautiful".
Subscription Details
When you sign up for a Simply Beautiful Box subscription you can choose to pay monthly or every 3 months and each season you will receive a new box.
Every 90 days, receive 6 to 8 curated products delivered to your door for the body, home and soul, including:
The best beauty finds
Must-have style pieces
The trendiest home decor treasures
Here's a closer look at the items we received in the Winter Simply Beautiful Box…..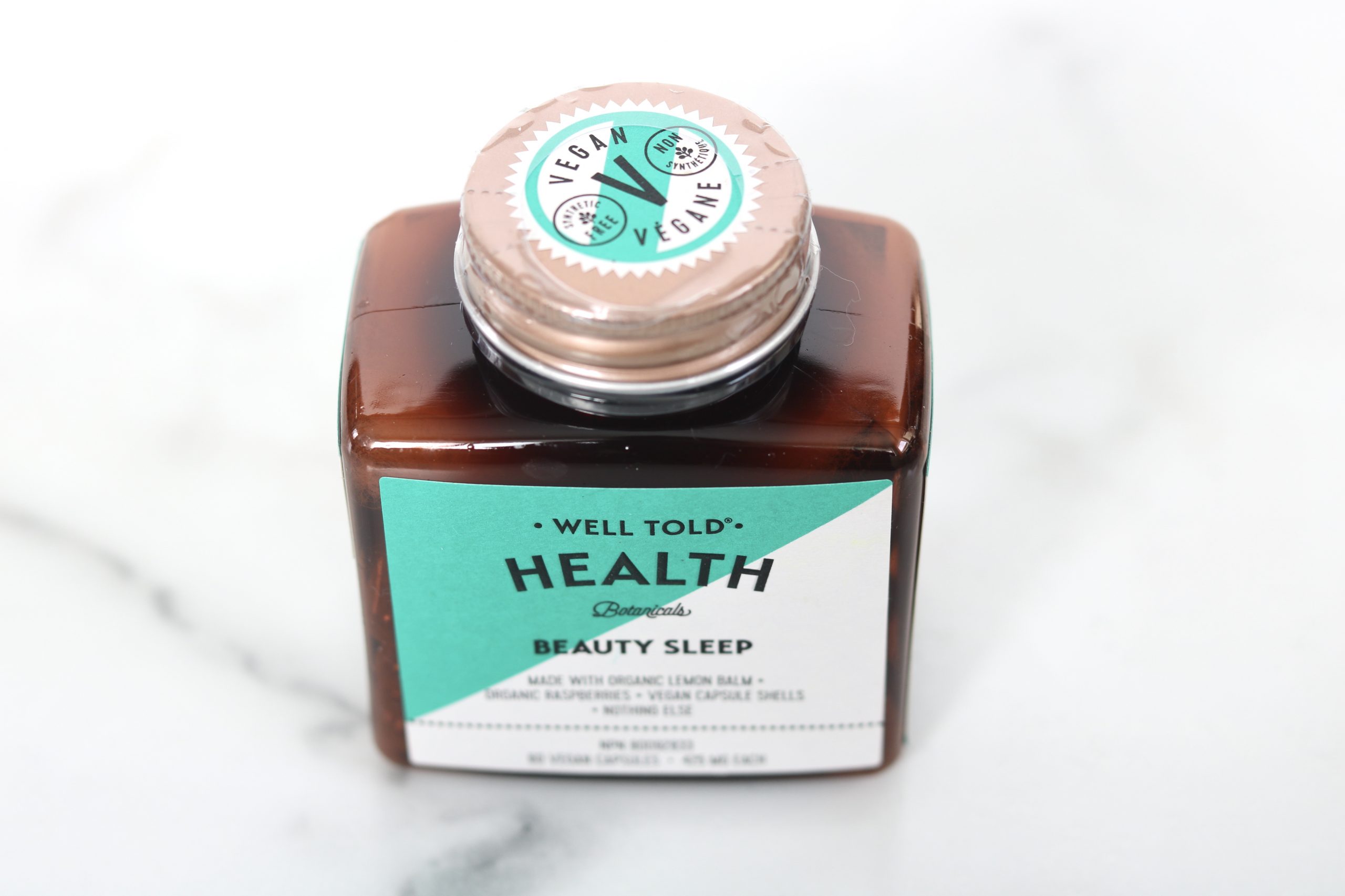 Well Told Health – Sleep or Beauty Sleep
Here's something to keep you calm during the hectic holiday season. These natural sleep aids from Toronto's Well Told Health are not habit-forming and will help you sleep deeper and wake up refreshed. Just take two capsules 30 – 60 minutes before bed and drift off into a peaceful slumber.
I don't usually have trouble sleeping but since moving in to the new house I'm just not settled and therefore, not sleeping as well as I usually do. So….I just might give these a try. And here's the cool part, they are vegan and they are made with 2 simple ingredients – organic lemon balm and organic raspberries.
Mimi & August – Cafe Yo Cup
Say no to plastic with the Cafe Yo Cup from Montreal's Mimi & August. The perfect accessory to keep your drink warm on a winter stroll, this 14oz. compostable bamboo mug is BPA, BOS and phthalate-free, and comes with it's own matching sleeve and sealable lid.
Mimi & August has become one of my favorite brands because their products are just so darn pretty! I love this reusable cup, it's giving me Winter vibes without being overly festive, and you all know how much I LOVE my coffee cups!
Blush Peony – Stitched Notebook
This stunning notebook from Vancouver's Blush Peony is the ideal way to keep you organized this holiday season. With 50 ruled pages, you'll have plenty of room to jot down shopping lists, tasks and anything else you need to remember.
There's nothing like starting off the new year with a pretty new notebook so I was extremely happy to see this in the box. Now I just need to decide if I want to use it for lists, notes or as my journal. Decisions, decisions…..
Jubel Naturals – Serenity or Soft Rose Bath Soak
Whether you chose Serenity or Soft Rose, we know you'll love these luxurious bath salts from Jubel Naturals. Serenity is a calming herbaceous blend designed to help you unwind, while Soft Rose creates an enchanting floral oasis to rejuvenate your body and mind.
This was available in two different scents and I am SO happy to have received Serenity. It's a soothing mix of lavender, ylang ylang, vanilla, jasmine and clary sage. You simply fill the tub, add a generous amount, sit back and relax.
AG Hands Free Sanitizer Gel
If there's one thing we've learned from the pandemic, it's that keeping our hands clean is an important part of staying healthy. When you're on the go and don't have access to soap and water, maintain your hygiene this winter with AG's Hands Free hand sanitizer gel.
I have to admit, I have gotten a little lazy with my hand sanitizing and really need to get back on track. So, I am going to put this pretty little jar at the front door so I will see it daily and be reminded to maintain my hygiene and stay healthy.
Rosé Toronto – Hyaluronic Serum
Rosé Toronto's vegan hyaluronic serum absorbs instantly, plumps fine lines and wrinkles, tightens pores, and deeply hydrates dry winter skin. Formulated with two percent hyaluronic acid, this hero ingredient is known for it's ability to capture and hold onto 1000 times its weight in water.
I'm in the process of looking for new skincare products as my go-tos are currently out of stock at Sephora and I'm not sure when they will be back, so…..I will definitely be testing this out. I applied a little to the back of my hand and you really only need a small amount. It absorbed nicely, felt lovely on my skin and left it feeling soft.
Scentuals – Ambiance Mist
No matter which scent you received, you will love how this pure essentials oil-infused spray from Scentuals will fragrance your home. Vanilla Mint features a beautiful blend of vanilla, spearmint and peppermint, while Winter Wonderland is an outdoorsy blend of cedar wood, juniper berry, fir needle and cypress.
Available in two different scents, I received Winter Wonderland which is a blend of cedar wood, juniper berry, fir needle and cypress. I have been wanting to try the holiday products from Scentuals since last year so they get bonus points for this product. I sprayed this in my room and I absolutely LOVE it. It's definitely a wintery scent but luckily we have a couple months left of cold weather so I think I can get away with using this until March.
Consonant – Firming Eye Cream
This is not the first time we've had this firming eye cream in the Simply Beautiful Box, and there's a good reason why. Consonant's award-winning product reflects light to brighten eyes, decreases puffiness while also hydrating and plumping skin. It can be applied all the way around the eye.
I love, love, love receiving eye products because it's the area I like to focus on. I don't remember receiving this in a past box (as they mentioned above) so this will be my first time testing it out. I will pair this with my new serum.
Blush Peony – Hot Water Bottle Cozy
This pretty-in-pink hot water bottle cozy is exactly what you need to keep warm this winter. Just fill the natural rubber bottle inside no more than two-thirds full with water (boiled, then cooled) and cuddle up on the couch.
How adorable is this pink water bottle cozy!! It has been forever since I used one of these, and come to think of it, I don't think I have ever actually owned one (my mom had one when I was little). Such a unique product for a subscription box, and one that I very much appreciate receiving. It will be great to have on hand.
Simply Beautiful Box Review Winter 2021 – Final Thoughts
The Winter Simply Beautiful Box has a total retail value of $229.93 and it is filled with gorgeous items! We received home essentials, skincare, eco-friendly goodies, natural supplements and stationery. I love every single item we received and will get use out of all of them. I love that the focus is on "pretty things" and that they work with some of my favorite brands – Scentuals, Blush Peony and Mimi & August. Simply Beautiful Box is always a pleasure to unbox!
-AYOB Sarah