Simply Earth Review August 2022
Simply Earth is a monthly subscription for quality essential oils. Each month they deliver four simply pure essential oils, extras, and easy recipes, curated around a specific theme. Simply Earth helps you "create a healthy and chemical free home for your family". They kindly sent us this box for review.
Subscription Details
What You Get: Each month you get all the ingredients, containers, and extras you need to make 6 natural recipes… delivered to your doorstep.
Cost: $39 per month
Coupon Code: Use code AYEAROFBOXESFREE to receive a $40 GC with your first order! – CLICK HERE
Here's a peek at the items we received in the August Simply Earth box…..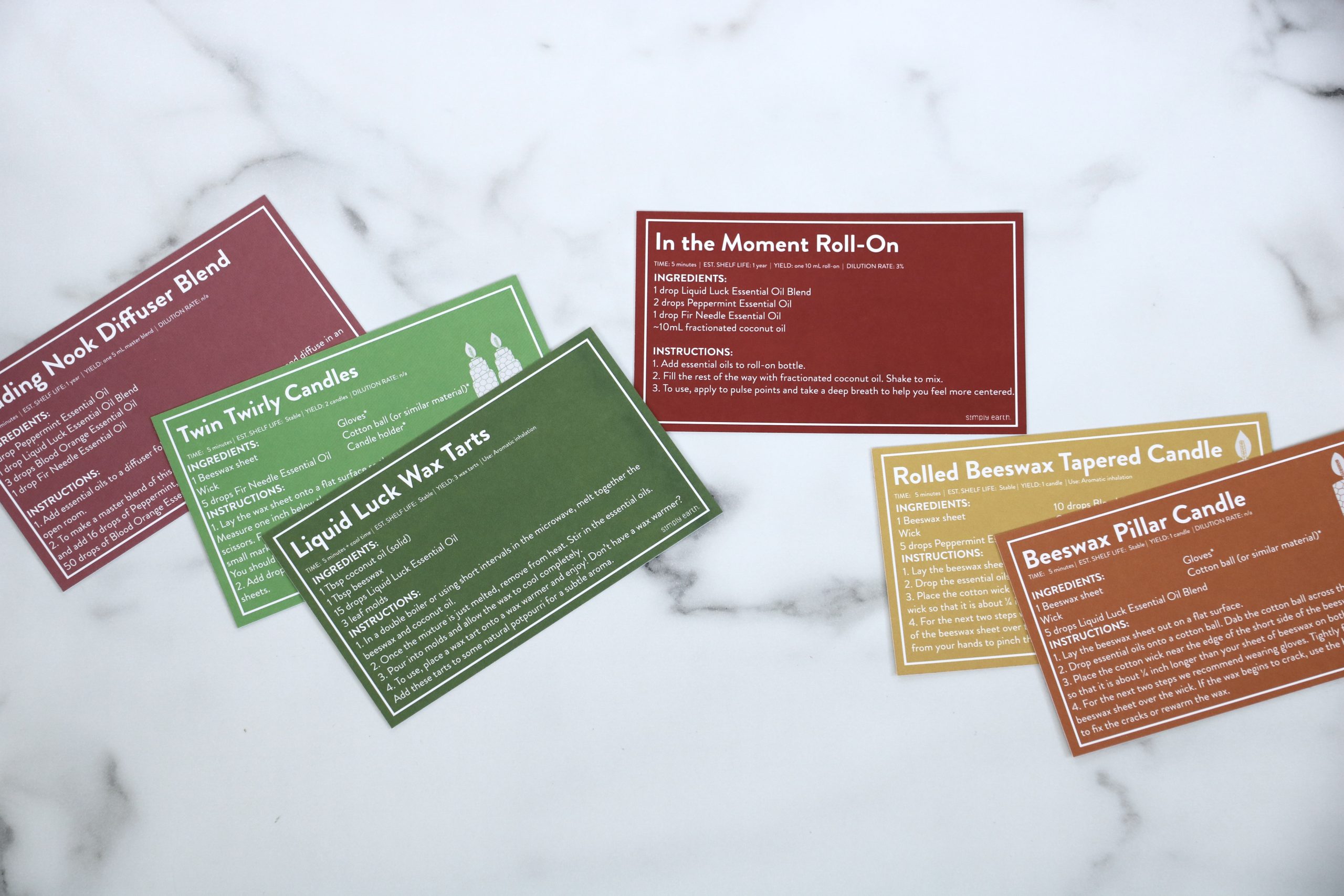 Recipe Cards
This month we received recipe cards for the following:
Twin Twirly Candles
In The Moment Roll-On
Beeswax Pillar Candle
Liquid Luck Wax Tarts
Reading Nook Diffuser Blend
Rolled Beeswax Tapered Candle
Sticker Labels
Every month we receive pre-cut sticker labels for the top of our essential oil bottles and for all of the recipes.
Extras
This month we received the following items to use with the recipes….
Beeswax Sheets
Cotton Candle Wick
Leaf Molds (3)
Peppermint: Peppermint has always been popular as a flavor enhancer in food and drinks, but its more than just that!
Relaxes Muscles
Supports Respiration
Eases Seasonal Discomfort
Energizes
Soothes Head Discomfort
Aids Digestion
Lengthens Hair
Liquid Luck: Our aromatherapists made sure that this blend is not only relaxing but uplifting as well. It's important that while using this blend you'll also feel energized and ready to conquer your fears.
Uplifting
Calming
Citrus and spicy
Home cleaners and disinfectant sprays
Fir Needle: Wherever you live, whether it be a hot or cold climate, Fir Needle has great benefits and uses.
Aids Digestion
Promotes Immunity
Supports Joint Function
Centers
Soothes Emotions
Supports Respiration
Relaxes Muscle
Blood Orange: Their aroma is less sweet than traditional oranges with a more herbal and floral scent along with citrus. 
Promotes Immunity
Cleanses Skin
Supports Joint Function
Uplifts
Centers
Promotes Rest
Tightens
Simply Earth Review August 2022 – Final Thoughts
If you are a candle lover then the August Simply Earth box is the one for you! It definitely has a candle theme when it comes to the recipes and I have never actually made candles before so I'm really looking forward to testing the recipes out. Other than that I am in LOVE with the oil selection this month. Peppermint is a fave, orange is a fave…..and the Liquid Luck arrived at the perfect time because they say it is good for home cleaners and I am making an effort to use my own cleaners rather than store-bought. This continues to be one of my must-have subscriptions!
-AYOB Sarah