Simply Earth Review December 2018
Simply Earth is a monthly subscription for quality essential oils. Each month they deliver four simply pure essential oils, extras, and easy recipes, curated around a specific theme. Simply Earth helps you "create a healthy and chemical free home for your family". They kindly sent us this box for review.
If you love essential oils you NEED this box. I am absolutely in love with my Simply Earth subscription. I get so excited when this little box arrives each month. I love that I receive 4 new essential oils in every box and that I also receive essential oil recipe cards. It's fun to use my new essential oils to make different things each month – diffuser blends, roll-ons, beauty products, etc.
Subscription Details
What You Get: Each month you get all the ingredients, containers, and extras you need to make 6 natural recipes… delivered to your doorstep.
Cost: $39 per month
Coupon Code: Use code AYEAROFBOXESFREE to receive a Big Bonus Box, Essential Oil Recipe Box & $20 GC with your first order! – CLICK HERE
Here's a peek at the items we received in the December box…..
Recipe Cards
This month we received recipe cards for the following:
Congestion Support Roll On
Trim the Tree Diffuser Blend
Cold Support Chest Rub
Tension Relief Bath Bomb
Breath Easy Bath Salts
Vanilla Mint Lip Scrub
This month I am most excited about the Congestion Support Roll On and the Cold Support Chest Rub. These are the kind of essential oil recipes I like to have on hand at all times. In fact, I've already made the roll on and am wearing it as we speak.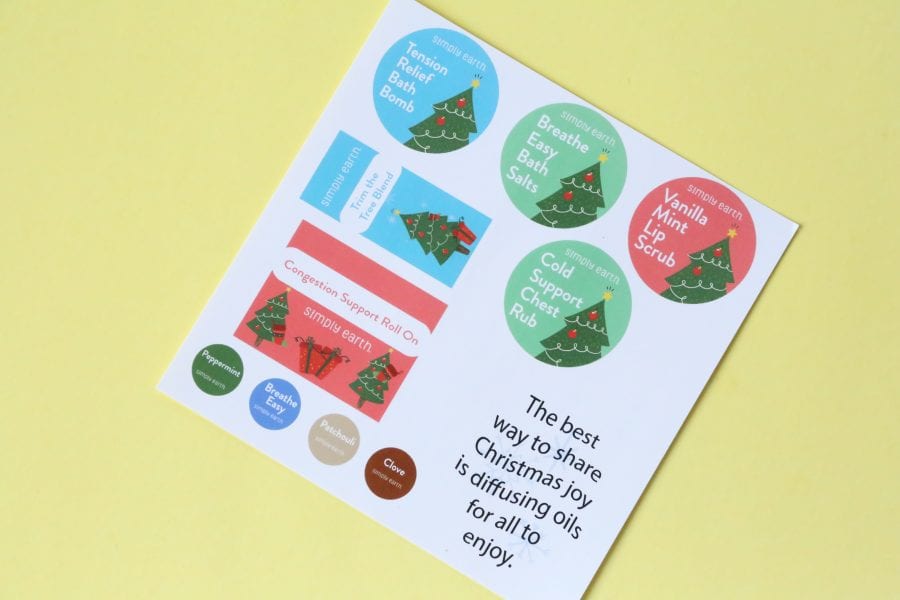 Sticker Labels
I love, love, love that they include labels in every box. Simply cut them out and attach them to whatever recipe you decide to make.
This is one of my favorite features of the Simply Earth recipe box. These little sticker labels sure do come in handy. At first I didn't think I would use them but after making a few recipes I discovered just how handy they are.
Clove
Used mainly as a spice, Clove has been heralded by ancient cultures to treat a variety of ailments.  Chinese medicine used Clove to combat bad breath, hernias, and bronchitis, while others used it to relieve toothaches, aid in digestion, alleviate pain during childbirth, and eliminate intestinal parasites and athlete's foot.
Uses:
Warms mind and body
Improves focus
Promotes confidence
Helps fight seasonal illnesses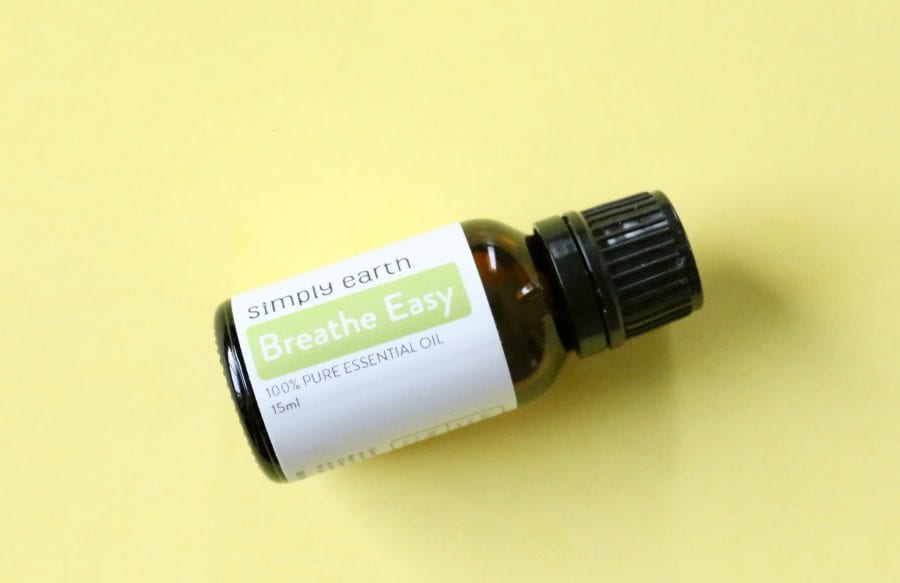 Breath Easy
Breathe Easy is perfect for clearing congestion, allowing you to breathe easier.
Uses:
Details:
Ingredients: Fir Needle, Frankincense, Cedarwood, Myrrh
Patchouli
Patchouli used to be packed with silks and cashmere from India all throughout the British Empire to repel insects. In aromatherapy and perfumery, Patchouli provides an excellent fixative that can help extend the shelf life of other more expensive oils. It also helps improve skin's appearance and can calm nervous tension and worry.
Uses:
Improves appearance of skin
Calms nervous tension and worry
Repels bugs
Peppermint
Peppermint has always been popular as a flavor enhancer in food and drinks. Other than its distinct flavor, it also has a cooling effect and can help relieve head tension and aid in digestion.
Uses:
Cools
Helps relieve head tension
Increases focus and energy
Aids in digestion
Extras
This month we received the following items to use with the recipes….
Bath Bomb Mold
Small Jar
Citric Acid
Goat Milk Powder
Good to Know
Another thing I really love about this subscription is that when you subscribe, you get their BIG BONUS BOX with your first purchase. It contains $50 worth of supplies: hard oil, spray bottles, roller bottles, and more! Plus, you automatically get the Big Bonus Box shipped to you with every 6th box.
Check out our Big Bonus Box Review – CLICK HERE
Simply Earth Review December 2018 – Final Thoughts
Simply Earth never disappoints me. It's a quality subscription with a great price point. I appreciate all the little details such as the packaging, the seasonal appropriate essential oils, the sticker labels and the professional recipe cards. I also love that my Simply Earth box gives me an excuse to take some me time each month. I make myself a cup of tea, put on a good movie and I makes some of the recipes. This is definitely a favorite box!
XOXO