Simply Earth Review January 2022
Simply Earth is a monthly subscription for quality essential oils. Each month they deliver four simply pure essential oils, extras, and easy recipes, curated around a specific theme. Simply Earth helps you "create a healthy and chemical free home for your family". They kindly sent us this box for review.
Now that we are in the new house, slowly getting settled, and life has almost gone back to normal, it's the little things I find myself appreciating most. A clean kitchen, early morning coffee, organized drawers, and……my pretty white oil diffusers that I fill every morning. I can't even tell you how much more (if that's even possible) I have been loving my Simply Earth boxes since being in the new house.
Subscription Details
What You Get: Each month you get all the ingredients, containers, and extras you need to make 6 natural recipes… delivered to your doorstep.
Cost: $39 per month
Coupon Code: Use code AYEAROFBOXESFREE to receive a $40 GC with your first order! – CLICK HERE
Here's a peek at the items we received in the January Simply Earth box…..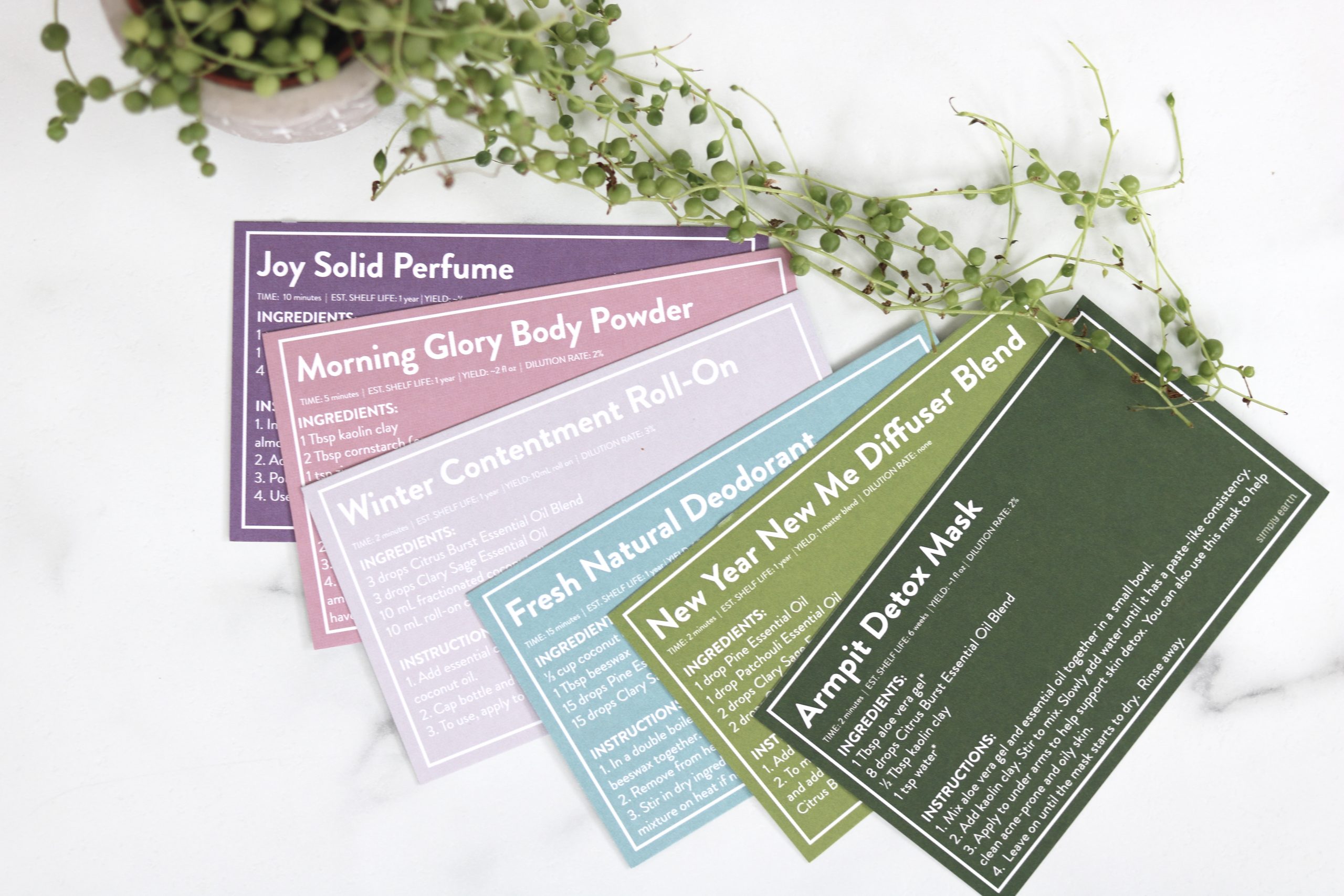 Recipe Cards
This month we received recipe cards for the following:
Joy Solid Perfume
Armpit Detox Mask
Morning Glory Body Powder
Fresh Natural Deodorant
New Year, New Me Diffuser Blend
Winter Contentment Roll-On
Sticker Labels
The fact that they include sticker labels in every box makes me so darn happy. And I especially love the labels for the top of my essential oil bottles.
Extras
This month we received the following items to use with the recipes….
Kaolin Clay
Zinc Oxide
Deodorant Container
Body Powder Puff
Citrus Burst
One of my favorite blends I recommend to people is our Citrus Burst Essential Oil Blend. Most people love the smell of citrus plus its benefits are amazing. Citrus Burst Essential Oil Blend is uplifting, energizing, great for cleaning, and has a fresh citrus aroma.
cleans naturally
eliminates odors
boosts mood
Clary Sage
This kid-safe oil is a favorite for relieving pain symptoms. It's sweet herbaceous aroma is calming and uplifting perfect for soothing the mind along with the body.
calms
supports hormonal production
Patchouli
Patchouli used to be packed with silks and cashmere from India all throughout the British Empire to repel insects. In aromatherapy and perfumery, Patchouli provides an excellent fixative that can help extend the shelf life of other more expensive oils. It also helps improve skin's appearance and can calm nervous tension and worry.
calms
repels insects
skincare
Pine
Pine is a popular choice in aromatherapy because of its soft scent.  Pine supports a healthier respiratory tract, improves circulation, and has a warm and soothing effect.
warms
soothes
supports circulation
calms
Simply Earth Review January 2022 – Final Thoughts
The January Simply Earth box was one of the boxes I was most looking forward to receiving this month. Since moving into the new house I have been diffusing my oils daily. At the beginning of the month I got out all my diffusers, gave them a good cleaning, set them up in locations where I will get the most use out of them, and……it's part of my morning routine to pick out a selection of oils and get my diffusers going.
This month I am most excited about Citrus Burst as it's the perfect oil to diffuse in the kitchen. I love fresh citrus scents this time of year and will use this one often.
-AYOB Sarah