Simply Earth Review June 2019
Simply Earth is a monthly subscription for quality essential oils. Each month they deliver four simply pure essential oils, extras, and easy recipes, curated around a specific theme. Simply Earth helps you "create a healthy and chemical free home for your family". They kindly sent us this box for review.
Do you all love this subscription as much as I do? Simply Earth is one of my favorite subscription box finds. It's absolutely perfect for my lifestyle as I use essential oils on a regular basis. Got a headache? I have an oil for that. Having trouble sleeping? I have an oil for that. Need to cleanse the air? I have an oil for that too!
Subscription Details
What You Get: Each month you get all the ingredients, containers, and extras you need to make 6 natural recipes… delivered to your doorstep.
Cost: $39 per month
Coupon Code: Use code AYEAROFBOXESFREE to receive a $40 GC with your first order! – CLICK HERE
Here's a peek at the items we received in the June Simply Earth box…..
Recipe Cards
This month we received recipe cards for the following:
Hibiscus Skin Repair Bath Salts
After Sun Blend
Summer Day Diffuser Blend
Travel Buddy Roll On
Hibiscus Frozen Facial
Beachy Hair Spray
June Theme: Summer Loving
When I think of summer, I think of warm sunny days filled with fun activities, with a little bit of sunburn mixed in. Here's what makes this box so perfect for a summer day. 
Liquid Aloe Vera is known to accelerate the healing of burns and inflammation, slows the aging of skin, and is filled with antioxidants to fight sun damage for the days with a little too much fun spent in the sun. 
Dried Hibiscus Flowers revive, exfoliate, tone, firm and moisturize skin. With skin, it also protects against premature aging and controls oil production. It has a wonderful aroma too!
These extras paired with essential oils are a great way to add a natural twist to your summer routine. 
Sticker Labels
I love, love, love that they include labels in every box. Simply cut them out and attach them to whatever recipe you decide to make.
Star Anise Essential Oil
Anise Star Essential Oil is distilled from fully ripened star-shaped fruits. It is best known for its pain relieving properties as well as its ability to support the respiratory system.
Uses:
Pain relief
Aid digestion
Respiratory support
Menstrual support
Palmarosa Essential Oil
Often used as an adulteration of rose oil because of its similar aroma at a much lower price, Palmarosa offers a variety of benefits for the skin and emotional well being.
Uses:
Promotes healthy skin
Calms
Helps sleeplessness
Reduces fungus
Reduces swelling and achiness
Grapefruit Essential Oil
Called the forbidden fruit of Barbados by Griffith Hughes, grapefruit was discovered to be growing in Jamaica in 1789.  Since then, grapefruit has been found to have many, many benefits–from clearing skin to rejuvenating dull hair. Grapefruit is also known for its ability to uplift, energize, and support mental focus.
Uses:
Uplifts
Energizes
Supports mental focus
Clears oily skin
Promotes healthy hair
Cleans naturally
Head Soothing Blend
Tension that turns into head and neck discomfort?  Ain't nobody got time for that!  Let our Head Soothing Essential Oil Blend help to ease that discomfort.
Uses:
Relieves tension headaches
Eases neck discomfort
Details:
Ingredients: HoWood, Lavender, & Frankincense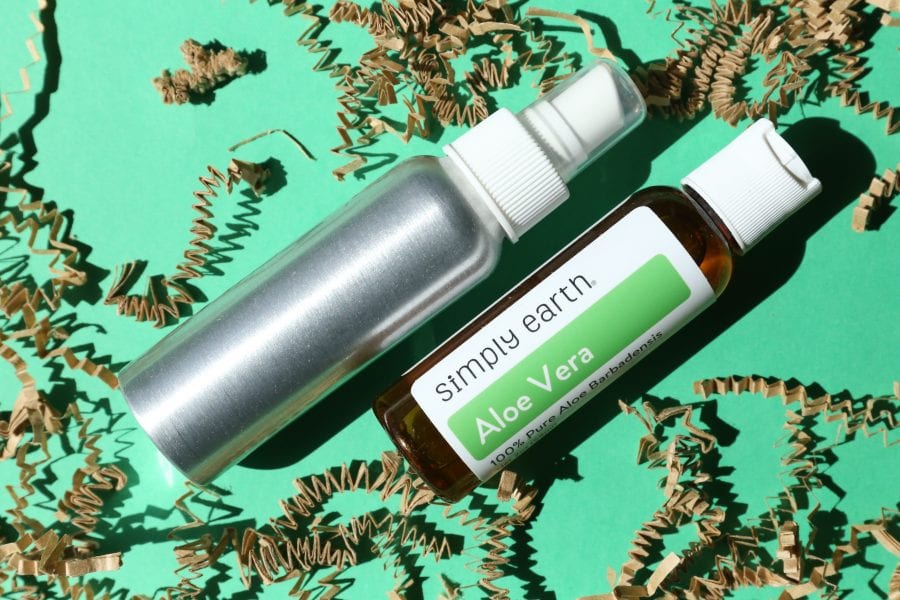 Extras
This month we received the following items to use with the recipes….
Liquid Aloe Vera
Dried Hibiscus Flowers
Good to Know
Another thing I really love about this subscription is that when you subscribe, you get their BIG BONUS BOX with your first purchase. It contains $50 worth of supplies: hard oil, spray bottles, roller bottles, and more! Plus, you automatically get the Big Bonus Box shipped to you with every 6th box.
Check out our Big Bonus Box Review – CLICK HERE
Simply Earth Review June 2019 – Final Thoughts
I am SO excited about this month's Simply Earth Box. Last month was more suited to my Dad as it had a pet theme, but this month it is all about me! I have been wanting to make an after sun blend as well as a travel blend and this month's box includes recipes for both. I think this month's oil selection might be my favorite to date. Other than the December box….I really loved the December box. I still can't believe there's a subscription box specifically for essential oils…..#givemealltheoils
-AYOB