Simply Earth Review June 2020
Simply Earth is a monthly subscription for quality essential oils. Each month they deliver four simply pure essential oils, extras, and easy recipes, curated around a specific theme. Simply Earth helps you "create a healthy and chemical free home for your family". They kindly sent us this box for review.
To say I am obsessed with essential oils would be an understatement. I use them for anything and everything, and I have them all over the house. The saying "I have an essential oil for that" really is true in my case. I turn to them for so many things – headaches, energy, sleep, laundry, cleaning, digestive help….you name it. So, it should really come as no surprise that Simply Earth is one of the boxes I look forward to receiving most.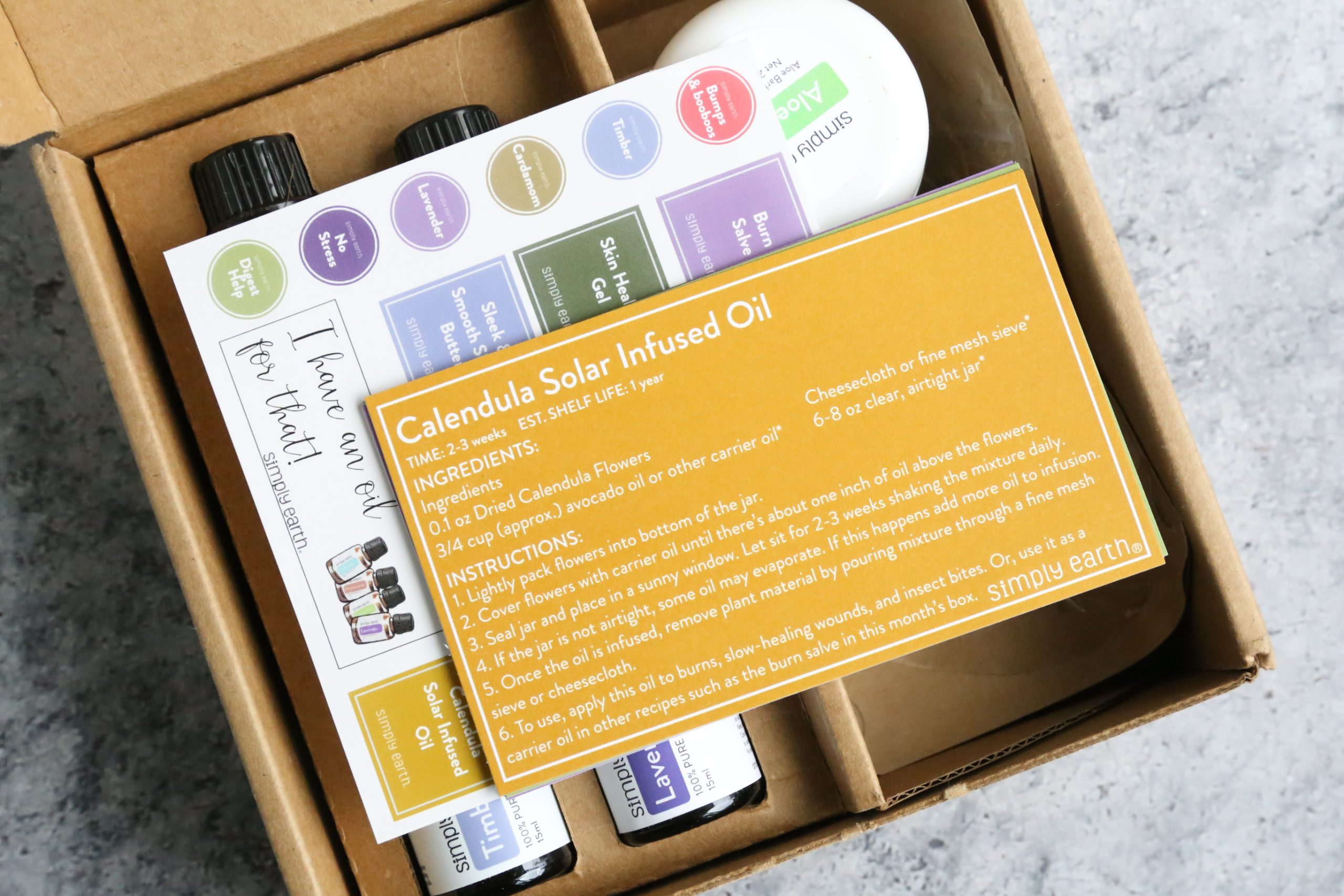 Subscription Details
What You Get: Each month you get all the ingredients, containers, and extras you need to make 6 natural recipes… delivered to your doorstep.
Cost: $39 per month
Coupon Code: Use code AYEAROFBOXESFREE to receive a $40 GC with your first order! – CLICK HERE
Here's a peek at the items we received in the June Simply Earth box…..
Recipe Cards
This month we received recipe cards for the following:
Calendula Solar Infused Oil
Sleek & Smooth Shaving Butter
No Stress Blend
Skin Healing Gel
Burn Salve
Digest Help Roll On
Sticker Labels
I love that they include labels in every box. Simply cut them out and attach them to whatever recipe you decide to make.
Extras
This month we received the following items to use with the recipes….
Dried Calendula Flowers
Aloe Vera Gel
Cardamom
Commonly added to traditional Indian sweets and teas because of its distinct cool and minty aroma and flavor.  Cardamom is also used for respiratory and digestive support as well as for soothing various aches and pains.
Uses:
Supports healthy respiration
Reduces swelling
Soothes sore muscles and joints
Supports digestion
Eases nausea
Uplifts
Lavender
One of the most well-known and commonly used essential oils in aromatherapy, Lavender (Bulgaria) boasts a wide array of benefits including promoting healthier skin and hair, supporting the immune system, and aiding in sleep.
Uses:
Calms
Promotes healthy skin
Relieves sore Muscles
Relaxes
Boosts immunity
Timber
Timber Essential Oil Blend is a gentle blend perfect for DIY skincare products. It's antibacterial and soothing to the skin. It has a woody & vanilla aroma that is masculine without being overpowering.
Uses:
DIY skin care and personal care products
Prevents acne
Calms
Details:
Ingredients:Cypress, Patchouli, Cedarwood, Peru Balsam, Mandarin, & Sandalwood Essential Oils
Bumps & Boos
Bumps & Boo-boos Essential Oil Blend can help improve the appearance of skin.  The ingredients will ease and soothe skin irritation while the scent will calm nerves.
Uses:
Soothes burns, minor scrapes, and skin irritations
Calms nerves
Details:
Ingredients: Helichrysum, Lavender, Tea Tree, & Lemon
Simply Earth Review June 2020 – Final Thoughts
This month's Simply Earth box brought with it two of my favorite essential oils – lavender and cardamom. Lavender is a must-have essential oil for any collection. In fact, I try to have at least 2 bottles on hand at all times. I also really love cardamom because of its use for digestive support. I am thrilled to see a roll-on recipe for digestive help in the June box – it will be the first recipe I make this month. In fact, I plan on making a few roll-on recipes over the next little while and have already pulled out all of my Simply Earth roll-on recipe cards. Just another reason I love this subscription and continue to put it at the top of my favourites list!
-AYOB Sarah
Explore.
Save.
Enjoy!
Sign up for a free account on A Year of Boxes to receive exclusive offers, be added to our monthly mailing list, and much more! We are always adding features to improve the experience for our users, from their valuable feedback!
Join Today!