Simply Earth Review June 2021
Simply Earth is a monthly subscription for quality essential oils. Each month they deliver four simply pure essential oils, extras, and easy recipes, curated around a specific theme. Simply Earth helps you "create a healthy and chemical free home for your family". They kindly sent us this box for review.
Subscription Details
What You Get: Each month you get all the ingredients, containers, and extras you need to make 6 natural recipes… delivered to your doorstep.
Cost: $39 per month
Coupon Code: Use code AYEAROFBOXESFREE to receive a $40 GC with your first order! – CLICK HERE
Here's a peek at the items we received in the June Simply Earth box…..
Recipe Cards
This month we received recipe cards for the following:
Summer Lovin' Lip Balm
Surf's Up Diffuser Blend
Garden Spray
Citronella Floating Candle
Peppermint Infused Oil
Bug Off Roll-On
I can't even tell you how much I appreciate the recipes cards we receive each month. I have kept every single one, and I'm keeping my eyes open for a cute little recipe box to put them in. I refer back to the diffuser blend recipes often.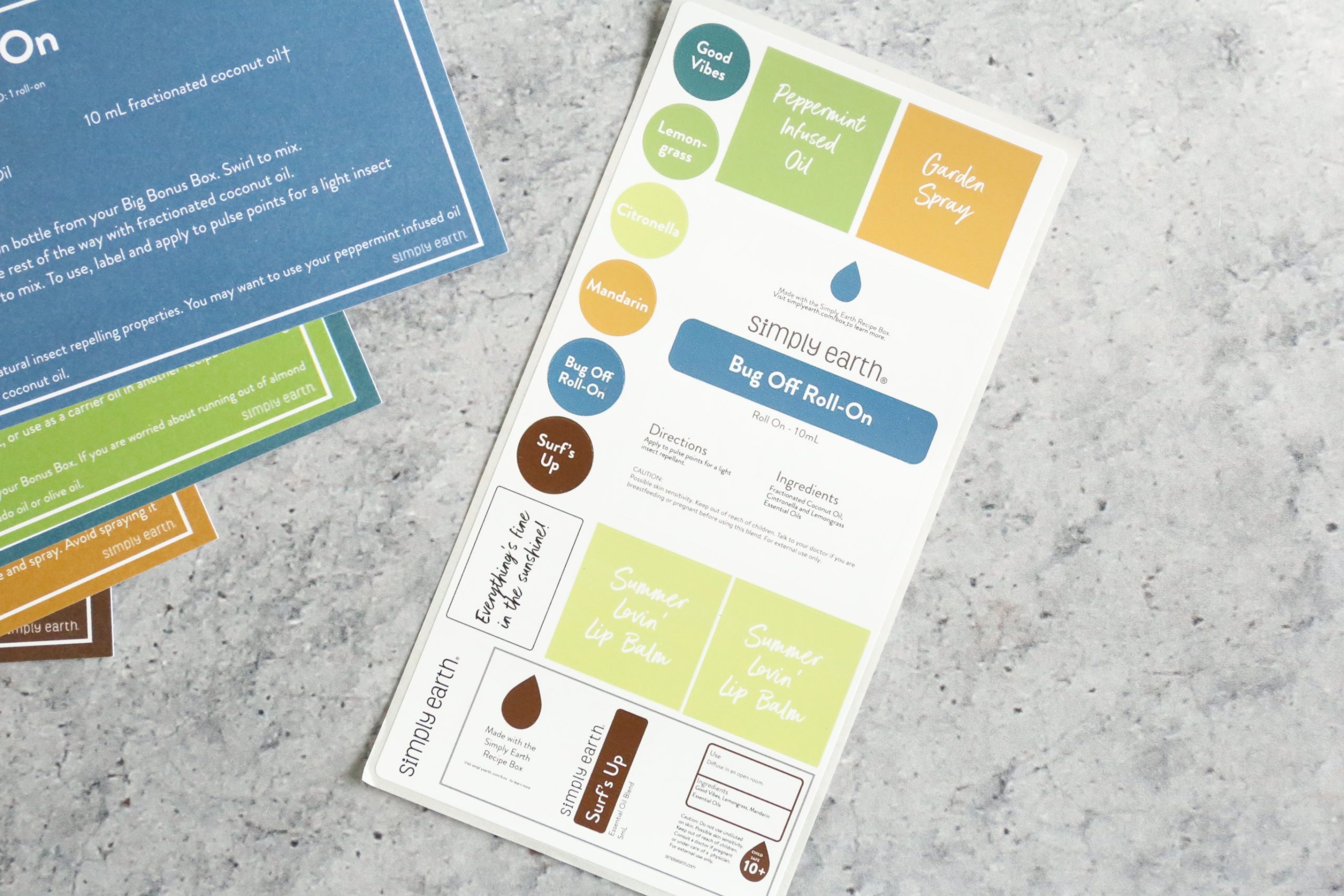 Sticker Labels
I love that they include labels in every box. And the best part is….they recently starting sending the stickers pre-cut.
Extras
This month we received the following items to use with the recipes….
2oz. spray bottle
floating candle wicks
dried peppermint leaves
paper board lip balm tubes
Mandarin
Botanical records show that Mandarin was cultivated in China as early as the 12th century BC. Mandarin Essential Oil can be used to soothe sore muscles, while its scent also has a relaxing and calming effect.
Uses:
Uplifts
Calms
Cleans
Soothes
Skincare
Citronella
Everyone knows that Citronella Java Essential Oil has been used for years to repel insects, but did you also know that Citronella has been shown to reduce negative emotions and calm moods?
Uses:
Uplifts
Calms
Cleans
Repels insects
Eases itching
Lemongrass
Lemongrass can be found in traditional Indian medicine, used to treat infectious illnesses and fevers. The essential oil is used in aromatherapy because of its countless benefits to mental well-being.
Uses:
Calms
Warms
Soothes
Stimulates
Cleans
Good Vibes
Support hormonal wellness and positivity with Good Vibes Essential Oil Blend. Moodswings, hot flashes, and skin blemishes are all symptoms associated with hormonal imbalance that this blend can help soothe. This blend has a well-balanced floral and citrus aroma that can help ease feelings of anxiety and promote positivity.
Uses:
Supports hormonal health
Soothes stress
Details:
Ingredients: Clary Sage, Geranium, Lavender, Lemon & Ho Wood Essential Oils
Simply Earth Review June 2021 – Final Thoughts
Absolutely loving the June Simply Earth oil collection. It's perfect for Summer and includes a selection of oils that I've been needing in my life. The last few weeks I have been craving summer scents – think citrus, fruit, and anything uplifting. The Good Vibes blend has been in my diffuser non-stop the last week, and it goes perfectly with mandarin and citronella. And…..if that's not enough, the citronella on it's own is the perfect addition to our evenings spent outside. I honestly couldn't be happier with the June box. Once again Simply Earth has nailed it!
-AYOB Sarah