Simply Earth Review May 2020
Simply Earth is a monthly subscription for quality essential oils. Each month they deliver four simply pure essential oils, extras, and easy recipes, curated around a specific theme. Simply Earth helps you "create a healthy and chemical free home for your family". They kindly sent us this box for review.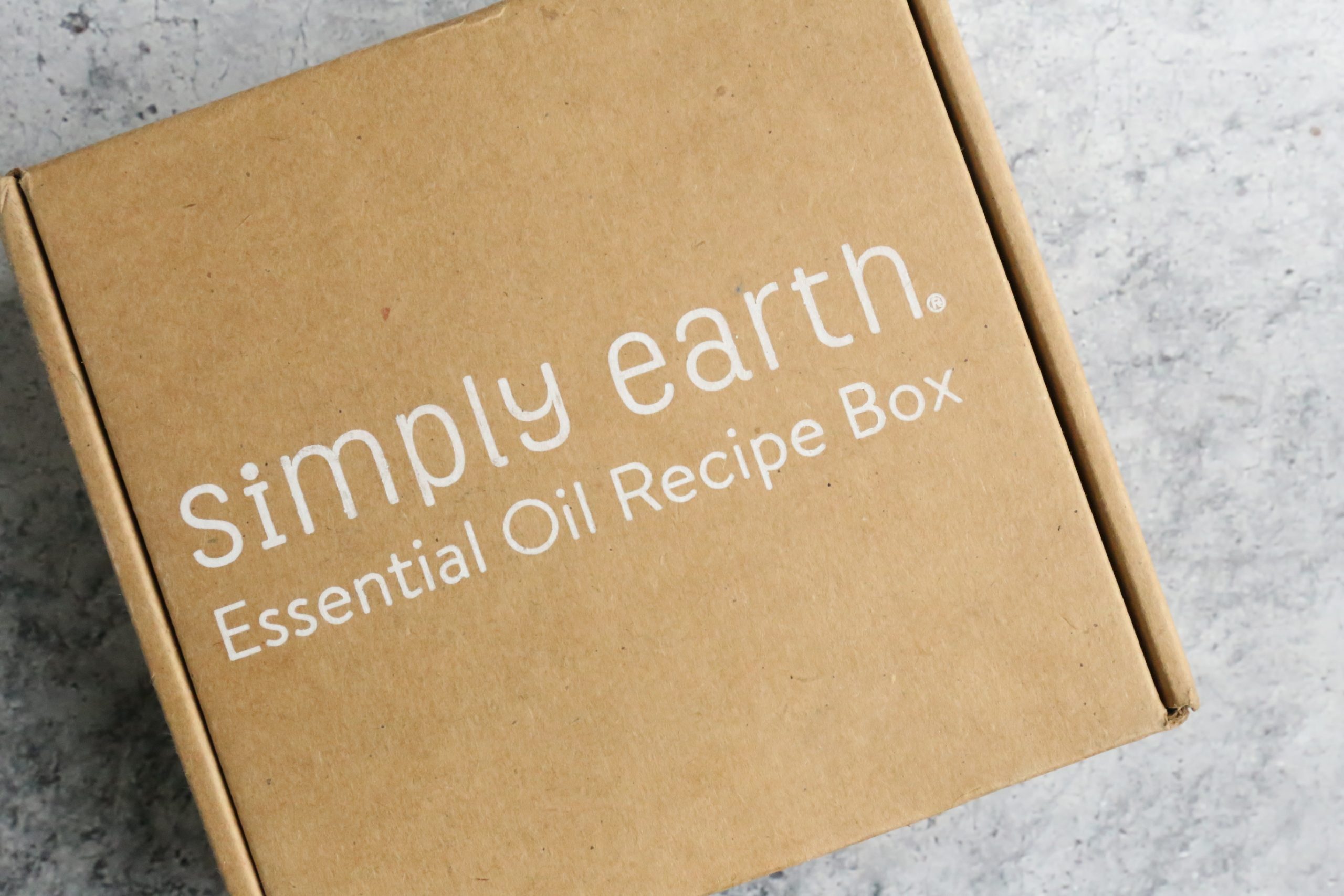 I have been a huge fan of Simply Earth since I received my very first box back in September 2018. Wow! Has it been that long? Anyways….. I fell in love with Simply Earth immediately. It's reasonably priced and we receive 4 new essential oils each month. It's a no-brainer if you ask me. But, it doesn't stop there. Simply Earth is so much more than a subscription box. They have a blog with posts for each recipe from all their boxes, they have a Facebook Group for subscribers, they offer an Essential Oil Hero Course, they have great customer service and they give back! Now do you see why I love it?!
Subscription Details
What You Get: Each month you get all the ingredients, containers, and extras you need to make 6 natural recipes… delivered to your doorstep.
Cost: $39 per month
Coupon Code: Use code AYEAROFBOXESFREE to receive a $40 GC with your first order! – CLICK HERE
Here's a peek at the items we received in the May Simply Earth box…..
Recipe Cards
This month we received recipe cards for the following:
Balance Bath Soak
Positivity Solid Perfume
Complexion Face Serum
Cramp Care Compress
Good Vibes Roll On
Spring Day Diffuser Blend
Sticker Labels
I love that they include labels in every box. Simply cut them out and attach them to whatever recipe you decide to make.
Extras
This month we received the following items to use with the recipes….
1 oz container
lavender buds
1/2 oz container
Tangerine
Tangerine's fresh citrusy smell can have a refreshing and rejuvenating effect, while at the same time providing support to the immune system and soothing a queasy stomach.
Uses:
Refreshes and rejuvenates
Clears the mind
Reduces nervous tension
Supports the immune system
Quells queasy stomach
Marjoram
Marjoram is an herb that is calming and warming, which makes it great for using before bed at night!  Marjoram can be used to relieve menstrual pain and provides relief from seasonal threats.
Uses:
Calms and warms
Encourages relaxation
Helps provide comfort from symptoms of common seasonal illnesses
Provides relief from women's monthly discomfort
Soothes tight, tired muscles
Good Vibes
Support hormonal wellness and positivity with Good Vibes Essential Oil Blend. Moodswings, hot flashes, and skin blemishes are all symptoms associated with hormonal imbalance that this blend can help soothe. This blend has a well-balanced floral and citrus aroma that can help ease feelings of anxiety and promote positivity.
Uses:
Balances hormones
Relieves stress
Details:
Ingredients: Clary Sage, Geranium, Lavender, Lemon & Ho Wood Essential Oils
Ladies' Choice
Ladies, tired of PMS disrupting your week?  Ladies' Choice Essential Oil Blend gives you a weapon against monthly discomfort.
Uses:
Details:
Ingredients: Clary Sage, Marjoram, Geranium, Lavender
Simply Earth Review May 2020 – Final Thoughts
Simply Earth did an amazing job with the May box. May is Women's Health Month and I love that they embraced the theme and provided us ladies with a box specifically for us. They even created a new blend – Good Vibes – which smells amazing and supports hormonal balance. We also received Ladies Choice Blend which receives PMS symptoms. Overall we have a great box to help support our health and an amazing selection of oils.
-AYOB Sarah
Explore.
Save.
Enjoy!
Sign up for a free account on A Year of Boxes to receive exclusive offers, be added to our monthly mailing list, and much more! We are always adding features to improve the experience for our users, from their valuable feedback!
Join Today!