Simply Earth Review November 2018
Simply Earth is a monthly subscription for quality essential oils. Each month they deliver four simply pure essential oils, extras, and easy recipes, curated around a specific theme. Simply Earth helps you "create a healthy and chemical free home for your family". They kindly sent us this box for review.
I have to say…..Simply Earth has definitely become one of my favorite subscription boxes to receive. This will be my third box, and so far I am beyond impressed. I love that we receive 4 quality essential oils, I love that with our first month, and every 6 months after, we received a Bonus Box full of useful goodies to help us create different recipes and I love that each box has a festive vibe, or a theme. For example, last month we received recipes and oils perfect for Halloween and this month's box definitely has a Winter vibe going on…….I am in love!
Subscription Details
What You Get: Each month you get all the ingredients, containers, and extras you need to make 6 natural recipes… delivered to your doorstep.
Cost: $39 per month
Coupon Code: Use code AYEAROFBOXESFREE to receive a Big Bonus Box, Essential Oil Recipe Box & $20 GC with your first order! – CLICK HERE
Here's a peek at the items we received in the November box…..
Recipe Cards
This month we received recipe cards for the following:
Christmas Spray
Ornament Diffuser
Holiday Diffuser
Into the Woods Charcoal Toothpaste
Ache Relief Roll On
Purifying Charcoal Face Mask
I am most excited about the Christmas Spray, Holiday Diffuser and Ache Relief Roll On. I will be making those first, followed by the charcoal toothpaste and charcoal mask.
Sticker Labels
I love, love, love that they include labels in every box. Simply cut them out and attach them to whatever recipe you decide to make.
Making your own essential oil recipes is so much more fun when you have cute little labels to put on them. Wouldn't you agree??
Wintergreen
Commonly found in the pine forests of North America and Canada, wintergreen provides an essential oil packed with a handful of benefits for mental wellness.  Wintergreen Essential Oil invites feelings of forgiveness and self-acceptance while increasing positive energy.
Uses:
Relieves sore muscles
Invites forgiveness and self-acceptance
Increases positive energy
Pine Scotch
Pine scotch is a popular choice in aromatherapy because of its soft scent.  Pine scotch supports a healthier respiratory tract, improves circulation, and has a warm and soothing effect.
Uses:
Supports healthy respiratory tract
Warms and soothes
Helps support circulation
Brings the scent of Christmas into your home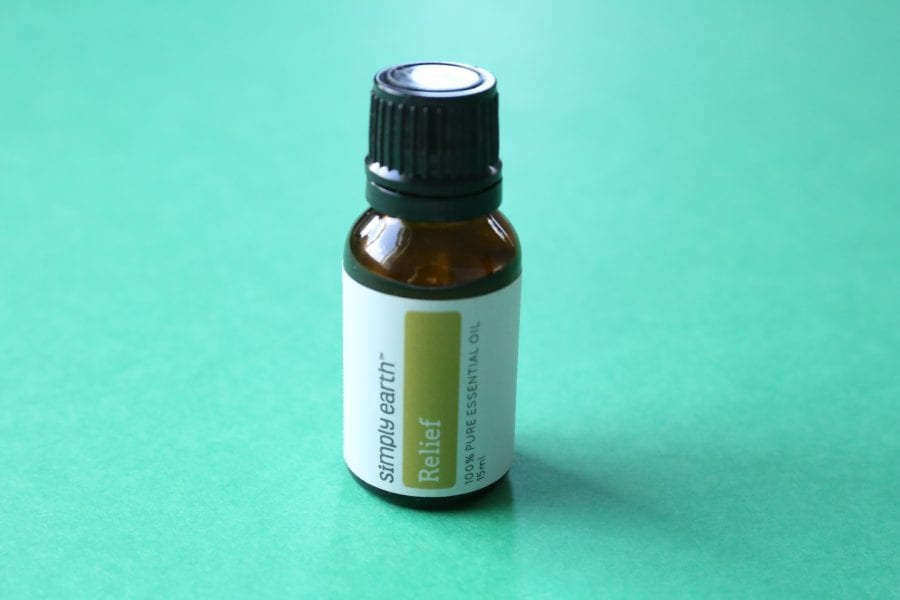 Relief Blend
In life, we are unfortunately subject to occasional discomfort. Relief Essential Oil Blend is a warming blend that can help relieve that discomfort.
Uses:
Eases occasional discomfort
Details:
Ingredients: Lavender, Ginger, Black Pepper, Juniper Berry, Rosemary
Lemon Eucalyptus
Lemon Eucalyptus, popular because of its bug and insect repelling properties, is also great at deodorizing spaces while at the same time supporting a healthy respiratory system and providing calm in any environment.
Uses:
Calms
Deodorizes a room
Supports a healthy respiratory system
Repels insects
Soothes upset stomach
Extras
This month we received the following items to use with the recipes….
Activated Charcoal
Wood Ornament
Good to Know
Another thing I really love about this subscription is that when you subscribe, you get their BIG BONUS BOX with your first purchase. It contains $50 worth of supplies: hard oil, spray bottles, roller bottles, and more! Plus, you automatically get the Big Bonus Box shipped to you with every 6th box.
Check out our Big Bonus Box Review – CLICK HERE
Simply Earth Review November 2018 – Final Thoughts
Wow! Simply Earth nailed it this month. I was secretly hoping for some winter scents and they definitely delivered. Wintergreen and Pine Scotch are absolutely perfect for the Winter months. I already know I will be using them in my diffuser on a regular basis. And…..can we talk about the amazing value we receive in each box?! Let's break it down…….when I go to the essential oil store in the mail I pay $18 for one essential oil and more than $20 for any sort of essential oil roll-on product. With my monthly Simply Earth box I am getting 4 essential oils and all the tools I need to make my own roll-ons and essential oil products at home. This box is saving me money and it's teaching me about new essential oils I might not have tired on my own. I am a HUGE fan!
XOXO