Simply Earth Review November 2019
Simply Earth is a monthly subscription for quality essential oils. Each month they deliver four simply pure essential oils, extras, and easy recipes, curated around a specific theme. Simply Earth helps you "create a healthy and chemical free home for your family". They kindly sent us this box for review.
I just got a brand new diffuser from Costco and I am so in love with it that I want to have it going all day every day. I'm contemplating getting a second one for my office desk and if that's the case my Simply Earth subscription is going to become even more valuable than it was before. I also find that I am more inclined to use my diffusers when the weather cools down. Basically what I am saying is that Fall and Winter are the perfect seasons for a Simply Earth subscription.
Subscription Details
What You Get: Each month you get all the ingredients, containers, and extras you need to make 6 natural recipes… delivered to your doorstep.
Cost: $39 per month
Coupon Code: Use code AYEAROFBOXESFREE to receive a $40 GC with your first order! – CLICK HERE
Here's a peek at the items we received in the November Simply Earth box…..
Recipe Cards
This month we received recipe cards for the following:
Lime & Eucalyptus Roll On
Tranquility & Lime Diffuser Blend
Oatmeal & Milk Bath
Eucalyptus Shower Steamers
Lavender Buds & Tranquility Milk Bath
Chai Tea Bath Salts
Sticker Labels
I love that they include labels in every box. Simply cut them out and attach them to whatever recipe you decide to make.
Tranquility
Tranquility Essential Oil Blend is a calming blend that promotes feelings of contentment, composure, and reassurance, helping you feel more at ease and bringing about a sense of well being when anxious feelings try to overwhelm your emotions.
Eucalyptus
When first discovered in Australia, Eucalyptus treated everything from a cough to skin diseases. Eucalyptus leaves were minced to use for respiratory ailments, wounds, ulcers, aching joints, fevers, and dysentery. Today you could find Eucalyptus in cough syrups, toothpaste, and cosmetics.
Cinnamon
Ancient middle eastern cultures used Cinnamon Leaf for colds, flu, digestive issues, menstrual complaints, and as a general stimulant. Believed to be one of the oldest plants on Earth, it is still very popular for its various health benefits.
Lime
It is said that the mere inhalation of the beautiful citrus scent of lime can stimulate the sympathetic nervous system and evoke alertness. Massaging the oil can have a relaxing and stress-relieving effect.
Extras
This month we received the following items to use with the recipes….
cloth tea bag
powdered whole milk
dried lavender flowers
Good to Know
Another thing I really love about this subscription is that when you subscribe, you get their BIG BONUS BOX with your first purchase. It contains $50 worth of supplies: hard oil, spray bottles, roller bottles, and more! Plus, you automatically get the Big Bonus Box shipped to you with every 6th box.
Check out our Big Bonus Box Review – CLICK HERE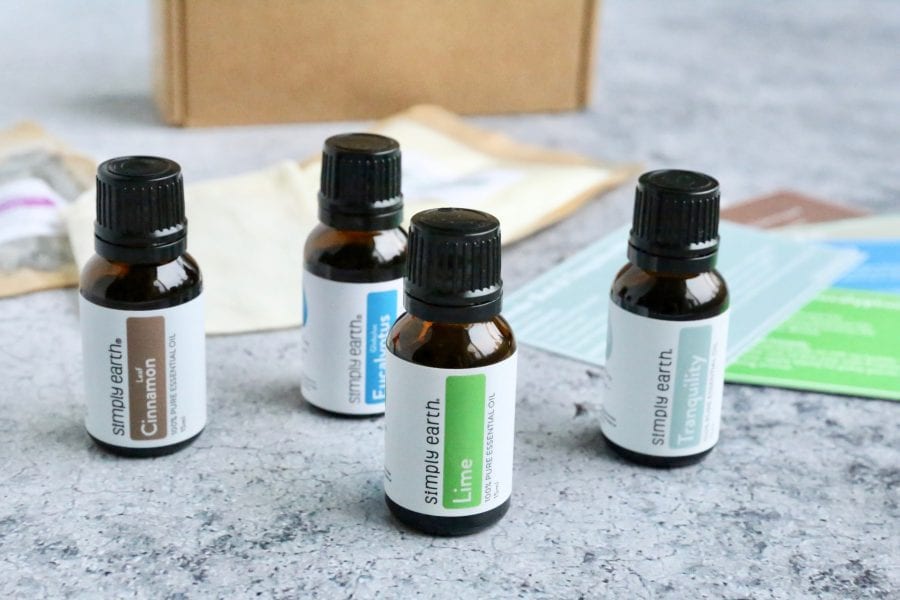 Simply Earth Review November 2019 – Final Thoughts
The November Simply Earth box has a bit of a bath theme going on. Cozy essential oils, shower steamers, bath salts and bath milk……perfect for the transition from Fall to Winter. A few weeks ago my urge to relax in a warm bath came up out of nowhere. I usually prefer a quick shower but now that the evenings have cooled down significantly I find myself craving a cozy bath and a warm cup of tea. I feel like Simply Earth curated the November box specifically for me. This goes for both the recipes and the essential oil collection we received in this month's box. Cinnamon and eucalyptus are the perfect oils for Winter……I have them in my diffuser as we speak.
If you like essential oils as much as I do then a Simply Earth subscription is a must!
-AYOB
Explore.
Save.
Enjoy!
Sign up for a free account on A Year of Boxes to receive exclusive offers, be added to our monthly mailing list, and much more! We are always adding features to improve the experience for our users, from their valuable feedback!
Join Today!