Simply Earth Review September 2018
Simply Earth is a monthly subscription for quality essential oils. Each month they deliver four simply pure essential oils, extras, and easy recipes, curated around a specific theme. Simply Earth helps you "create a healthy and chemical free home for your family". They kindly sent us this box for review.
This is our first time reviewing Simply Earth and I am pretty darn excited about it. I love, love, love essential oils so when I came across this subscription and found out that they send quality essential oils every month I was instantly intrigued. Let's go over the details…..
Subscription Details
What You Get: Each month you get all the ingredients, containers, and extras you need to make 6 natural recipes… delivered to your doorstep.
Cost: $39 per month
Coupon Code: Use code AYEAROFBOXESFREE to receive a Big Bonus Box, Essential Oil Recipe Box & $20 GC with your first order! – CLICK HERE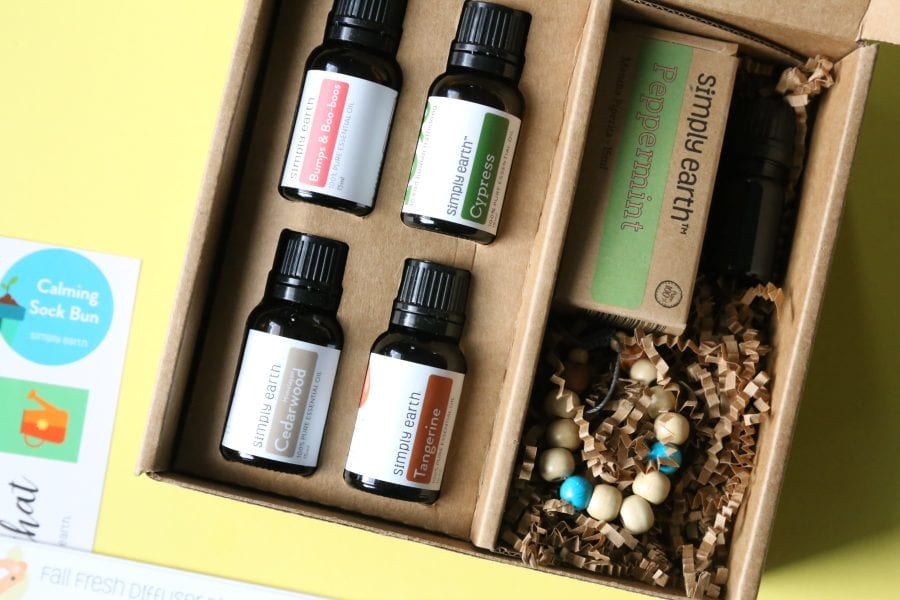 Here's a peek at the items we received in the September box…..
Recipe Cards
This month we received recipe cards for the following:
Fall Fresh Diffuser Blend
Calming Sock Bun
Bumps & Boo Boos Roll On
Jewelry Diffuser Recipe
Calming Natural Playdough
Scented Sensory Rainbow Beans
I am most excited about the Bumps & Boo Boos Roll On and the Fall Fresh Diffuser Blend. I will definitely be making both of those.
Now let's have a look at the essential oils we received…..
Bumps & Boo-Boos Essential Oil
Bumps & Boo-boos Essential Oil Blend can help improve the appearance of skin.  The ingredients will ease and soothe skin irritation while the scent will calm nerves.
Uses:
Soothes burns, minor scrapes, and skin irritations
Calms nerves
Cypress Essential Oil
Believed to bring comfort to those grieving, Cypress trees were commonly planted by headstones in old cemeteries. Cypress was traditionally used by early cultures as incense and as a diuretic, but now it's most commonly used for its aromatic properties that help with emotional stability.
Uses:
Calms
Purifies and cleanses
Assists grief, trauma or transition
Eliminates oily skin
Deodorizes
Cedarwood Essential Oil
Cedarwood was a staple for ancient Egyptians.  They used it for almost everything from cosmetics and perfumery to their mummification process.  Today, Cedarwood (Atlas) is most commonly used for its health benefits such as supporting respiratory health as well as skin and hair care.
Uses:
Aids in focus and concentration
Supports respiratory health
Helps with itchy skin
Nourishes hair
Tangerine Essential Oil
Tangerine's fresh citrusy smell can have a refreshing and rejuvenating effect, while at the same time providing support to the immune system and soothing a queasy stomach.
Uses:
Refreshes and rejuvenates
Clears the mind
Reduces nervous tension
Supports the immune system
Quells queasy stomach
Peppermint Essential Oil – BONUS
Peppermint has always been popular as a flavor enhancer in food and drinks. Other than its distinct flavor, it also has a cooling effect and can help relieve head tension and aid in digestion.
Uses:
Cools
Helps relieve head tension
Increases focus and energy
Aids in digestion
Extras: Kids Essential Oil Jewelry Bracelet
This is the only item I'm not too excited about but only because it's a kids bracelet. If I had children this would be a lovely addition to the box. I'm still learning about Simply Earth but I am wondering if they include children's items on a regular basis? I noticed that a couple of the recipes were geared towards children as well. Just something worth pointing out:)
Dropper Bottle
This is such a small detail but it's one I appreciate so much. I love that they included a dropper bottle. This will allow me to make my own Fall Fresh Diffuser blend. They even included stickers so I can label it. All the details are covered.
Good to Know
Another thing I really love about this subscription is that when you subscribe, you get their BIG BONUS BOX with your first purchase. It contains $50 worth of supplies: hard oil, spray bottles, roller bottles, and more! Plus, you automatically get the Big Bonus Box shipped to you with every 6th box.
This is a really great feature as the Big Bonus Box provides you with all the tools to create the recipes at home. I love that they include spray bottles and roller bottles. The perfect little tools to create some really fun essential oils goodies right at home.
Simply Earth Review September 2018 – Final Thoughts
I am so unbelievably impressed with my first Simply Earth box, I have a feeling it will become a new favourite. I feel like they have thought of everything – quality essential oils, recipes to make at home, supplies to make the recipes, labels and fun extras. Really, what more can you ask for?! In addition to that, Simply Earth is reasonably priced and the products are quality. The essential oils are 100% pure and the recipe tools are quality as well – glass bottles as opposed to plastic. So far I am a huge fan. I am SO glad to have discovered this subscription and I can't wait to show you more!
XOXO