Simply Earth Review September 2019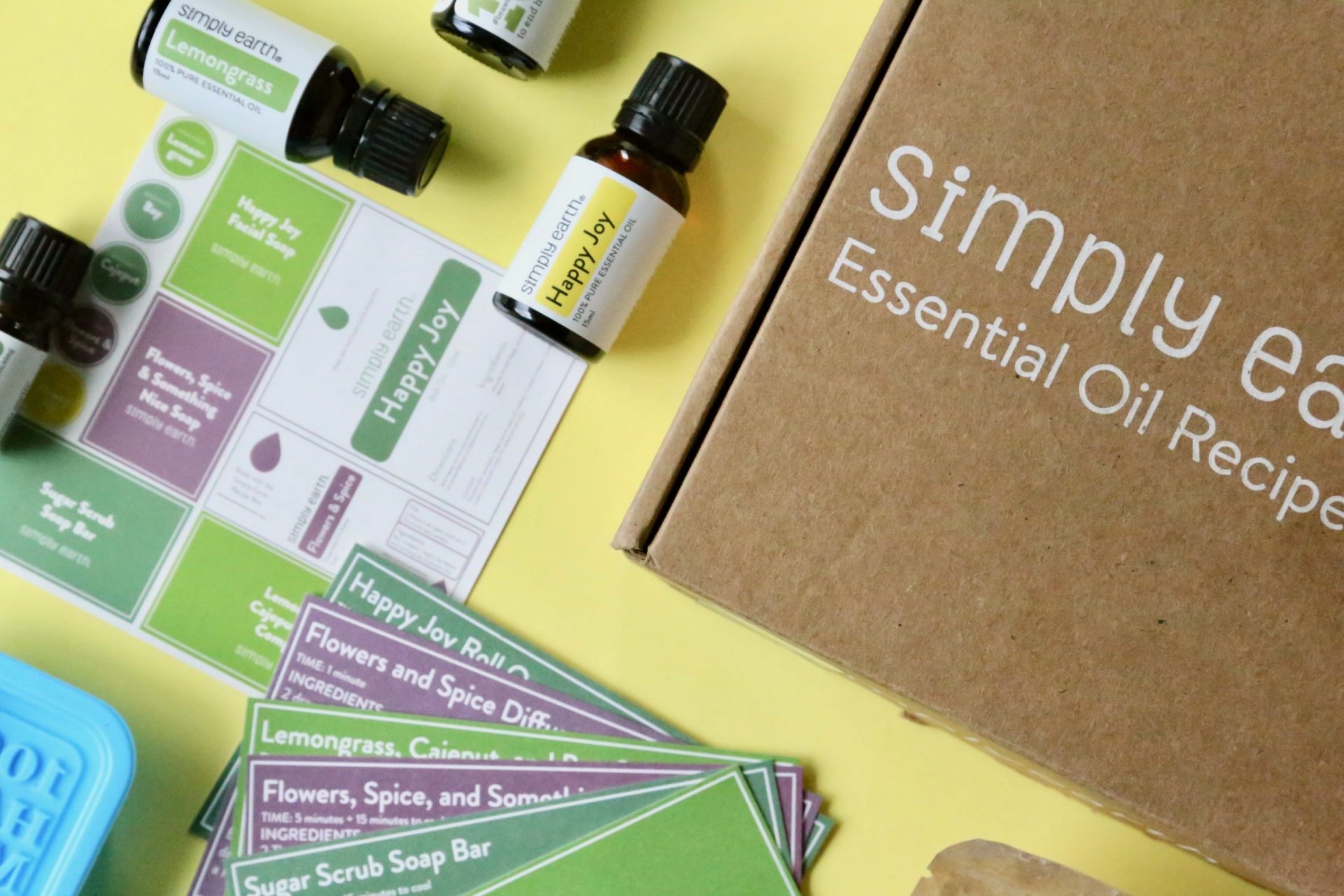 Simply Earth is a monthly subscription for quality essential oils. Each month they deliver four simply pure essential oils, extras, and easy recipes, curated around a specific theme. Simply Earth helps you "create a healthy and chemical free home for your family". They kindly sent us this box for review.
I can't even tell you how much I appreciate my Simply Earth subscription. There have been so many moments over the last year where I have wanted an essential oil for something specific and thanks to my Simply Earth subscription I have exactly what I need in my essential oil storage box. Whether it be a specific oil, a recipe for an ailment…..etc. I'm prepared.
Subscription Details
What You Get: Each month you get all the ingredients, containers, and extras you need to make 6 natural recipes… delivered to your doorstep.
Cost: $39 per month
Coupon Code: Use code AYEAROFBOXESFREE to receive a $40 GC with your first order! – CLICK HERE
Here's a peek at the items we received in the September Simply Earth box…..
Recipe Cards
This month we received recipe cards for the following:
Sugar Scrub Soap Bar
Happy Joy Facial Soap
Happy Joy Roll On
Flowers and Spice Diffuser Blend
Lemongrass, Cajeput, and Bay Compress
Flowers, Spice and Something Nice Soap
Sticker Labels
I love, love, love that they include labels in every box. Simply cut them out and attach them to whatever recipe you decide to make.
Cajeput
Cajeput has been used as a remedy for countless ailments and conditions including the common cold, headaches, toothaches, sore muscles, fever and even skin diseases for many years.
Uses:
Energizes
Improves mood
Helps with seasonal illnesses
Minimizes respiratory issues
Alleviates sore muscles and joints
Relieves cramping during menstruation
Lemongrass
Lemongrass can be found in traditional Indian medicine, used to treat infectious illnesses and fevers. The essential oil is used in aromatherapy because of its countless benefits to mental well-being.
Uses:
Purifies
Provides emotional calm
Eases the nerves and provides mental clarity
Warms overused muscles and joints
Bay
The laurel leaf is known for its symbolism as the victor's wreath that crowned men in ancient Greece and Rome. This essential oil works great for mental well being as it is an uplifting and energizing oil that can also promote confidence.
Uses:
Promotes confidence
Uplifts
Energizes
Helps stimulate appetite
Supports a healthy respiratory system
Happy Joy
Feeling down in the dumps?  Need something to brighten your mood?  Happy Joy Essential Oil Blend is bound to make your day better!  The fresh and sunny scent provides a refreshing aroma that can be used in a variety of ways. This synergy will provide a boost of energy and a breath of fresh air to bring you happy and joyful feelings.
Uses:
Brightens the mood
Uplifts
Details:
Ingredients: Geranium, Sweet Orange, Grapefruit, & Ylang Ylang
Extras
This month we received the following items to use with the recipes….
Good to Know
Another thing I really love about this subscription is that when you subscribe, you get their BIG BONUS BOX with your first purchase. It contains $50 worth of supplies: hard oil, spray bottles, roller bottles, and more! Plus, you automatically get the Big Bonus Box shipped to you with every 6th box.
Check out our Big Bonus Box Review – CLICK HERE
Simply Earth Review September 2019
Even though I was secretly hoping for some sort of Fall theme, the September Simply Earth box is still pretty great. It has more of an uplifting, energizing theme to it which is actually kind of nice as we start off the Fall season. The recipes have a skincare focus including scrub, soap and a compress. As per usual, my favourite recipes are the diffuser blend and the roll-on. Anytime over the next month if I feel the need for a little pick-me-up I'll defuse the Happy Joy Blend and be at peace knowing that next month's box will bring with it the Fall vibe I have been waiting for.
-AYOB
Explore.
Save.
Enjoy!
Sign up for a free account on A Year of Boxes to receive exclusive offers, be added to our monthly mailing list, and much more! We are always adding features to improve the experience for our users, from their valuable feedback!
Join Today!