Simply Earth Review September 2020
Simply Earth is a monthly subscription for quality essential oils. Each month they deliver four simply pure essential oils, extras, and easy recipes, curated around a specific theme. Simply Earth helps you "create a healthy and chemical free home for your family". They kindly sent us this box for review.
My August Simply Earth box is lost in the mail but that's just one of the side effects of the good ol' COVID situation. But, my September box arrived early so I feel like we are back on track. If you aren't familiar with my Simply Earth reviews, let me get you up to speed…..I LOVE this subscription. Need I say more?!
Subscription Details
What You Get: Each month you get all the ingredients, containers, and extras you need to make 6 natural recipes… delivered to your doorstep.
Cost: $39 per month
Coupon Code: Use code AYEAROFBOXESFREE to receive a $40 GC with your first order! – CLICK HERE
Here's a peek at the items we received in the September Simply Earth box…..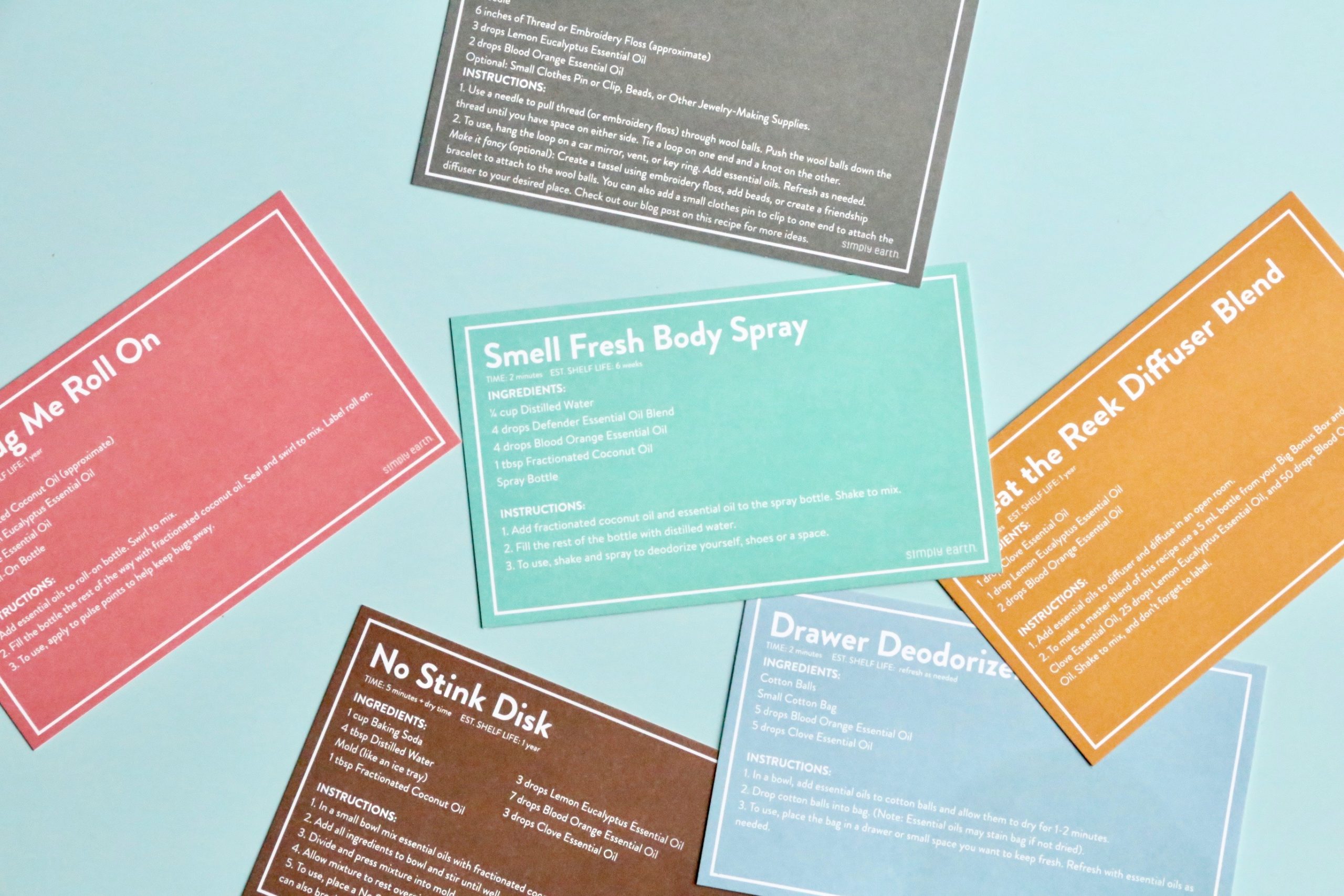 Recipe Cards
This month we received recipe cards for the following:
Don't Bug Me Roll On
Mini Car Diffuser
Smell Fresh Body Spray
No Stink Disk
Defeat the Reek Diffuser Blend
Drawer Deoderizer
Sticker Labels
I love that they include labels in every box. Simply cut them out and attach them to whatever recipe you decide to make.
Extras
This month we received the following items to use with the recipes….
wool balls
spray bottle
cotton bag
Blood Orange
Perfect for calming down any nervous apprehensions, the flowers of the Blood Orange are commonly used in bridal bouquets and wreaths to avoid those pre-wedding jitters.
Uses:
Uplifts and stimulates
Relieves sadness and moodiness
Eases nervous tension
Repels insects
Helps with aches and inflammation
Cleans and disinfects
Lemon Eucalyptus
Lemon Eucalyptus, popular because of its bug and insect repelling properties, is also great at deodorizing spaces while at the same time supporting a healthy respiratory system and providing calm in any environment.
Uses:
Calms
Deodorizes a room
Supports a healthy respiratory system
Repels insects
Soothes upset stomach
Clove
Used mainly as a spice, ancient cultures used Clove to treat a variety of ailments. Chinese medicine used Clove to combat bad breath, hernias, and bronchitis; others used it to relieve toothaches, aid digestion, alleviate childbirth pain, and eliminate intestinal parasites and athlete's foot.
Uses:
Warms mind and body
Improves focus
Promotes confidence
Helps fight seasonal illnesses
Defender Blend
Simply Earth's Defender Essential Oil Blend is perfect for making DIY home cleaners that can sanitize and help you fight against nasty germs.  Don't have time to clean?  Diffuse this blend to give your body the extra boost it needs!  Defender will soon become your new best friend!
Uses:
Boost immunity
Kills germs
Simply Earth Review September 2020 – Final Thoughts
The September Simply Earth box is all about making your home smell better than ever. It's a great way to replace store-bought air fresheners which are filled with synthetic fragrances and toxic chemicals. They say that once we see how quick and easy the September recipes are we'll never go back to toxic sprays again. This is much appreciated as I am constantly making an effort to rid our home of anything and everything containing nasty ingredients. Even more so now that baby Steven is here. I also really love that a couple of the oils help repel insects, and I LOVE that the box smelled like Fall the moment I opened it…..clove is a Fall favorite.
We also received a sneak peak for October and the theme is DIY Spa Day. I was secretly hoping for something with a Fall or Halloween theme but I'm sure I will love the Spa Day box regardless.
-AYOB Sarah
Explore.
Save.
Enjoy!
Sign up for a free account on A Year of Boxes to receive exclusive offers, be added to our monthly mailing list, and much more! We are always adding features to improve the experience for our users, from their valuable feedback!
Join Today!