SinglesSwag Review December 2019
SinglesSwag is a fun, stylish monthly surprise for amazing single women! They do not subscribe to any societal or cultural expectations on women. They believe a woman's happiness is determined by her outlook and attitude, not her relationship status. They love to make women look and feel beautiful while empowering and inspiring them. They kindly sent us this box for review. 
The holidays are over and it's time to catch up on some December reviews. I'm a little late with this one but as I always say…..better late than never. SinglesSwag has been a personal fave for quite some time. They cater to the single ladies but I truly feel like it's a great subscription for any lady.
Subscription Details
The Box: SinglesSwag
What You Get: Once a month, you'll receive a beautifully designed box packed full of exciting full-sized products, right at your doorstep. The retail value of the box will always be MORE THAN TRIPLE the cost of the box – guaranteed. It's as simple as that!
Subscription Options:
SinglesSwag: receive 5-7 full-size products every month
SinglesSwag Petite: receive 3-4 full-size products every month
Here's a closer look at the items we received in the December SinglesSwag box….
Verdetta Vitamin Energizing Mist ($26)
Love your skin with this hydrating face mist toner containing real fruit juice and green tea designed to refresh and revitalize your skin. Spritz mist directly onto face after cleansing to tone before moisturizing or throughout the day to maintain skin freshness. May be applied to skin with or without makeup.
As much as I try to love face mist, I just can't get in to it. Don't get me wrong, it feels lovely when spritzed on your face, but I just can't seem to get it in to my daily skincare routine. Maybe if I leave it on the counter beside my toothbrush…..would that entice me to use it each day?
Mollie Jacob 2020 Planner + Calendar ($22)
Stay organized and keep track of all your activities and important dates throughout the year with this planner featuring monthly overview pages and two lined pages behind each month for additional notes. Produced with high-quality weighted paper, throw this planner in your handbag or keep on your desk at home or the office for everyday use.
This is easily my favorite item in the box. If I remember correctly we received a similar one this time last year. As of yet, I don't use a daily planner but I love a monthly overview planner. It allows me to jot down important dates for the month and see them at a glance.
Sunset Park All-Natural Soy Wax Candle ($18)
This all natural, slow-burning candle in a decorative tin has a clean and alluring floral and aromatic scent.
You can never have too many candles……in my opinion. This one is a nice change from all the holiday scented candles I have received over the last couple months. I will slowly be putting those ones away and will replace them with candles such as this one. It will most likely have a home on my office desk.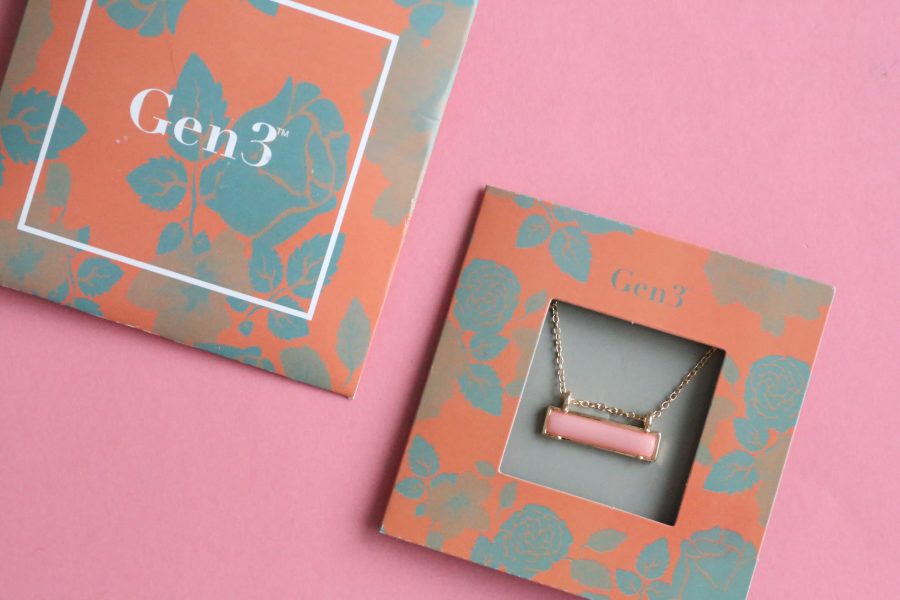 Gen3 Stella Pink Pendant Gold Bar Necklace ($74)
This striking, versatile necklace is sure to become a new staple in your collection. Wear it alone or layer it with your other face pieces. 17″ chain with 3″ extender.
Typically I shy away from colors…..especially pink…..but there's just something about this necklace that I absolutely love. Maybe I'm starting to come out of my neutral phase, or maybe it's the idea of adding just a little bit of color to my daily uniform of black, white and grey. Either way, I think I will be wearing this often.
Trifle Cosmetics Summer Souffle ($26)
Keep that summer glow going all-year round with this rich and luscious cream-based formula with nutritious Kumquat & Avocado fruit extracts to help keep your skin hydrated and scrumptiously smooth without streaking or sticking. Apply generously to your face, arms, or wherever you need radiance and a sun-kissed sheen. Vegan and cruelty-free.
This may be the only item in the box I won't use, but with that being said, I do like the idea of an all-over cream that will add a little radiance to my skin. Especially during the Winter months when my skin tends to be on the dull side.
Daily Concepts Soap Sponge ($8)
This 2-in-1 soap sponge hybrid tool combines an inflammation-reducing mother of pearl body wash with a mild, exfoliating scrubber so you can skip a step (and a product) in the shower. Expect to feel satisfyingly squeaky clean after using.
Loving the idea of this. It kind of reminds me of a Spongelle sponge (which I absolutely love). It's so convenient to have a sponge and soap in one little pouch. I like to have something like this in my shower caddy for days when I am in a hurry.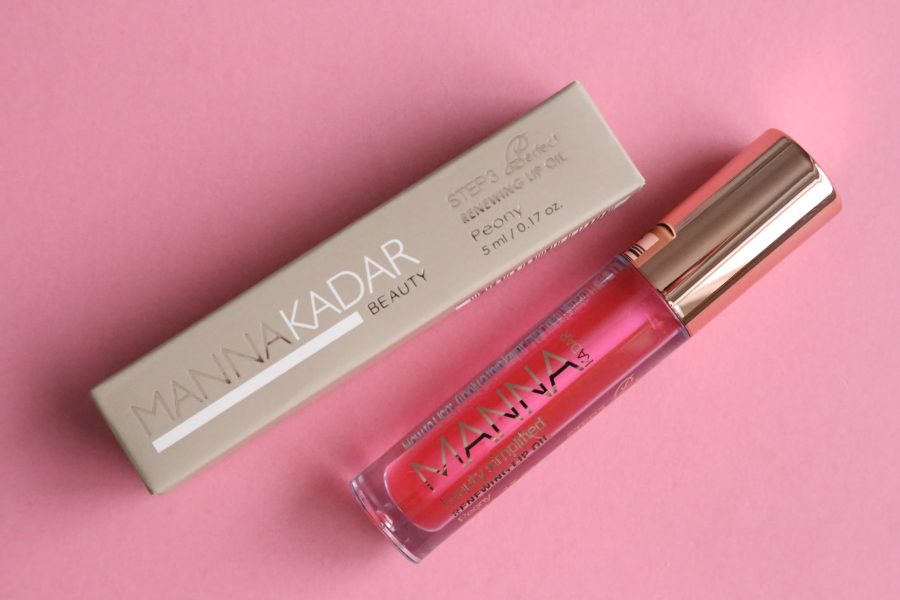 Manna Kadar Beauty Perfect Renewing Lip Oil ($24)
Nourish, soothe, and plump dry or chapped lips with this hydrating lip treatment containing natural plant oils. Apply before lipstick for a smooth application, wear alone for soft hydrated lips or top off any lip color for added shine.
Full disclosure…..I haven't actually tried this lip oil yet and I'm on the fence whether I should or not. I've tried lip oils in the past and don't really love the feel of them on my lips. Which sounds kind of funny as I say it out loud because I use oil everywhere else – body, hands, hair, face…. Maybe I should give it a try.
Smash Mallow Snackable Marhsmallow ($3)
Each mouth-watering puff is made from only the best naturally sourced and deliciously non-GMO ingredients for an instant sweet-tooth satisfying snack. Mint chocolate chip.
Lastly we have our treat for the month and it sounds OH SO GOOD. I am obsessed with anything chocolate mint flavoured, especially since I have been pregnant. I don't know what it is, but even when I was in my first trimester and didn't want to think about eating anything, I could always stomach chocolate/mint smoothies. I will save this for my cheat day.
SinglesSwag Review December 2019 – Final Thoughts
SinglesSwag ended the year on a high note with their December box. It has a lovely mixture of items that will start 2020 off on the right foot. A monthly planner to keep me organized, a new candle for my office desk, a beautiful necklace that will add a little color to my day and some lovely skincare items. The planner and the candle are my favorite items in the box this month, but as per usual I will get use out of most of the other items as well. SinglesSwag always curates a great box!
-AYOB
Explore.
Save.
Enjoy!
Sign up for a free account on A Year of Boxes to receive exclusive offers, be added to our monthly mailing list, and much more! We are always adding features to improve the experience for our users, from their valuable feedback!
Join Today!