SinglesSwag Review July 2019
SinglesSwag is a fun, stylish monthly surprise for amazing single women! They do not subscribe to any societal or cultural expectations on women. They believe a woman's happiness is determined by her outlook and attitude, not her relationship status. They love to make women look and feel beautiful while empowering and inspiring them. They kindly sent us this box for review. 
I have been reviewing SinglesSwag for quite some time. Needless to say I am very familiar with their subscription offering and know exactly what to expect. I know that I will always receive great value, quality brands, and a wonderful selection of products from different categories. It has become one of my favorite subscription boxes to review.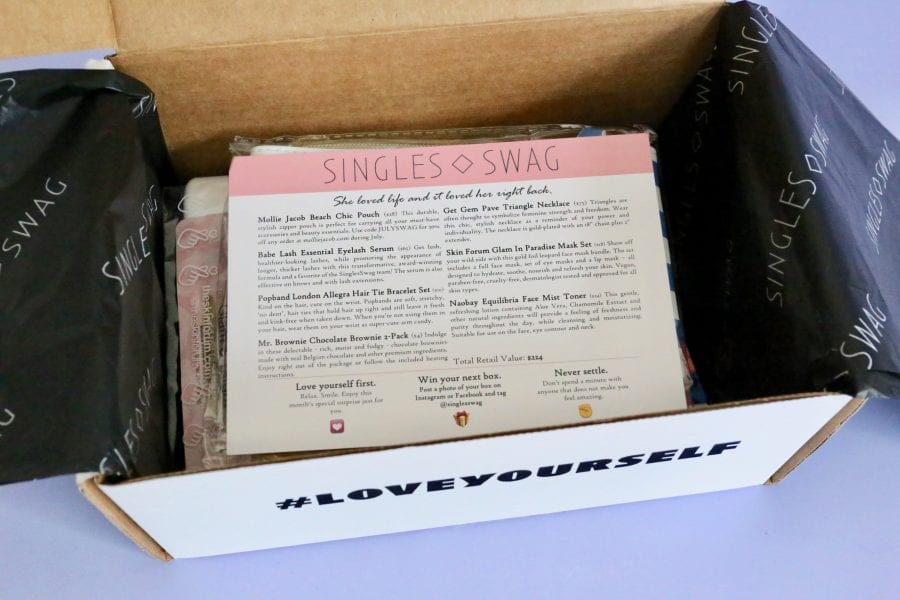 Subscription Details
The Box: SinglesSwag
What You Get: Once a month, you'll receive a beautifully designed box packed full of exciting full-sized products, right at your doorstep. The retail value of the box will always be MORE THAN TRIPLE the cost of the box – guaranteed. It's as simple as that!
Subscription Options:
SinglesSwag: receive 5-7 full-size products every month
SinglesSwag Petite: receive 3-4 full-size products every month
Here's a closer look at the items we received in the July SinglesSwag box….
Mollie Jacobs Beach Chic Pouch ($28)
This durable stylish zipper pouch is perfect for carrying all your must-have accessories and beauty essentials.
This little pouch will come in very handy. If you read my reviews on a regular basis you will know that I love receiving makeup bags. I use them for everything. They are a great way to keep things organized in your purse, gym bag, beach bag, car, etc…..
Babe Lash Essential Eyelash Serum ($65)
Get lush, healthier-looking lashes, while promoting the appearance of longer, thicker lashes with this transformative, award-winning formula and a favorite of the SinglesSwag team. The serum is also effective on brows and with lash extensions. 
I'm not really one for lash serums, but I'm not totally opposed to giving it a try. This particular formula is award-winning and it receives great reviews.
Popband London Allegra Hair Tie Bracelet Set ($10)
Kind on the hair, cute on the wrist. Popbands are soft, stretchy, 'no dent', hair ties that hold hair up tight and still leave it fresh and kink-free when taken down. When you're not using them in your hair, wear them on your wrist as super-cute arm candy.
I LOVE receiving hair ties in my subscription boxes. We use to receive them quite often and then they kind of disappeared. My hair is way too long at the moment so I need hair ties with me at all times. These ones are perfect because they are cute (and comfy) to wear on your wrist.
Mr. Brownie Chocolate Brownie 2-Pack ($4)
Indulge in these delectable – rich, moist, and fudge – chocolate brownies made with real Belgian chocolate and other premium ingredients. Enjoy right out of the package or follow the included heating instructions.
Hello…..chocolate brownie! To be honest, I can't even remember the last time I ate a brownie, but that doesn't mean I don't want to. This sounds really good right about now. Maybe with a cup of coffee in the afternoon?
Get Gem Pave Triangle Necklace ($75)
Triangles are often thought to symbolize feminine strength and freedom. Wear this chic, stylish necklace as a reminder of your power and individuality. The necklace is gold plated with an 18″ chain plus 2″ extender. 
Yes! I am in love with this necklace! This is easily one of my favorite jewelry styles we have received in SinglesSwag over the last few months. It's simple but dressy at the same time. The triangle pendant is the perfect size – not too big and not too small.
Skin Forum Glam In Paradise Mask Set ($18)
Show off your wild side with this gold foil leopard face mask bundle. The set includes a full face mask, set of eye masks and a lip mask – all designed to hydrate, soothe, nourish and refresh your skin. Vegan, paraben-free, cruelty-free, dermatologist tested and approved for all skin types.
This is the kind of item I like to keep on hand for spa nights. I have a box of pampering products just ready to go. I like that this set includes all three masks – face, eyes and lips.
Naobay Equilibria Face Mist Toner ($24)
This gentle, refreshing lotion containing Aloe Vera, Chamomile Extract and other natural ingredients will provide a feeling of freshness and purity throughout the date, while cleansing and moisturizing. Suitable for use on the face, eye contour and neck.
This is the only item I won't get use out of this month. I'm not really one for face toners, but I'm wondering if it can be used more as a mist than a toner? If thats the case then I will definitely give it a try.
SinglesSwag Review July 2019 – Final Thoughts
The July SinglesSwag box has a total retail value of $224 and brought with it a great mixture of items, as per usual. Jewelry, skincare, a snack and hair accessories. The pouch will come in handy, I could actually use it to store my new hair ties along with a few other purse essentials. I am in love with the necklace and look forward to having a spa night with the mask set. For only $39.99 per month, receiving a retail value of over $200, you can't go wrong!
-AYOB
Explore.
Save.
Enjoy!
Sign up for a free account on A Year of Boxes to receive exclusive offers, be added to our monthly mailing list, and much more! We are always adding features to improve the experience for our users, from their valuable feedback!
Join Today!