SinglesSwag Review June 2019
SinglesSwag is a fun, stylish monthly surprise for amazing single women! They do not subscribe to any societal or cultural expectations on women. They believe a woman's happiness is determined by her outlook and attitude, not her relationship status. They love to make women look and feel beautiful while empowering and inspiring them. They kindly sent us this box for review. 
Subscription boxes are a really great way to treat yourself each month. It's a little gift that arrives each month, it gives you something to look forward to and it allows you to discover new products and brands.
Subscription Details
The Box: SinglesSwag
What You Get: Once a month, you'll receive a beautifully designed box packed full of exciting full-sized products, right at your doorstep. The retail value of the box will always be MORE THAN TRIPLE the cost of the box – guaranteed. It's as simple as that!
Subscription Options:
SinglesSwag: receive 5-7 full-size products every month
SinglesSwag Petite: receive 3-4 full-size products every month
Here's a closer look at the items we received in the June SinglesSwag box….
Way of Will #20 Face Toner ($27)
This 100% natural toner is lightweight, quick-absorbing and suitable for all skin types including sensitive skin. The formula contains Vitamin B Complex, Vitamin C and folic acid – all designed to improve the look of aging skin and promote relaxation.
I'm not really one to use toner in my skincare routine, but I said the same thing about facial mist and now I use it on a daily basis. Maybe I just need to give toner a try and see how it goes. Who knows….maybe I will discover a new must-have skincare product.
Steve Laurant Lip Gloss ($22)
This will be your new go-to gloss. One-part balm and three parts silk, formulated with a creamy high-tech, lip softening texture, creating a unique gel-oil mix that will moisturize and hydrate with just one swipe.
I am always looking for a new lip gloss. I really only have one that I like to use as I am very picky when it comes to the color I wear on my lips. This one might be a little too pink but I'm still excited to give it a try. It's one of the reasons I love subscription boxes so darn much. I get to test out products I wouldn't have purchased on my own.
Afterspa Makeup Remover Cloth ($12)
This "magic" makeup remover is an ultra-soft woven cloth that removes all types of makeup with just warm water. Simply wet your face and buff the cloth over your skin to remove even waterproof formulas. Machine wash before first use.
I am SO intrigued by this cloth. It claims to remove all your makeup with just water….even waterproof makeup. This would be a great alternative to the wipes I use each night.
Belgian Boys Stroopwafel ($5)
Treat yourself to this delicious authentic Dutch waffle cookie with an irresistible caramel filling. Made with love in the Netherlands.
Stroopwafels are easily one of my favorite snacks. If you haven't tried them…..you must. In fact….I ate two yesterday after my lunch. I was having one of "those days" and I needed a sweet treat. This is what I reached for first.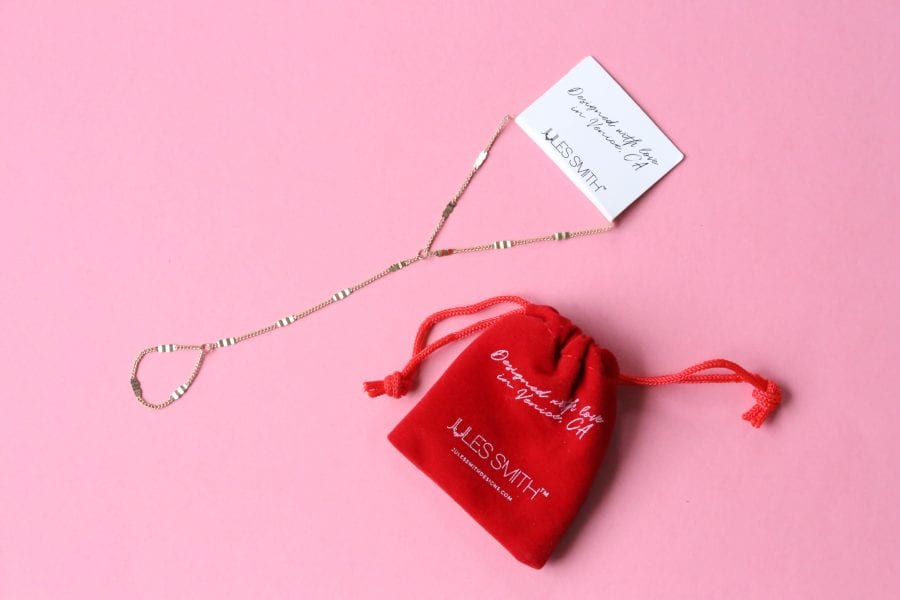 Jules Smith Serena Hand Chain Bracelet ($78)
Add style and sophistication to your look this summer from day to night with this delicate, comfortable piece. The vintage yellow gold box chain is on trend and timeless.
This bracelet is super fun and unlike any bracelet I currently own. It will spice up any outfit and how great would it look with a white manicure?!
Daily Concepts Daily Body Scrubber ($10)
Meet your new BFF in the shower or bath. A natural cotton base layer and nylon exfoliating loops will create a rich lather and ideal texture. This organic environmentally-friendly product is clinically, allergy and dermatologist tested and has built in smart technology with a label that fades when it's time to replace it. Hang in the shower with the included suction cup.
I have a scrubber in the shower at all times. Usually it's a pair of scrubber gloves but this will work just as well.
Madeline Elizabeth All-Natural Soy Wax Candle ($16)
This natural, slow-burning candle in a decorated tin has a clean and seductive sugarcane vanilla fragrance.
Candles are one of the items I never get sick of receiving. I use them all over the house and am always happy to receive a new one. This one has a lovely vanilla scent with floral undertones.
Bang Beauty Warm Neutral Eyeshadow Palette ($35)
Whether you're going for a light every-day look or a deep nighttime smokey eye, this versatile palette will help you achieve endless looks and includes both shimmers and mattes.
I love the versatility of this palette. Use it for a neutral, simple look or for a smokey eye. I am LOVING the first two shades in the top row. I will be wearing those often.
SinglesSwag Review June 2019 – Final Thoughts
I feel like the June SinglesSwag included more items than it typically does. Or maybe its just me. Either way it is a great box and the value is amazing = $205! I love the skincare items we received this month, specifically the makeup remover and the scrubber. The candle is a great decor piece and the bracelet is super fun! SinglesSwag continues to be at the top of my list when it comes to subscription box faves.
-AYOB
Explore.
Save.
Enjoy!
Sign up for a free account on A Year of Boxes to receive exclusive offers, be added to our monthly mailing list, and much more! We are always adding features to improve the experience for our users, from their valuable feedback!
Join Today!