SinglesSwag Review May 2019
SinglesSwag is a fun, stylish monthly surprise for amazing single women! They do not subscribe to any societal or cultural expectations on women. They believe a woman's happiness is determined by her outlook and attitude, not her relationship status. They love to make women look and feel beautiful while empowering and inspiring them. They kindly sent us this box for review. 
Looking for a way to treat yourself? This just might be the perfect box for you. SinglesSwag has been a favorite for quite some time. I truly look forward to this box each and every month. I LOVE the variety of items, the fact that they include bestselling books from time to time, and that we always receive a snack and a jewelry item.
Subscription Details
The Box: SinglesSwag
What You Get: Once a month, you'll receive a beautifully designed box packed full of exciting full-sized products, right at your doorstep. The retail value of the box will always be MORE THAN TRIPLE the cost of the box – guaranteed. It's as simple as that!
Subscription Options:
SinglesSwag: receive 5-7 full-size products every month
SinglesSwag Petite: receive 3-4 full-size products every month
Here's a closer look at the items we received in the May SinglesSwag box….
Unqualified by Anna Faris ($16)
In this hilarious, honest, memoir, actress Anna Farris shares candid, sympathetic and entertaining stories of love lost and won. From surviving an awkward childhood, navigating dating in Hollywood and building a podcast around relationship advice, Faris provides a unique take on the bizarre, chaotic and rewarding world of love, centred around advocating for yourself.
SinglesSwag subscribers are going to be very excited about this book. I prefer fiction but that's just a personal preference. It's a great book by a well-known author and it definitely adds value to the box.
Melinda Maria Safety Pin Pendant Necklace ($78)
Note To Self: you are loved, you are safe, you are amazing. Let this chic sterling silver-plated necklace serve as a reminder that you're always safe with yourself. Wear the necklace by itself or layer it with your other fab pieces.
I'm not a huge fan of this particular necklace, but again that is just a personal preference. I think some subscribers are going to love it and I do really love the meaning behind it. And check out the value! It more than covers the cost of the box, making the rest of the items freebies.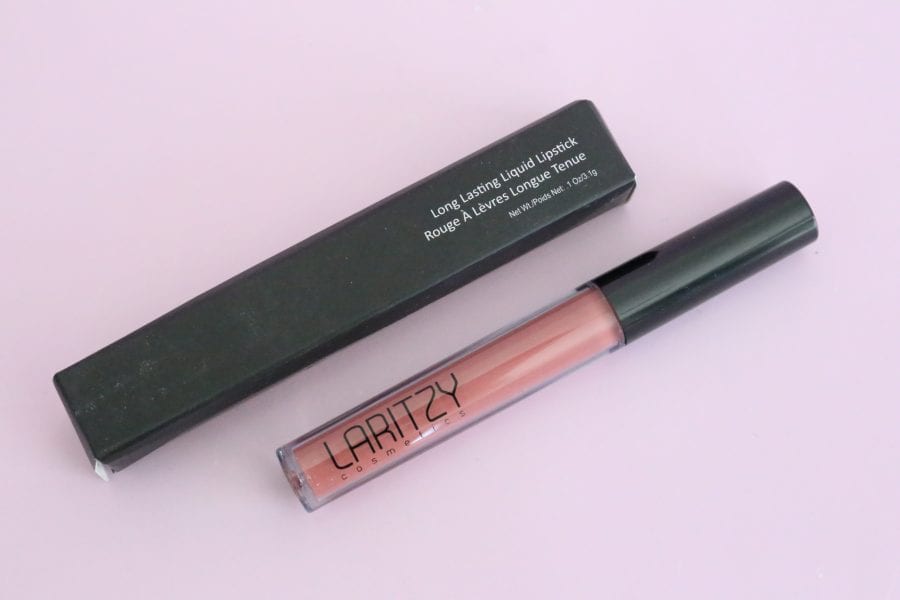 Laritzy Long Lasting Liquid Lipstick ($22)
A cult favorite, matte liquid lipstick that instantly delivers long-lasting and intense pigment. Formulated to be effortless, non-drying and water resistant so it won't disappear after an hour.
Laritzy has definitely made a name for itself in the beauty and sub box industries. I have received this brand many times and am always happy with their products. This particular lipstick gets great reviews and I really love the color.
The Decorated Cookie Co. Donut Emoji Cookie ($5)
In a world full of plain bagels, be a sprinkled donut! Indulge in this delicious shortbread cookie handmade in the USA.
I don't even eat cookies and I am super excited about this fun little treat. It put a smile on my face the moment I saw it in the box. And…..how can you not love the product description – "In a world full of plain bagels, be a sprinkled donut!"
Manna Kadar Beauty Champagne Charcoal Scrub ($38)
Formulated with charcoal and dead sea minerals, including Calcium, Copper Magnesium, Potassium and Zinc, this luxe and gentle body scrub removes dirt and build up, leaving the skin polished, hydrated and refreshed.
Manna Kadar is another brand I am very familiar with. Until a few months ago I knew them as a makeup brand but this will be my second time receiving a bath & body item from their product line so it appears as though they are expanding.
PS – I love a good scrub and can't wait to test this one out.
Mavi Banda Boho Adjustable Non-Slip Headband ($18)
This stylish, adjustable headband with an elastic back and non-slip technology on the inside to ensure a perfect fit that will stay in place all-day long.
I use to have a Mavi headband and I loved it. I lost it maybe about a year ago and I've been meaning to get another one ever since. I love that it is adjustable, such a great idea, and of course the non-slip feature is appreciated as well.
So Susan Cosmetics Halo On High Cream-to-Powder Luminizer ($25)
This two-in-one product containing Passionflower Extract and Copper Peptides combines luminous powder with a cream highlighter to help lock-in moisture and reduce the appearance of skin fatigue. Halo On High creates a light-infusing, radiant finish that transfers beautifully and effortlessly on the skin. Vegan, hypoallergenic, cruelty-free and paraben-free.
I love that this luminizer claims to lock in moisture. One of the reasons I don't wear a lot of makeup is because I have very dry skin and I don't like the feeling of foundation, powder, highlighter, etc. I'm looking forward to testing this out.
SinglesSwag Review May 2019 – Final Thoughts
SinglesSwag has done it again. I feel like I say that at the end of every SinglesSwag review. They really do produce a consistent, high quality box month after month. I was so glad to see a book in the box this month and such a fun snack. The value is amazing, as per usual, and I discovered a couple new products/brands. Looking for a gift for your sister or best friend? This would be a great option.
-AYOB
Explore.
Save.
Enjoy!
Sign up for a free account on A Year of Boxes to receive exclusive offers, be added to our monthly mailing list, and much more! We are always adding features to improve the experience for our users, from their valuable feedback!
Join Today!