SinglesSwag Review September 2019
SinglesSwag is a fun, stylish monthly surprise for amazing single women! They do not subscribe to any societal or cultural expectations on women. They believe a woman's happiness is determined by her outlook and attitude, not her relationship status. They love to make women look and feel beautiful while empowering and inspiring them. They kindly sent us this box for review. 
When it comes to price point, value and curation, SinglesSwag is definitely a fave. The retail value of the box is always way more than the cost, and they work with some really great brands. They include a really great mixture of items each month and we always receive a little bit of everything – snacks, jewelry, makeup, accessories, and even books from time to time. Quality and consistency. That's what comes to mind when I think of SinglesSwag.
Subscription Details
The Box: SinglesSwag
What You Get: Once a month, you'll receive a beautifully designed box packed full of exciting full-sized products, right at your doorstep. The retail value of the box will always be MORE THAN TRIPLE the cost of the box – guaranteed. It's as simple as that!
Subscription Options:
SinglesSwag: receive 5-7 full-size products every month
SinglesSwag Petite: receive 3-4 full-size products every month
Here's a closer look at the items we received in the September SinglesSwag box….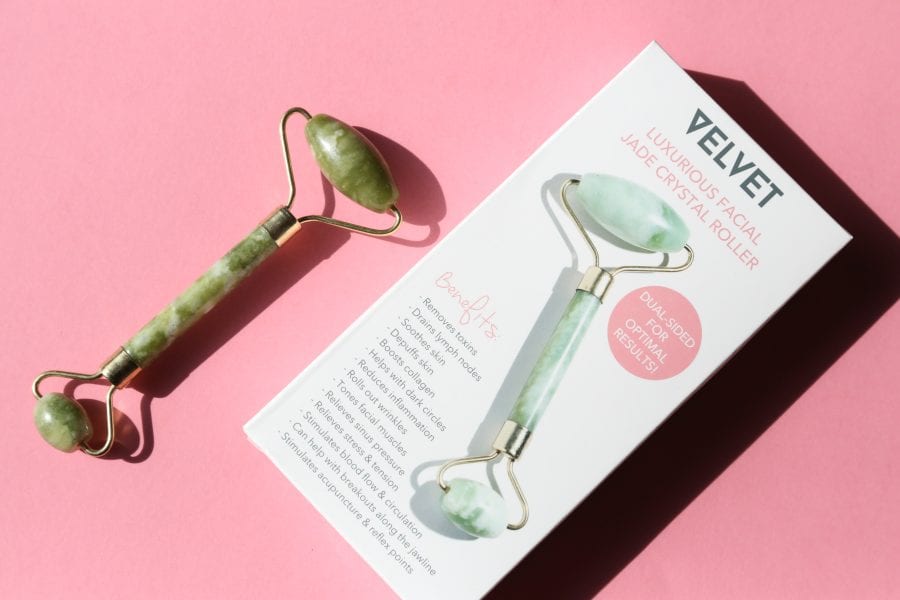 Velvet Cosmetics by Zoe Ayla Jade Roller ($65)
This trending beauty tool made of 100% authentic jade Crystal is designed to help release stiffness and tensions in the facial and neck muscles, improve blood circulations and oxygen supply to the skin and improve elasticity and skin tone. Regularly massage the face and neck by applying gentle, steady, pressure with the roller.
I have received jade rollers in a couple of my boxes over the last little while so even though I maybe would have liked to see a different product I still appreciate the quality and value of this first item. Jade rolling is a big trend right now and some people swear by it. I really feel like it's something I need to add to my skincare routine.
Mollie Jacob Deep Mositurizing Lipstick ($22)
When you're in need of some serious moisture that also brings some color to the party, look no further than this deep moisturizing lipstick. Every application enriches your lips with Shea Butter, Jojoba Seed Oil, Aloe Vera and Vitamin E. Did we mention it is all-natural, paraben-free and cruelty-free?
Mollie Jacobs is a great brand and this seems to be a great formula when it comes to lipstick. It's made with a couple of my faves – shea butter, jojoba and vitamin e. I also like that we received a fall-worthy lipstick color as we head in to the new season.
Pirouline Dark Chocolate Creme Filled Wafers ($5)
Indulge in these delicious treats formulated with a premium blend of fine dark cocoa nestled inside a crispy wafer cookie, finished with a chocolate swirl.
My husband was standing beside me when I first opened this month's box and the first thing I did was pull these out, hold them up for him to see and do a little happy dance. His response was "they're that good hey?". They sure are!! I have always been a fan of these wafers. Such a great treat.
Ettika That New Feeling Layered Necklace ($24)
Whether you're wearing it on a weekday at work, weekend concert or night out on the town, this elegant layered necklace in gold will be your new go-to piece all-year round. Ettika's mission is to design jewelry to help women look and feel their best – because we know a women's best accessory is her confidence.
This necklace is very pretty and very fun. I'm not sure if it is my style exactly but some subscribers are going to LOVE it. I'm just not feeling the chain pieces that hang down either side, but that is strictly a personal preference.
Manna Kadar Beauty Sea Minerals Renewing Body Butter ($24)
Treat yourself to a spa-like experience with this luxe product containing Dead Sea Minerals like calcium, magnesium and potassium that creates a layer of moisture for the driest of skin, leaving your skin soft and silky smooth.
Now this I am excited about!!! My skin is quite dry so I make a point of applying lotion or oil at least once a day. This one is made with some really great ingredients and I have a feeling it will be very moisturizing.
Headbands of Hope Grey Floral Headband ($18)
This stylish versatile headband is soft, comfortable, and can be worn in a variety of ways. Best of all, for every headband sold (including yours!!!), a headband is donated to a child with cancer.
I am very familiar with Headbands of Hope and I am in love with this particular band. The colors are so darn pretty, I love the floral pattern, and the knot style is extremely versatile. You can wear it a number of different ways. Such a cute accessory for Fall.
Daily Concepts Soap Sponge Charcoal ($10)
Soap on the outside – sponge on the inside. This mild, exfoliating multifunctional soap sponge is infused with detoxifying, charcoal designed to purge skin of impurities and elevate the overall texture of skin.
This last item intrigues me. I've never seen or heard of this soap sponge before. I'm not exactly sure how it works with having the sponge on the inside but I'm looking forward to testing it out.
SinglesSwag Review September 2019 – Final Thoughts
SinglesSwag is just such a great box. I'm never disappointed and the September box is no exception. I'm most excited about the headband, the body butter and the wafers. But along with those items we received some really great products, and of course really great value. The jade roller alone is more than the cost of the box which makes it feel like all the other items are freebies. SinglesSwag is one of the boxes I recommend on a regular basis and I will continue to do so.
-AYOB
Explore.
Save.
Enjoy!
Sign up for a free account on A Year of Boxes to receive exclusive offers, be added to our monthly mailing list, and much more! We are always adding features to improve the experience for our users, from their valuable feedback!
Join Today!