Sleek Treat Review January 2017
Sleek Treat is a Sugar-Free Subscription Box with a focus on Low Carb treats safe for pre-diabetics, diabetics and those interested in living healthy without sacrificing gourmet flavor. They Kindly sent us this box for review.
Sleek Treat showed up at the post office a few days ago, and I almost forgot what it was. This sugar-free candy subscription is still fairly new, so I didn't really recognize the name at first. It wasn't until I opened the box and saw all the awesome goodies inside that I remembered what it was. How could I forget about this awesome little box. I've been waiting for something like this to show up on the market.
I'm excited about this box for two reasons. First, I myself try to stay away from sugar as much as possible. I truly believe that sugar is to blame for a lot of the health problems we are experiencing in today's world. Second, my Dad is diabetic, but not because of genes, obesity, or lack of physical inactivity. My Dad, is and always has been extremely healthy but he went through some major health issues with his pancreas a few years back and is diabetic as a result. Any who…….I LOVE learning about boxes and products like Sleek Treat now that our family is affected by diabetes and since I try to avoid sugar. Sorry for the long explanation, I'm just very excited about this box and wanted to give you the background info.
Enough about that, let's have a look at what we received in our January box:
Hi-Fibar Pumpkin Spice Orange Granola
An excellent source of Fiber in a Pumpkin Spice Orange Granola Flavor, ideal for a cozy night at home or quick snack on the go.
Granola is my comfort food. Actually, most breakfast type meals are my comfort foods – granola, cereal, and toast. I was planning on gifting this box to my Dad but I REALLY want to keep the granola for myself…..is that wrong?
Coco Polo 70% Dark Chocolate Cocoa Nibs
Refining chocolate produces small pieces of pure raw cocoa called nibs. They are included in this bar for an intense cocoa experience along with crunchy texture. Stevia sweetened, this natural chocolate is packed with beneficial vitamins, minerals, and antioxidants.
Cocoa nibs are my favourite. I actually just purchased a bag to use in baking, smoothies and on my coconut ice cream. When you are watching your sugar intake, chocolate is one of the items you miss the most. I was really happy to see this in the box.
Tru Chocolate Dark Chocolate Wafers
Made from only the finest organic non-GMO fair trade cocoa, blended with healthy ingredients, Tru chocolate is packed with Acai powder, citrus & green tea extract. Enjoy the decadent mouth feel and quality in conveniently wrapped single bites.
Little chocolate bites like this are perfect to have on hand, and in your purse. This is the one time I love receiving sample sizes.
Xyloburst Lollipops
XyloBurst lollipops are the perfect swap for sugary treats. They come in apple, orange, raspberry & strawberry flavours, and they're great for tooth health.
Xyloburst Fruit Sours
Combating sugar and starch which promote tooth decay, xylitol is a sweet and healthy alternative. XyloBurst's fruit sours are a breath-freshening burst of all-natural sweet and sour flavor.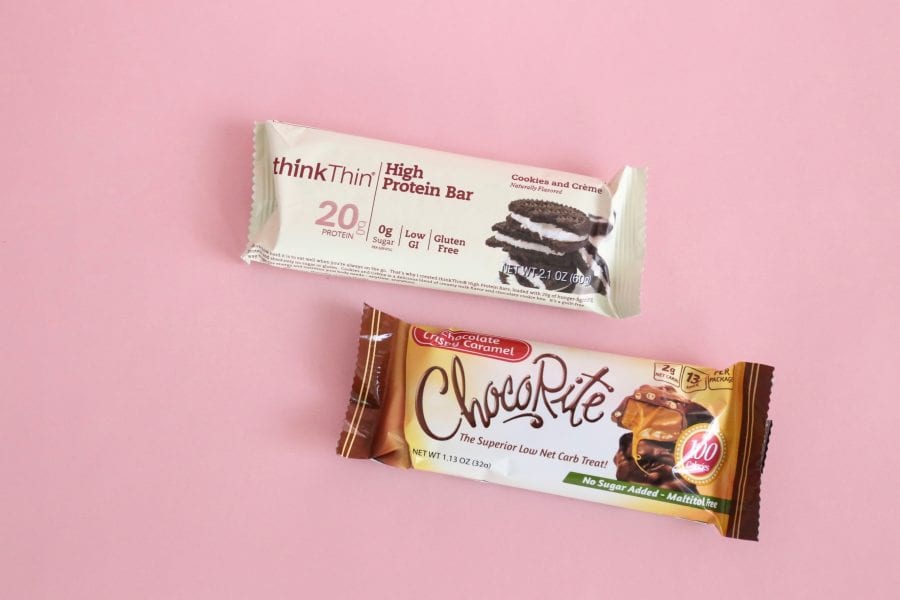 ThinkThin High Protein Bar
Cookies and Cream is a delicious blend of creamy milk flavor and chocolatey cookie bites. Great for post-workout energy or even a meal replacement.
This is another item I really want to keep for myself, but won't. I don't love that these bars are made with Whey Protein, but I love that they have zero grams of sugar.
Chocolate Chocolate Crispy Caramel
At just 100 calories, ChocoRite Chocolate Crispy Caramel are a great tasting milk chocolate candy suitable for low carb diets. These little nuggets have an explosive caramel flavor that is sure to satisfy your sweet cravings.
Just looking at the package makes me want to eat this. You can't go wrong with chocolate, caramel and crispy bits.
Sleek Treat Review January 2017 – Final Thoughts
I am SO glad I discovered this subscription box. Sleek Treat has a really good thing going here. I absolutely LOVE that they cater to low-sugar and diabetic lifestyles. This would have been a great box to know about when I managed the retirement home. Quite a few of our residents were diabetic, and we always needed to have no-sugar treat options for them when we celebrated birthdays and holidays. I also think this box is reasonably priced. I know first-hand that sugar-free treats are expensive, and hard to find. I am very happy with my first Sleek Treat box!
XOXO
Explore.
Save.
Enjoy!
Sign up for a free account on A Year of Boxes to receive exclusive offers, be added to our monthly mailing list, and much more! We are always adding features to improve the experience for our users, from their valuable feedback!
Join Today!