Smartass & Sass Review April 2019
Smartass & Sass is a gift and subscription service for snarky individuals and cynical a**holes. They hand-select products from artists and small businesses and work with manufacturers to produce brand-new items that are sure to make you giggle. Subscribers also help them decide on items and have access to a secret sale shop. They kindly sent us this box for review.
This is my first time reviewing Smartass & Sass and I feel like I have been missing out. This box is amazing! I had a feeling I was going to like it and I was right. It was fun to unbox, it made me laugh, and I love every single item we received.
Subscription Details
When you sign up for a Smartass & Sass subscription you can expect to receive 5-8 handmade, hilarious items. The items will have a theme (e.g. Motivational AF) and all of the items will relate to it. You can expect things like mugs, notebooks, tote bags, water bottles, pens & pencils, magnets, candles, and more. They regularly survey their sassy gang to make sure they are finding the types of goods you want to get.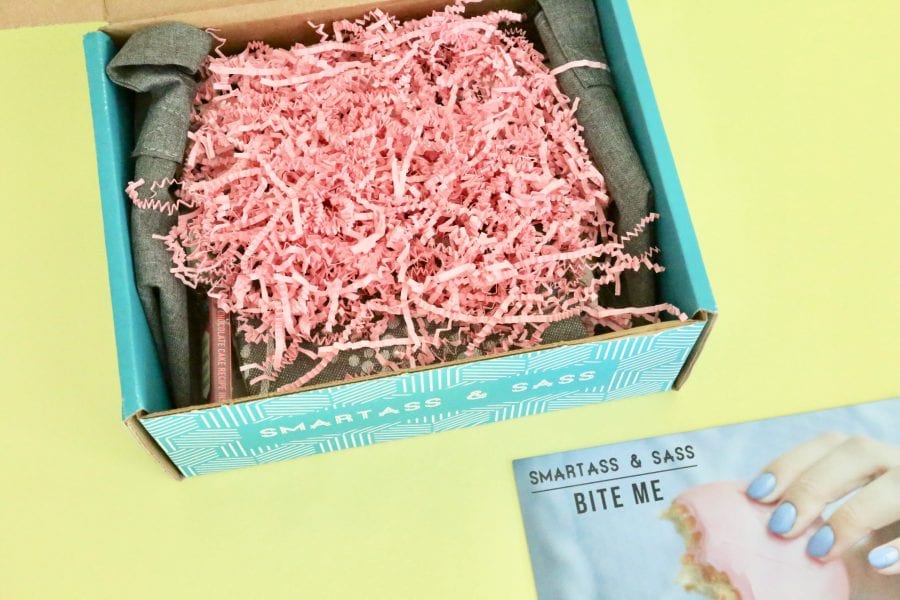 April Theme: Bite Me
April's theme is "Bite Me"! This month's box is all about pairing our love of food with our love of sarcasm. April's goodies will definitely include some food-related sass.
For those of you with food allergies or preferences, don't worry—we don't have anything edible lined up! Just food-obsessed fun stuff. 
Here's a closer look at the items I received in the April Smartass & Sass box….
Hangry Cooler Bag from Smartass & Sass ($15)
For those of us who are constantly apologizing for the things we said when we were hangry. This heather cooler is 11x9x6 with insulated lining. 2 zipper pulls, a front pocket and a 28″ carrying strap.
Yes, yes, yes! This is one of my favorite items in the box, and maybe one of the best items I have received in a subscription box over the last couple months. I saw the spoiler for this and was so excited to receive it in the box. If you read my reviews on a regular basis you will know that I take snacks with me everywhere, this includes the car. I try to keep a bag of snacks in the car 24/7 for both the Hubby and I. We both get very grumpy when we are hungry, and I tend to get headaches, nausea, etc. This cooler arrived at the perfect time as the weather is warming up and I needed some sort of cooler bag for my snacks. And…….how great is the saying!?
Chop It Like It's Hot Cutting Board form Smartass & Sass ($10)
Chop all your tasty treats with this cutting board! And if anyone messes with your kitchen don't be afraid to cut them. The two-toned bamboo board is naturally heat and bacteria resistant.
This is another item I will be using all the time. I LOVE the saying – "chop it like its hot". I already have it placed on my kitchen counter, stacked with a bigger cutting board. It looks cute and it's functional too!
Seriously Funny Chip Clips from Wit Gifts ($8.50)
These chip clip sets will come in handy to close snack bags and keep your goodies fresh for longer. You'll get 4 clips in your set. Each clip is approximately 2.75×7.5 and painted on both sides.
We don't eat chips often, but when we do you better believe I will be using these chip clips. They say the following:
Carba Diem
All The Pringle Ladies (a play on All The Single Ladies)
Let's Get Stuffed
Just A Nip Before I Clip
Things to Put In My Mouth Magnetic Pad from Near Modern Disaster ($9)
This shopping list separates things into the most important categories: things to put in my mouth, and non-mouth things.
Love, love, love this note pad. First of all, I am obsessed with making lists. I make lists for everything. Second, I LOVE the saying – "Things to Put In My Mouth" & "Non-Mouth Things". I already have it hanging on the side of my fridge and I will be using it often.
Bite Me Pen ($1.50)
This Bic Clic pen has nickel-plated trip and clip, and so much sass when you lend it to anyone.
I love that they included a pen to go with the note pad. I have it in the drawer beside the fridge. Ready to make my "Things to Put in My Mouth" grocery lists.
Bitch I am the Secret Ingredient Gum from BlueQ ($1.79)
What did you think it was? Saffron? No, bitch, it's me. 8 pieces of candy-coated, cinnamon flavoured gum in each box.
We'll Serve Tacos Notes ($3)
Keep track of your to-dos while dreaming about tacos on this 3″x3″ pad. Includes 50 sheets.
Remember when I told you how much I love writing lists? Well I love writing notes just as much. I usually have 4-5 sticky notes going each day. I make little notes to remind myself of things that I think of while I work.
Kinda Salty Towel from Primitives By Kathy ($12.95)
These jacquard woven dish towels are the softest things you have ever felt. You'll receive a full-print design, featuring either "Be Fierce" with cacti illustrations or "Kinda Salty" with (you guessed it!) some salt shakers, baby.
I have received a few dish towels over the years in my subscription boxes and this is, hands down, my favorite dish towel ever! The color fits perfectly in my kitchen, it's is unbelievably soft (I hate stiff dish towels) and how can you not love the saying and the graphic – "Kinda Salty".
Smartass & Sass Review April 2019 – Final Thoughts
It's official! I am obsessed with Smartass & Sass. You all know that I don't like to use the word "obsessed" as it can easily be over-used. I make an effort to only use it when absolutely necessary, and in this case, it is absolutely necessary. Smartass & Sass is fun and sassy and a nice change from the regular boxes I receive daily. When I say "regular" boxes I mean the non-sassy boxes. I LOVE a little sass and I love that they curated a box of products that I am excited to use. Smartass & Sass is at the top of my favourites list!
-AYOB
Explore.
Save.
Enjoy!
Sign up for a free account on A Year of Boxes to receive exclusive offers, be added to our monthly mailing list, and much more! We are always adding features to improve the experience for our users, from their valuable feedback!
Join Today!