Smartass & Sass Review August 2020
Smartass & Sass is a gift and subscription service for snarky individuals and cynical a**holes. If you have a sarcastic sense of humor, love to laugh, and the mouth of a sailor, this subscription service is for you! They hand-select products from artists and small businesses and work with manufacturers to produce brand-new items that are sure to make you giggle.
What you get: Each Smartass & Sass box includes 5-7 hilarious items you are sure to love. Each Smartass & Sass box will also have a theme (e.g. Tha's What She Said) and all of the items included will fit within that theme. You can expect things like mugs, notebooks, tote bags, water bottles, pens & pencils, magnets, candles, and more. They regularly survey their sassy gang to make sure they are finding the types of goods you want to get. Don't worry, while they sometimes work with the same partners for multiple months, you'll never get the same product twice!
Subscription Details
When you sign up for Smartass & Sass, you'll have three different options:
S&S SHIRT ONLY Subscription – $15.95/month
S&S BOX Subscription – $34.95/month
S&S BIG BOX Subscription – $49.95/month
Shipping: Boxes ship from Lincoln, Nebraska on the 18th of every month. US Shipping starts at $3.95 US and they ship internationally to Canada, Mexico, the UK, and Australia starting at $6.95 US.
*They kindly sent us this Smartass & Sass BOX for review.*
August's theme: Welcome To The Shitshow
"This month's box will celebrate the circuses we call home. It's tough being the ringleader, trying to keep the chaos to a minimum. This month we are celebrating your commitment to keeping the proverbial sh*t from hitting the fan."
This is a perfect box for me to receive before getting back into the classroom as a teacher. I feel like home may become a circus again soon!
Here's a closer look at the items I received in the August Smartass & Sass box:
Barely Functioning Enamel Pin – Holly Oddly
"This is for the people who are drowning in all the things. The boss baby behind Holly oddly uses the brand as a way to get things off her chest. Holly's designs are filled with personality that speaks to our snarky hearts."
This pin screams just how I feel some days. Thank goodness for dry shampoo and coffee.
But First Coffee Sticker – S&S
"I need caffeine before I can do the things. These high-quality stickers are outdoor durable and are coated with a matte lamination for long-lasting color."
It's true…first I drink coffee, then I do the things.
You're Too Close Necklace – S&S
"If they can read this stainless steel bar necklace, they're too close. The chain is 28" and the box is reusable."
YES! This is an amazing necklace. Perfect for wearing to school as my teenaged students will appreciate the humor behind it.
Unknown Injury Bandages – Gift Republic
"Do you wake up with unknown injuries? Whether they're from a night out or clumsy fall, show off your scratches and bruises with these bandages."
Hahaha, my partner spotted these bandages and said, "Those are perfect for you." I am always waking up with new injuries and scratches, and I'm actually quite accident-prone.
"What Day Is It?" Acrylic Flute – Sprinkled With Pink
"The perfect flute for the shitshow that is 2020. Just add bubbles! Holds 9oz, upscale, shatterproof, and BPA-free."
Haha, this would have been perfect for the 24 weeks I spent at home during the quarantine. Now I need to know what day it is.
Lemon Lush Cuticle Balm – Badgerface Beauty Supply
"You know what's the absolute worst shit? Cracked cuticles. But nothing makes those b***** cuticles calm the f*** down like gobs of nourishing cocoa butter, vitamin E, and a masterful blend of botanical extracts and essential oils."
This cuticle balm smells amazing and works wonders on my cuticles!
"Siri, Remove My Makeup" Cloth – Lauryn's Garden
"If only robots could remove our makeup. But this washcloth is the next best thing! It removes makeup with no makeup remover solutions or soap-just add water! This cloth makes your nighttime skincare routine fast, easy and chemical-free. It's machine washable and it even removes waterproof mascara!"
This cloth is awesome! I have had and used other washcloths – but this one is smart! It is black meaning you can't see just how much makeup I wear once I use it to take it off.
Welcome To The Shitshow Mist – S&S
"This coconut lime verbena mist will keep your bathroom smelling beachy."
This lavatory mist pairs perfectly with an actual shitshow. It smells like a tropical vacation and masks various smells well.
It's Your Meds Pill Case – S&S
"If you're happy, it probably means your meds are working! This metal and epoxy case will keep your pills organized."
This pill case has seven slots – perfect for me as I can never remember when or if I took my meds!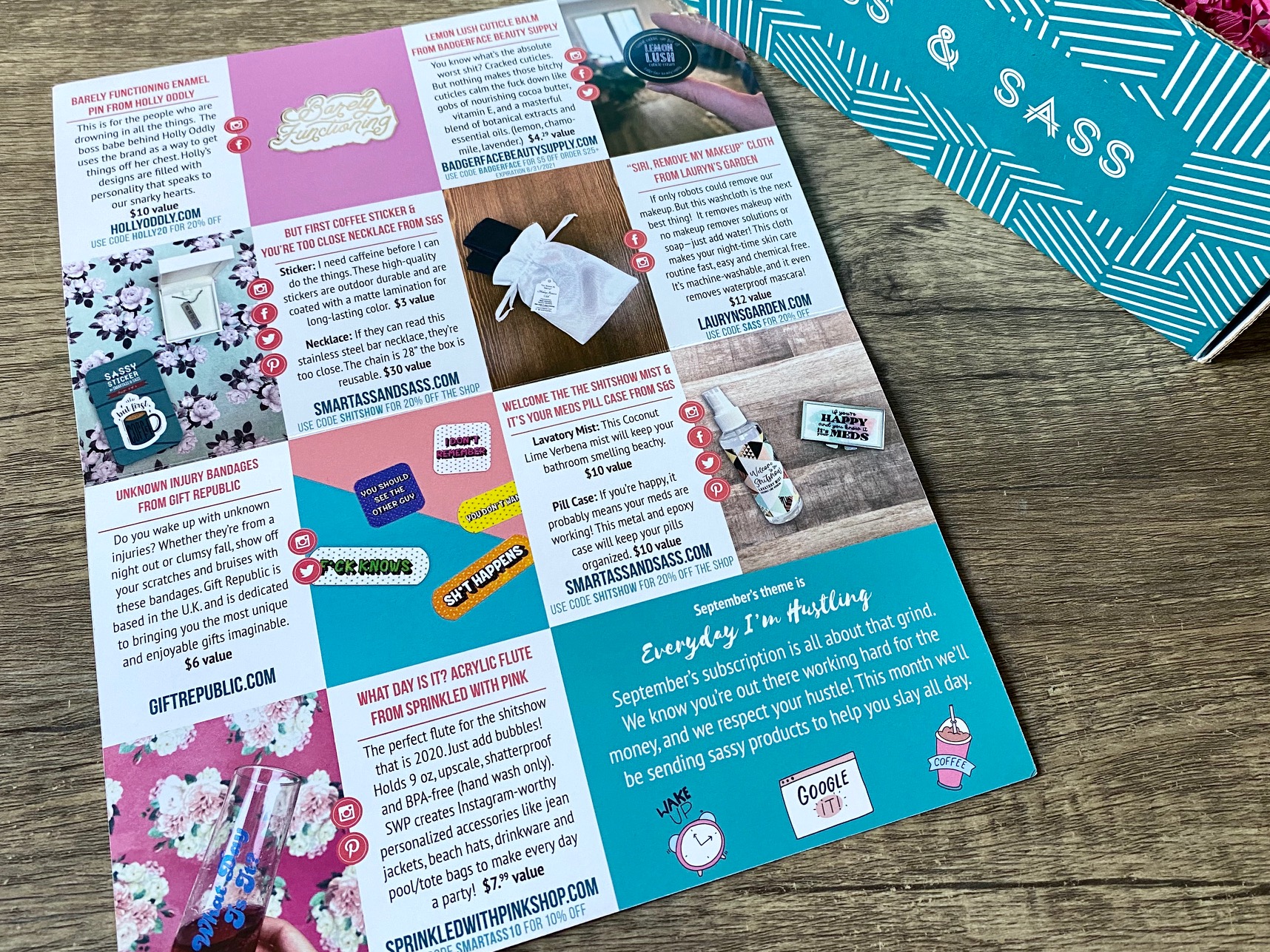 The August Smartass & Sass box contained a detailed product card but I wanted to wait to look at it until after unboxing each item. There's a photo of each product, some discount codes listed, product values, and the spoiler for September's theme.
Smartass & Sass August 2020 – Final Thoughts
The August Smartass & Sass box contained nine items that fit the "Welcome To The Shitshow" theme perfectly! I enjoyed this month's Smartass & Sass box because it's contents are useful, hilarious, and made me laugh! My favorite items were the "You're Too Close" Necklace, the makeup remover cloth, and the lavatory mist – but I loved all of the items! The value for this box was over $94 and the curation was awesome! This Smartass & Sass subscription is a perfect gift for yourself or anyone who has a cheeky, fun sense of humor.
Hayley Savanna – https://www.instagram.com/hayleysavanna/
Explore.
Save.
Enjoy!
Sign up for a free account on A Year of Boxes to receive exclusive offers, be added to our monthly mailing list, and much more! We are always adding features to improve the experience for our users, from their valuable feedback!
Join Today!